FNB has announced a number of significant changes to its industry-leading rewards programme, eBucks. Johan Moolman, CEO of eBucks Rewards at FNB, says eBucks has paid out R10 billion to customers since inception and is on track to pay out R1.8 billion this year. Since its last major overhaul in 2014, annual changes have been largely evolutionary in nature, rather than revolutionary.
The single biggest change is that from July 1, members will no longer earn fuel rewards for petrol or diesel purchased at any filling station other than Engen. Engen has been an eBucks redemption partner since 2010 (you could spend on fuel using your eBucks card). The earn rules have also changed and you will now earn a certain rand value back per litre, versus the current percentage-based tiers on fuel spend (the changes are explained here). In an environment with sharply rising fuel prices, the new model obviously caps the bank's payouts better than paying a percentage on actual spend.
Moolman says Engen has been its best fuel partner and has the largest footprint of filling stations in the country. In addition, the majority of fuel spend by customers has been at Engen.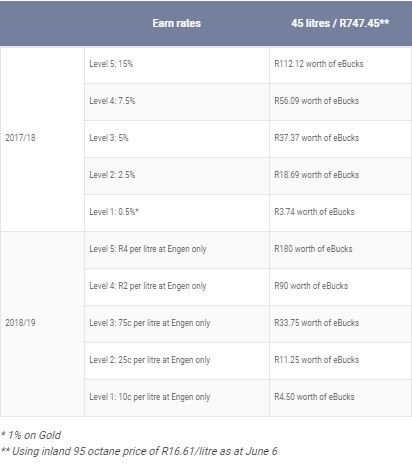 At higher reward levels, earn rates are significantly more generous from 1 July: members will earn about 60% more eBucks on fuel spend. At levels two and three, members will actually earn less, creating a strong incentive to move up (to at least level four).
However, the amount on which you earn eBucks is limited. For Premier clients, the new limit is R2 000 spend at Engen or 20% of your total qualifying card spend per month. Currently, this limit is R4 500 for fuel and Uber, or 20% of total qualifying spend. For Private Clients, these limits will be 20% or R2 500 for Engen, from 20% or R4 750 for fuel, Uber and Gautrain currently. There are separate limits for Uber and Gautrain from 1 July.
These limits mean the average customer – on Premier upwards – will only earn eBucks at Engen on their first (approximately) three tanks of fuel per month.

The second major change is that points levels for Premier, Private Clients, Private Wealth and RMB Private Bank accounts have been reduced. Certain behaviours (such as having a certain number of debit orders on your account) earn customers points in a month, presuming you meet overall qualifying criteria. These points then determine which reward level you are on (one to five). The higher your reward level, the higher your reward rates for spending.
Moolman says that a number of items, such as providing marketing consent, have been removed from the list of ways to collect points for reward levels. He says the bank has been successful in changing customers' behaviour in many of these instances, and by removing those items, points levels obviously need to be reduced (for example, level five on Premier will require 12 000 points from 1 July, from 17 500 currently).
The current monthly rewards programme will be augmented with instant rewards, called FNB Offers. This is in pilot at the moment (it will go live in the "coming months") and is designed to drive targeted behaviour change among customers. For example, if you have not yet provided marketing consent, the bank may use FNB Offers to incentivise you to do so with an instant reward voucher from partner Shoprite Checkers. The bank has identified 86 behaviours it wants to change (not all will be in place from day one).
The bank has also enhanced its eBucks Travel portal. Members can now book and pay for flights with eBucks and/or rands across all major airlines, not just its current partners Kulula and Emirates. Discounts of up to 40% on the base fare remain applicable for its partners only, and it has introduced annual caps on the number of discounted flights per year. Members are limited to discounts on 24 one-way domestic economy flights and four return international economy flights (and, on business class, eight one-way domestic and two return international flights). eBucks says discount flight partners will "alternate periodically" from July 1, suggesting a possible change to the domestic Kulula relationship.
There are no other major eBucks changes across Premier, Private Clients and Private Wealth, aside from the earn rates for in-store and online shopping being harmonised (to the lower, current in-store rate). There are minor changes to the number of points collected for certain behaviour (outstanding balance or spend thresholds have largely been adjusted upwards).
For Gold Account holders, the model introduced last year continues. Moving up an eBucks reward level requires a customer to use certain products or change behaviours across eight different product categories (from digital banking to saving to borrowing). In effect, a customer needs to use five different products from the bank to achieve the highest reward level. From July, however, FNB has introduced additional products or behaviours to many of the groups, a change which it says makes it easier to move up. Gold Account members will also now earn eBucks on all cheque card purchases (currently they earn on credit cards only).
For the entry-level Easy Account, the bank is scrapping the product groupings and cash-back into savings pockets/accounts introduced last year. From July, Easy Account holders need only have a minimum deposit of R2 000 per month and spend at least R1 per month on their cheque cards at Shoprite, Usave or Checkers to get R15 back in airtime (for any network operator).
* Hilton Tarrant can still be contacted at hilton@moneyweb.co.za.
* He owns shares in FirstRand, first purchased in July 2011.
Brought to you by Moneyweb
For more news your way, follow The Citizen on Facebook and Twitter.