So it turns out that actress Rami Chuene didn't get married after all. This after practically every social media user that knows who she is publicly shared their good wishes with her after thinking she had tied the knot once again.
"I also attended a wedding this past long weekend…" posted Rami on Instagram along with a picture of herself in a wedding dress.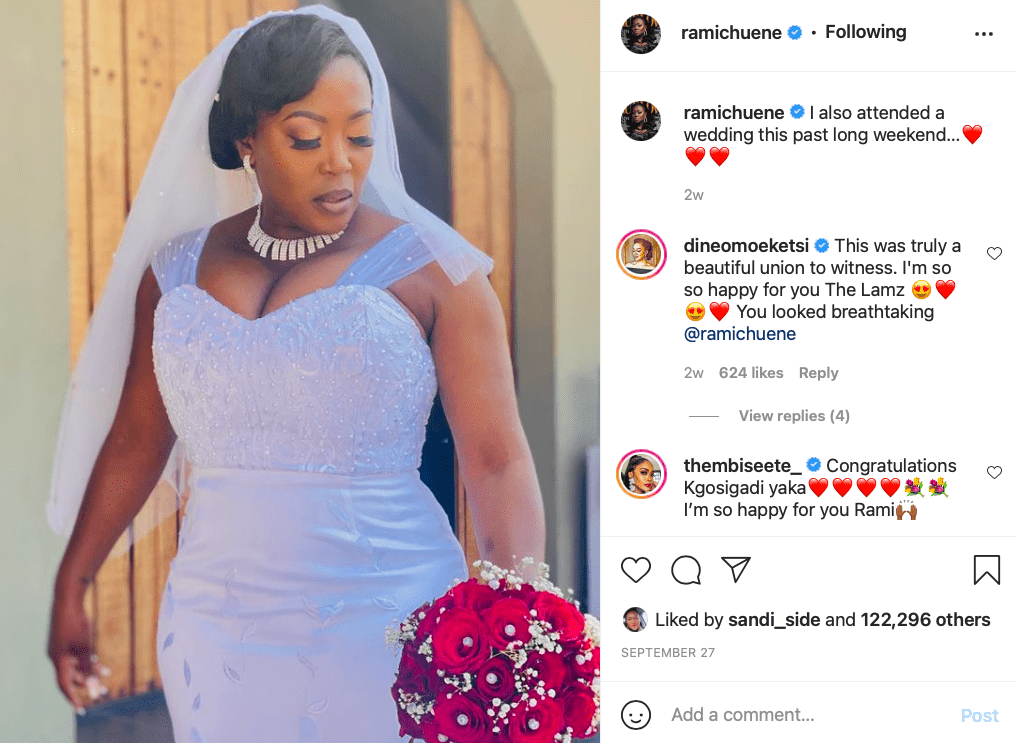 Fellow celebs such as Dineo Moeketsi Langa and Thembi Seete commented.
"This was truly a beautiful union to witness. I'm so so happy for you The Lamz. You looked breathtaking @ramichuene," wrote Moeketsi Langa.
"Congratulations Kgosigadi yaka. I'm so happy for you Rami," said Seete.
"Congratulations babe," added Somizi Mhlongo's estranged husband, Mohale Motaung.
Other famous faces in her comments section include the likes of Zandi Nhlapo, Azania Mosaka, Lorna Maseko, Phathu Makwarela and Judith Sephuma.
But, did Rami Chuene get married?
It turns out that Rami Chuene did not get married but Manoko Ledwaba did.
Manoko Ledwaba is the character that Chuene will now be playing on SABC's first-ever scripted Xitsonga drama series, Giyani – Land of Blood. 
Season 1 of the show ended in November 2019 and saw the show's community of Risinga turned upside down.
"Secrets of the past were revealed and tragedy struck. Richard Mudau was exposed as a corrupt traitor and Gladys was left for dead," said SABC2 in a statement.
"What has changed since then? Richard returns home after spending time in prison. With no money and no influence, he gets back into business with the hope of turning his life around and away from crime. There is a new lady at his side, but is she all she pretends to be? Is she the saviour he is looking for or will she wreak havoc in his family and the community, putting all that they have worked so hard for at risk?"
The channel promised that the upcoming season will be filled with "high action, forbidden love, a string of murders and secrets that need to remain hidden at all costs."
SABC2 channel head Gerhard Pretorius said they are immensely proud to bring the second season of Giyani to viewers in South Africa.
"Building on the success of Giyani Season 1, Season 2 returns with more drama, intrigue and an action-packed storyline that will have viewers glued to their screens. Not only can viewers look forward to seeing their old favourite characters back on their small screens, SABC is delighted to announce that the talented and much-loved Rami Chuene joins Season 2 of Giyani; life will never be the same again in Giyani for sure," added SABC2 programme manager Jacqui Hlongwane. 
"Tshedza Pictures is beyond thrilled to revisit the story world of Giyani – Land of Blood and the amazing characters that viewers fell in love with – including new characters who will capture their hearts as the new season is packed with scandal, drama and dangerous escapades that will entertain and enthrall the viewers," added Tshedza Pictures' Phathu Makwarela and Gwydion Beynon.