"I think I am one for wearing less complicated clothing," Gounden says of her personal style.
"I'm also a little bit conservative. I like simple silhouettes and comfortable cuts."
Gounden's life story reads like a fairy tale – except that, unlike those created by Disney, it's punctuated by hard work and tenacity. The grandchild of a labourer on a sugar plantation, Gounden grew up on a smallholding in KwaZulu-Natal. During apartheid, her family was forced to move to a township dormitory. This wasn't enough to keep Gounden from reaching her goals and she gained a university degree, was heavily involved with trade unions, and worked for the Nelson Mandela administration.
Gounden then decided to tackle the business world – and has become South Africa's first female mining magnate, the country's most successful female entrepreneur, and CEO of HolGoun Investment Holdings.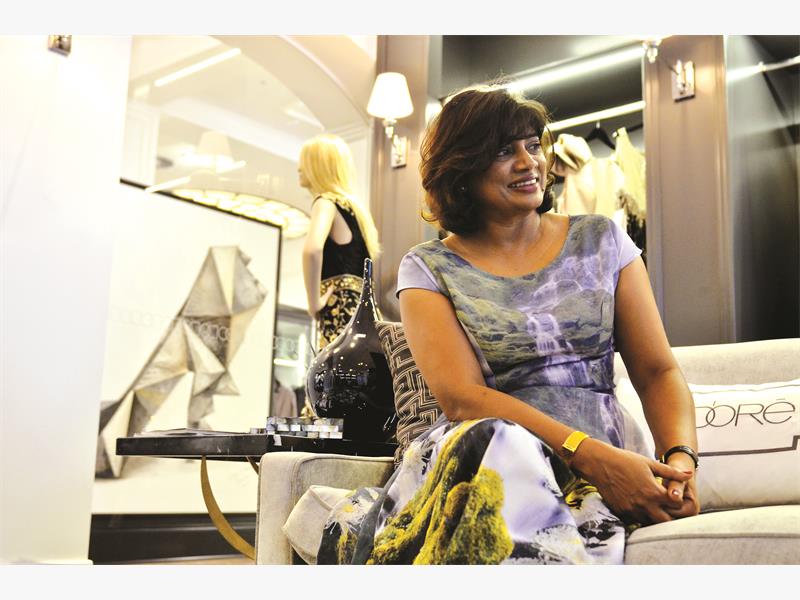 This still wasn't enough for the industrious businesswoman, who then launched her own successful fashion brand, Vanessa G London. She has also breathed new life into Sandton City stalwart D'Oré, giving the high-end multi-brand store a much-needed makeover.
"I like the idea of expressing yourself through a form of attire," Gounden explains.
"Fashion has always been a part of my life. I've always had an eye for it and I always wanted to have my own brand – and as a business person I was able to gauge when it was the right time to launch. In the fashion world there is often a huge amount of weight placed on creativity, but businesses are not sustainable. I knew that timing was critical – especially the timing for prints." Prints play a prominent role in the Vanessa G range, with an emphasis on each outfit being a piece of wearable art.
"One print was about jacaranda trees and the story behind them," she recalls.
"I took a picture of my road in Pretoria when the jacarandas were in full bloom. I like to create talking points. So many people then realised the beauty of the city of Pretoria."
Speaking ahead of the Veuve Cliquot Masters Polo today, where Vanessa G would be featured on the runway, Gounden offered tips for dressing for a sporting event that places as much emphasis on hats as it does on horses.
"Dressing comfortably is key. People often wear outfits where they are not necessarily able to enjoy the event. You should choose a silhouette that suites your body type. You should wear comfortable shoes – and don't wear stilettos, you'll sink into the ground," Gounden laughs.
"Stately hats will be the order of the day. Jewellery should be understated, and you should accessorise with a good statement handbag. Your make-up should also be fresh. And as much as it is a stately event, it is about sport, so a look that is sporty, but smart, will work well."