The voice-activated coffee machine is so last year, if exhibitors at this week's CES tech expo in Las Vegas live up to their promises.
Now, it's all about the culinary experience, along with creating an ecosystem of appliances.
One of last year's stand out exhibits, Gourmia, encapsulated the power of voice control, showing how Google Assistant could take the pain out of figuring out the controls of pressure cookers and coffee machines. The wake phrase "Hey, Google" took over from the on switch and the techie's life would never be the same again.
This year, Gourmia says it is redefining the smart kitchen with both its mainline products and an expanded internet of things platform, featuring multiple kitchen appliances connecting to a single app, on iOS or Android.
It's also added Amazon's Alexa to its voice integration and promises more than 200 "countertop kitchen electrics and gadgets" (visit www.gourmia.com to learn more).
Gourmia's rival at CES, Brava, is more about the food than the controls. It has a new smart countertop oven that it claims "is the fastest oven in the world and cooks food twice as fast as your traditional oven", with the ability to go from 0°C to 260°C instantly.
The Brava oven, it says, "is shaping the next era of in-home cooking through the power of its ground-breaking, patented technology that uses infrared light as an energy source to make delicious, homemade food" (visit international.brava.com).
Not smart enough? How about adding artificial intelligence (AI)? CookingPal, a provider of smart kitchen appliances and software solutions, this week unveiled the Julia Smart Kitchen Machine. It is claimed to combine state-of-the-art design and functionality, video-guided cooking and AI food.
CookingPal's parent company, Hong Kong-based TecPal, says the core of Julia is its ability to chop, mix, steam, knead, emulsify, weigh and cook, all within one machine.
Like any smart kitchen appliance, it can be controlled via a smartphone app, but it can also be managed by a Smart Kitchen Hub tablet designed for the kitchen – preloaded with more than 500 recipes created specifically for CookingPal. Oh, and it can also be controlled by voice, via Amazon Alexa or Google Assistant.
"Our Smart Kitchen Machine simplifies the food preparation process so that at-home cooks can create a delicious meal quickly and easily," says Marten Ruge, managing director of TecPal.
"The future of connected cooking is here, providing endless opportunities for cooking enthusiasts and retailers alike." Appliance giant LG Electronics is not standing aside for these kitchen upstarts, though. It says it is revealing "the next phase in the development of the smart kitchen" at CES 2019 (visit www.lge.com).
"Better integration of kitchen appliances, such as ovens, into the connected home will be a key factor in making the smart kitchen more attractive to consumers," it says.
Partnerships, according to LG, will play a key role in creating a better culinary experience and it is demonstrating this principle with Drop, the developer behind the Drop KitchenOS platform.
LG makes it sound far easier than it probably is in the real world: "When the user selects a recipe through Drop, the platform seamlessly informs LG appliances of the choice and automates elements of the cooking process, such as automatically preheating the oven or adjusting time, temperature and cooking mode based on the recipe.
"With deeper collaboration with an expanded offering of smart kitchen partners, LG's connected smart kitchen collection of ovens, refrigerators and dishwashers will work together to help simplify the task of food preparation, as well as meal clean-up."
Chances are, the crowds are more focused on a beer-making machine, LG HomeBrew, that LG is launching at CES. Last year, a free beer stand was one of the most popular attractions.
For the more serious kitchen, LG is also showing off a smart kitchen portfolio that features the LG InstaView ThinQ refrigerator and LG QuadWash dishwasher.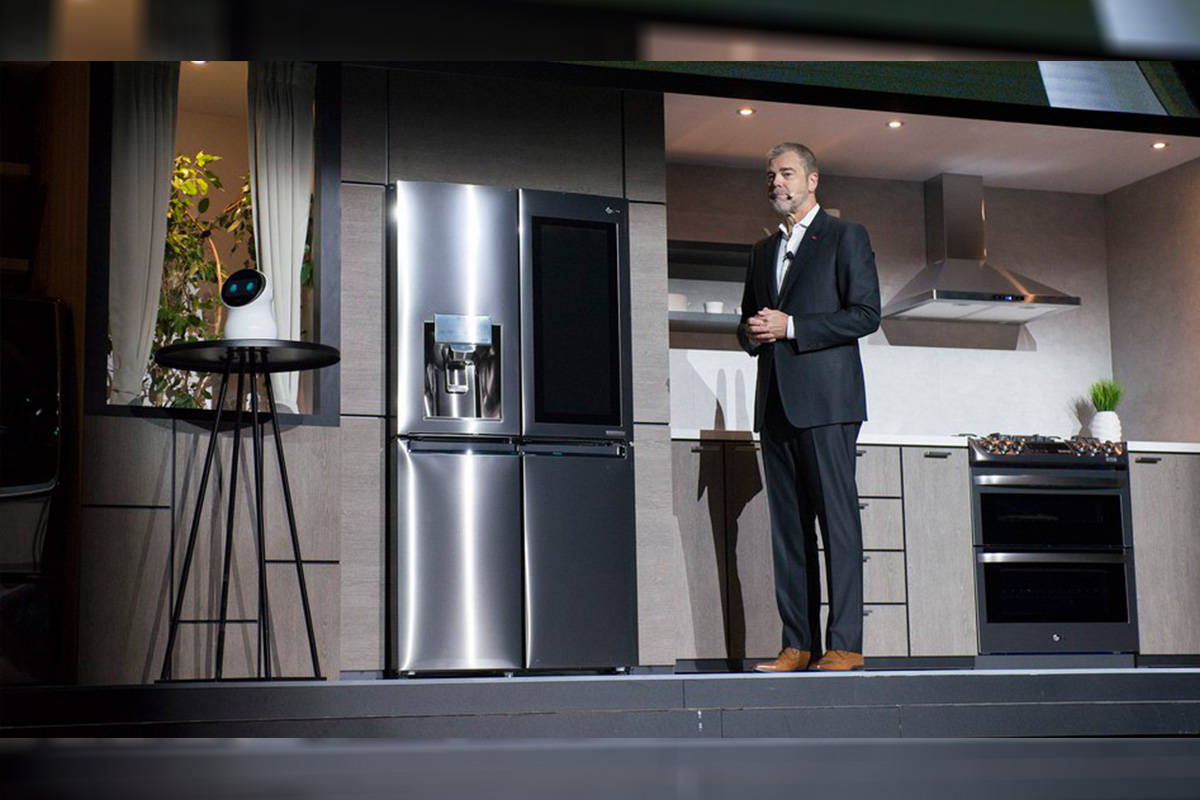 The two form part of the same ecosystem as the smart oven: once the right dish has been identified on the fridge's embedded screen, the recipe can be sent from the refrigerator to the oven, which begins preheating to the right temperature. After cooking the meal, an EasyClean feature in LG's combination wall oven removes any food residue that might have splattered inside.
"Finally, the same smart recipe will inform the LG QuadWash dishwasher of the optimal setting to ensure spotless cleaning of the dishware and utensils that were used to enjoy the delicious meal," goes the marketing hype.
Yes, we all know that gadgets don't cooperate that seamlessly in reality; the true challenge comes long after the near-laboratory conditions under which the appliances are demonstrated at CES – once customers have plugged in such appliances at home. LG promises that won't be the case.
"Technology is making the kitchen more and more complicated and our vision is to create an environment that is welcoming and stress-free so that families can enjoy the optimal culinary experience without having to eat out or order in," says Dan Song, president of LG Home Appliance & Air Solution Company. "
Through partnerships that tap into today's more intelligent kitchen appliances, we're able to deliver the smart kitchen experience that customers have been asking for."
For a peek even further into the future of the kitchen, RoboBusiness is hosting a full day conference track titled "Service Robotics Arrive in Daily Life" tomorrow.
A session titled "Household Robots: Doing the Chores We Don't Want to Do" will cover robots that do everyday chores, from vacuuming to lawn mowing and cleaning, as they become an integral part of the home ecosystem.
The culinary minded will, however, be headed for "On the Menu: Robots Cook Up Faster Food".
"Diners demand efficiency and speed when they eat out," said RoboBusiness. "As robots enter restaurant kitchens, they enable orders to be filled with speed, cleanliness, and customisation. See an array of examples of how robots are becoming the next generation of chefs."
If this is just too much, the good news is that traditional methods of cooking still work.
For more news your way, download The Citizen's app for iOS and Android.