Mercedes-Benz Vans has exhibited its camper van concepts based on its new pickup, the X-Class, for the first time.
Customers these days tend to use their homes on wheels for trips to remoter regions that lie off the beaten track. From the Scottish Highlands to remote passes through Romania's Carpathian Mountains to sunrises at the Plage Blanche in Morocco: camping has become an adventure and a chance to enjoy nature to the fullest.
Campers need two things for this: a vehicle with off-road capability, which is also comfortable for long journeys cross-country, and a living area with all vital essentials. Pickups with camper van solutions on board meet these requirements, and thus find their fanbase.
In many cases the mobile home section can be demounted in a few easy steps, leaving the pickup to function as a straightforward vehicle for everyday use.
The new X-Class fits perfectly into this usage profile, setting new standards as it does so. It combines the typical characteristics of a pickup with the classic strengths of a Mercedes.
As a pickup it is robust, strong and with good off-road capability. At the same time its good looks and individualisation options, its comfort, safety features and networking capability are typical MercedesBenz passenger car qualities.
With its wide track, coil springs at the front and rear, long wheelbase and the comfortable spring and damping system typical of Mercedes, the X-Class delivers exhilarating performance, both on and off road.
Two four-cylinder engines deliver the necessary dynamism with an output of 120 kW and an output of 140 kW. They can be ordered with either rear-wheel drive or with the engageable 4MATIC all-wheel drive system. From mid-2018 a high-torque V6 diesel engine with all-wheel drive as standard will provide even more agility.
The outstanding traction of X-CLASS: TAKE YOUR HOLIDAY HOME WITH YOU TO THE REMOTEST DESTINATIONS The go-anywhere camper with the three pointed star the all-wheel drive models comes courtesy of the low-range gearing and an optional differential lock on the rear axle. A fording depth of up to 600 mm, a ground clearance of as much as 222 mm (optional suspension with raised ground clearance), a maximum gradeability of 100 percent and DSR (Downhill Speed Regulation) mean that the X-Class is ideally equipped to cope on even the most challenging of trails.
With a towing capacity of up to 3.5 tons, it is also capable of towing a wide variety of trailers, including caravans.
Like all Mercedes-Benz vehicles, the X-Class stands out for its exemplary level of safety. Passive safety is provided thanks to standard equipment such as seven airbags and the i-Size attachment system for two child seats. For active safety, three driver assistance systems are at the ready: Active Brake Assist, Lane Keeping Assist and Traffic Sign Assist. Additionally, there are Trailer Stability Assist, tyre pressure monitoring system, emergency call system, cruise control and LED headlamps. If required, a reversing camera or even a 360-Degree Camera is available.
Despite its compact size, the demountable cabin from bodybuilder Tischer offers a comfortable sleeping system in an alcove 150 cm wide, headroom of almost two metres, a kitchen with a 3-burner gas stove and three cosy seats. The latter can be converted into a second bed.
With its large, fold-away wash basin and swivelling toilet unit, the integrated bathroom offers enough space to take a shower. The sandwich design of the cabin sections ensures reliable stability and excellent insulation properties. A different concept on the basis of the X-Class has been developed by VanEssa Mobilcamping: a heavy-duty pull-out module weighing around 250 kg with a fully equipped kitchen – including such features as a coolbox, cooking and washing-up facilities as well as space for crockery and supplies.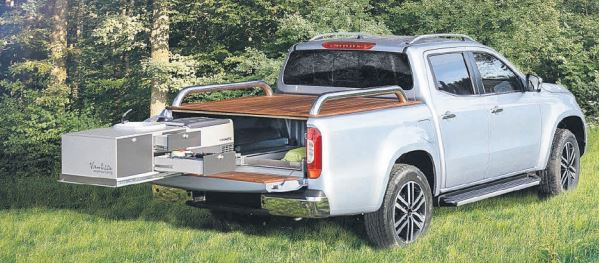 A second pull-out module offers even more space for further items. VanEssa protects the load compartment with a cover made out of yacht-deck-look teak wood, a water-resistant material particularly characterised by its strength and durability. Special pneumatic struts allow the cover to be propped up at an angle of 45 degrees.
For trips over several days, VanEssa advises the fitting of a roof tent with rear-facing entrance.
For more news your way, follow The Citizen on Facebook and Twitter.