The new Toyota Hilux is possibly the most eagerly anticipated new vehicle model of the year. As the bakkie wars rage, Toyota has been itching to pull the trigger on its latest weapon.
After driving it, it is easy to see why. The new Hilux takes a leap forward, which is saying something given that its predecessor had lost none of its legendary status, by improving on ride quality and handling.
Although one cannot tell in one day with the vehicle, there is nothing to suggest that this has been achieved at the expense of any of its other enduring characteristics such as durability or reliability.
Toyota wrap it up in one word, tough, and that is a reputation that has been earned, fair and square. At first glance the new Hilux may not look tougher, or even tough at all.
Its sits slightly lower than before and its lines are more angular. It looks more aggressive, but that's not necessarily the same as tough. However, Hilux purists can relax. Underpinning the new model is a new frame, which is designed to combine improved handling, ride comfort, NVH performance and collision safety with outstanding durability.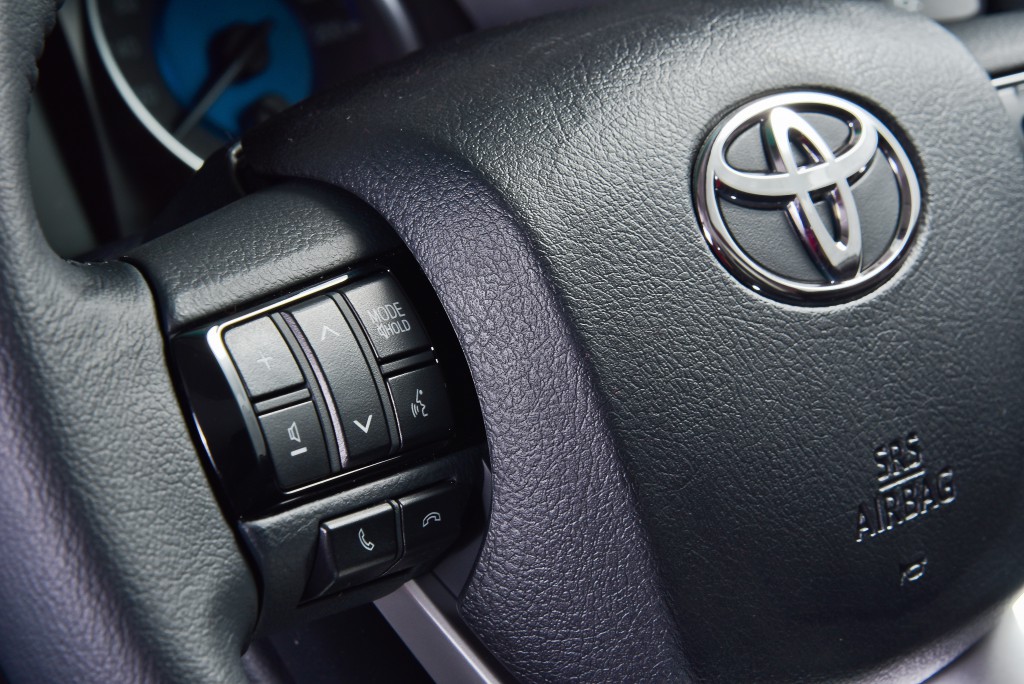 Improvements include 30mm thicker side rails and cross members which make it stiffer than before. The number of connection points from chassis frame to upper body has been increased, accompanied by a 45% increase in spot welds.
The slightly lower belly is protected by a new heavy-duty under-cover with additional reinforcement and increased thickness. The body makes use of higher tensile steel sheet for greater body strength and lower weight.
A new suspension package has been developed, which addresses the need for both outstanding ride comfort and durability and it is here that the greatest practical change to the Hilux is experienced.
The ride quality is superb for a hard-core bakkie, more like that of a softroader SUV than a working truck. To achieve this, Toyota have given the Hilux a double-wishbone front suspension and at the rear a leaf-spring with twin shock absorbers. The length of the leaf spring has been increased by 100mm to 1400mm, which is aimed at suppressing road surface vibration, and the attachment point of the rear suspension has moved to the front of the spring.
Moving the attachment point 100mm forwards and lowering it by 25mm is credited with enhancing the steering stability. Certainly at high speed the Hilux was the most reassuring bakkie I can remember driving.
In addition, the newcomer has larger-diameter shock absorbers mounted in a new location for increased durability, stability and more effective control of small vibrations. The revised geometry also delivers improved rear-axle wheel articulation, with a 20% improvement in wheel travel.
Our off-road excursion was on Kyalami's short but testing 4×4 track and while it was carrying no load other than the four occupants, the Hilux indicated that it has lost none of its excellent off-road capability. The Downhill Assist Control is probably the best I have ever experienced.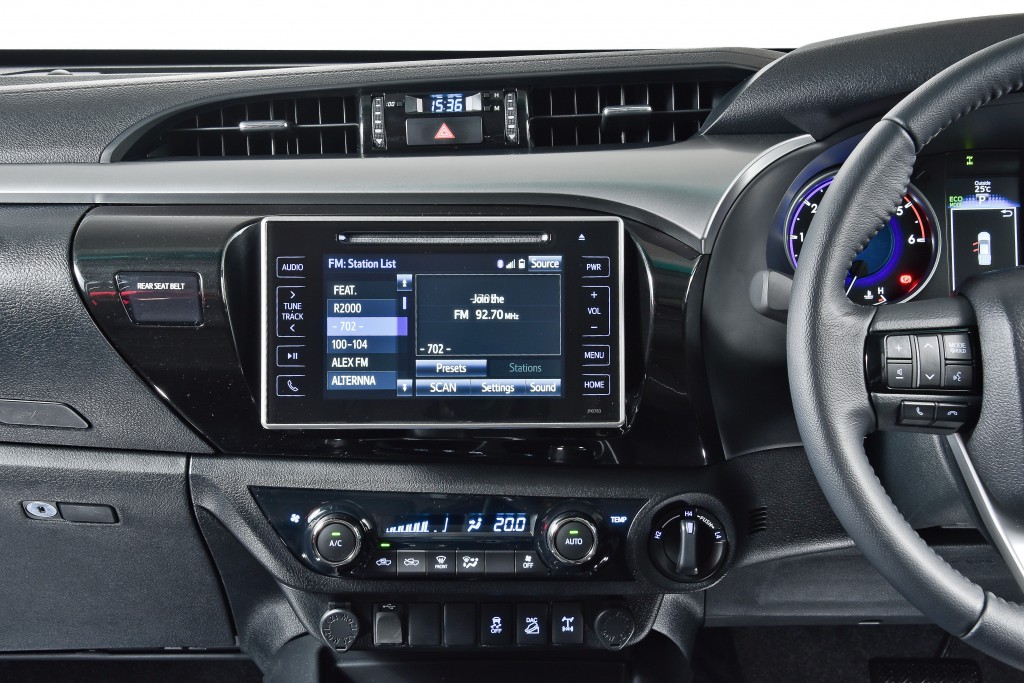 The interior, like the exterior, has been thoroughly redesigned, once again reflecting a far higher degree of sophistication than before. Taking centre stage is the new high-tech touch screen audio system, which seems to 'float' from the centre of the dash.
I prefer screens mounted into the dash so they don't look as if they can be pulled off, but apparently I am old and out of touch. Higher grade models receive a full colour 4.2" TFT multi-information display in front of the driver and this appealed to conservative me and provided easy access to all the necessary information from the on-board computer.
The interior is spacious and comfortable. I took a lap of the offroad track in the rear of the double cab and had no complaints. This model even features a 60:40 split 'tip-up' rear seat cushion which exposes a handy storage compartment recessed into the floor.
An innovative feature of the new Hilux is Toyota's Pitch and Bounce Control system, which automatically adjusts engine torque in direct response to road surface conditions.
The system is able to reduce the pitching motion of the body, improving ride comfort and handling. Pitch and Bounce Control uses wheel-speed sensor information to establish when the nose of the vehicle is either lifted or lowered by road surface undulations.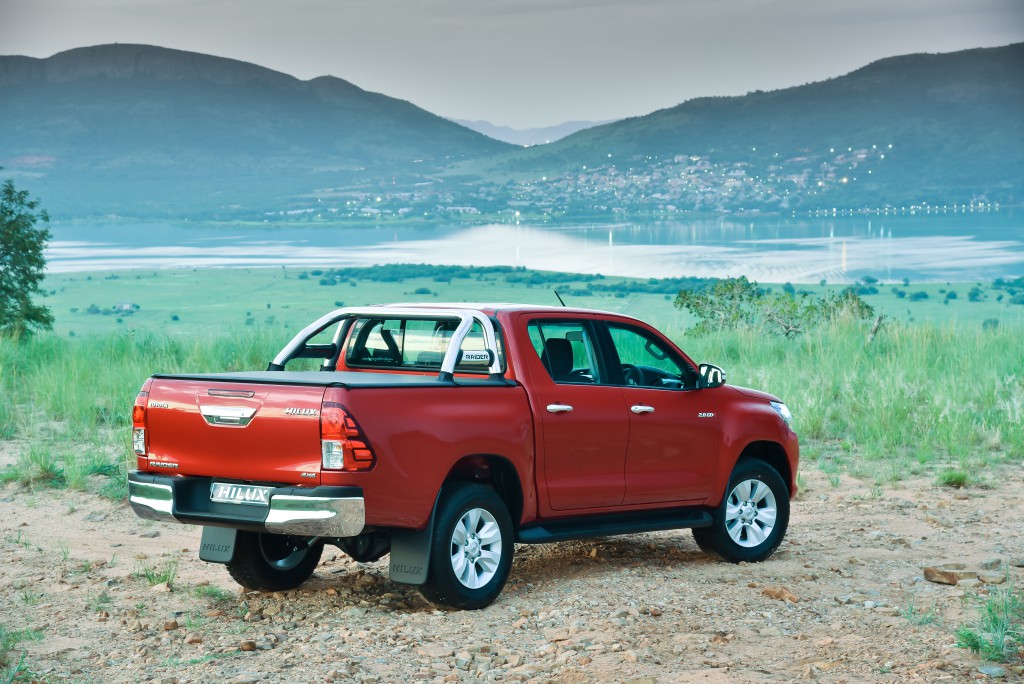 In order to prevent excessive fore and aft movement of occupants, engine torque is increased when the nose of the vehicle dips and conversely decreased when the nose lifts – helping to smooth out the ride and deliver superior ride comfort and handling.
It is difficult to say how much each improvement or new technology contributes to the improved ride, presumably each makes its own incremental contribution, but there is no question that the ride in the new Hilux has improved substantially.
The new Hilux is still available in part-time four-wheel-drive derivatives, now using an electronic rotary 4WD switch housed within the dashboard, which replaces the previously employed 'second gear lever.'
There will be those of us who are sad to see the reliable lever go, but in reality this is pure nostalgia. Using the 4WD changeover switch, the driver can select between 2WD, 4WD and 4WD with low range, at speeds of up to 50 km/h.
It is truly effortless and you can hardly feel the tranfer box go to work. The Active Traction Control system (A-TRC) found in the Land Cruiser family of vehicles finds its way into the Hilux range and uses a combination of engine torque control and brake pressure modulation to provide maximum traction under all conditions.
On detecting a loss of traction the system automatically brakes the relevant wheels and simultaneously re-distributes drive torque to those which have grip. Do not fear, proper limited slip differentials are still fitted.
The Global Diesel series engines are offered in 2.4 and 2.8 litre guise. Both variants make use of DOHC, 16-valve, four-cylinder inline architecture and utilise Variable Nozzle Turbocharger (VNT) technology, which deliver the compressed air through a new front-mounted intercooler.