DA MP David Maynier has released a statement showing two text messages sent by ANC parliamentary chief whip Jackson Mthembu, pleading with his MPs on Wednesday to come to the National Assembly to achieve quorum in order to pass a crucial financial bill.
ALSO READ: 'He is not one of us', Zuma has to go! – Pityana 
Maynier said the Division of Revenue Bill tabled by Finance Minister Pravin Gordhan two weeks ago during the medium-term budget policy statement was not passed for a second time by the legislature after the ruling party's MPs failed to pitch up in the chamber despite their attendance being compulsory.
"However, despite two votes, two 'three-line-whips', making attendance mandatory and numerous text messages pleading with members to vote, the ANC could not muster enough votes to form quorum and pass the Division of Revenue Amendment Bill.
"Not even Deputy President Cyril Ramaphosa's last-minute dash to vote was enough to prevent," he said.
Maynier said Mthembu was so "desperate" before the vote that he switched to "rapid fire" mode, sending out text messages.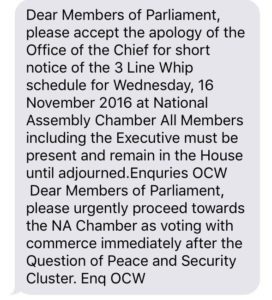 "What this proves is that the ANC are now so internally divided, so dysfunctional, so disinterested and so poorly disciplined that they are not even capable of getting the basics right, which is simply to show up and vote in parliament."
The bill makes provision for a R5.41 billion adjustment to national budgets of the country.
Maynier said the DA was opposed to the bill, as it "provides for an unfair share of revenue between the national, provincial and municipal spheres of government". He said the party would not vote to support it when it came before the house for a third time next week Tuesday.
ALSO READ: Eastern Cape ANC stands behind Zuma