An alleged bogus doctor was arrested on Friday following an investigation by The Citizen.
John Peter Kadiubu has allegedly been treating patients and dispensing medication and medical certificates from a tiny shack in Oukasie township in Brits in North West for decades.
The Citizen tracked down the 45-year-old "Dr John" last year after a tip-off from community members.
He was expected to appear in the Brits Magistrate's Court on Monday on charges of contravening Section 22 (a) of the Medicines and Related Substances Act 101 of 1965 and section 17 (1) (a) of the Health Professions Act 56 of 1974.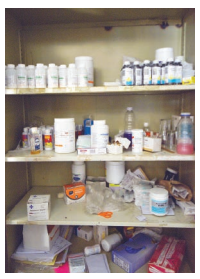 CONFISCATED. Medication worth R50 000
It was also discovered that the practice had been claiming for medical aid. The Democratic Republic of Congo national known as Dr John to his patients could not produce his asylum permit to the police.
As part of The Citizen's campaign to expose bogus doctors in the country and relying on tip-offs from members of the community, last year this reporter and photographer Refilwe Modise tracked down 45-year-old Dr John, who had been operating from a surgery in a back yard shack for decades.
This after The Citizen's undercover investigation led to the arrest of another alleged charlatan doctor, James Mathopa, who had been operating as a medical doctor and dispensing medicines for many years at Mabieskraal and Tlhabane surgeries in the North West province. Mathopa's case was referred to the high court in Rustenburg and state witnesses were lined up to testify against him.
The Citizen reported Dr John's matter and others to acting national commissioner Khomotso Phahlane and the North West provincial police in May. Phahlane requested information be forwarded to him, but nothing was done. The North West provincial police pleaded with The Citizen not to publish the story, lest the suspect destroy evidence, but despite all evidence being collected from the team and a visitation to the scene, accompanied by this reporter, no arrest was enforced.
Dr John and other suspected bogus doctors continued to risk the lives of many citizens. In December, the provincial police alleged in writing that the arrest could not be enforced because they had replaced two police agents who were supposed to continue on undercover projects. They said two agents were identified and would submit new documentation to the director of public prosecutions for approval.
By March, nothing had been done. As a result, Brits local police who had not been part of the operation had to be contacted to enforce the arrest. On Friday, Dr John was arrested after a tip-off from The Citizen, the Health Professions Council of South Africa, the Medicines Control National Health Department and Med-scheme officials.
Brits Police Station spokesperson Warrant Officer Mpeile Talane said Dr John was arrested at around 1pm on Friday in relation to the illegal possession of medicines.
"The recovered items are estimated at R50 000, and the investigation continues," said Talane.
In an attempt to flee from the crime scene, Dr John grabbed some toilet paper and pleaded with an official from Med-scheme during an inspection, saying, "My brother, I have a running stomach, please allow me to go to the toilet."
His employer, who is renting the shack for R1 500, had fled the scene by car before the police's arrival.
A landlord's daughter who refused to be named claimed she was not aware Dr John had been operating illegally.
The Citizen team discovered the problem was widespread and some of the conditions under which these bogus doctors are functioning are horrendous.
Prior to the consultation, the receptionist requested this reporter's ID number and physical address. She wanted a consultation fee of R350. The payment was given to Dr John to proceed with the consultation, but he was reluctant to issue a receipt.
He later authorised a medical certificate for the photographer for R150 for a single day without consultation. He was adamant about authorising a three-day sick note for R450 for the photographer, but the fee was negotiated down to R150.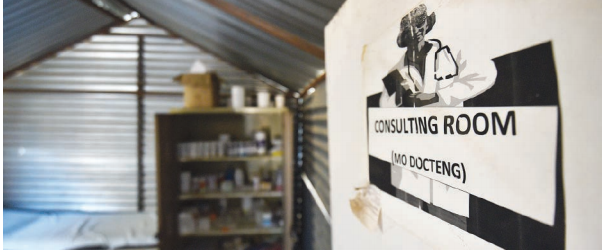 BASIC. John Peter Kadiubu's consulting room in Oukasie, North West.
The Citizen is continuing to investigate bogus doctors. If you suspect anyone is impersonating a doctor, send anonymous tip-offs to vicky@citizen.co.za.
– vicky@citizen.co.za
For more news your way, follow The Citizen on Facebook and Twitter.