Penny Sparrow, a white estate agent from KwaZulu-Natal, has received criticism on social media for a post she made on Facebook. In the post, she compares black people to monkeys. She was complaining about the "monkeys who have no education" that are allowed to be released on New Year's Eve and New Year's Day to go on to public beaches and so "allowing them loose is inviting huge dirt and troubles and discomfort to others".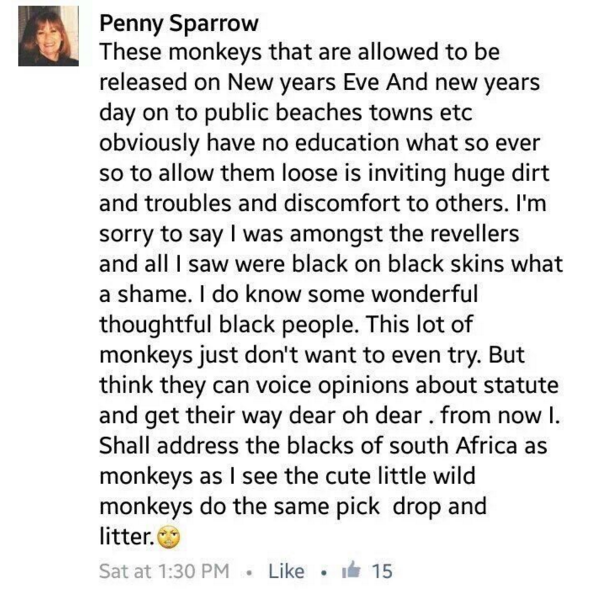 This received criticism on Twitter, with Mmusi Maimane saying: "Penny Sparrow comments are racist. They are an insult to me and our party. We have too many of these in SA & we must criminalise these".
Sparrow went on Facebook to apologise for her comments. She said her comments came as a reply to a statement she read about dirty beaches on New Year's Day. She also apologised to people who have taken her statement "personally", explaining she is not racial and in fact "helps underprivileged people of all races".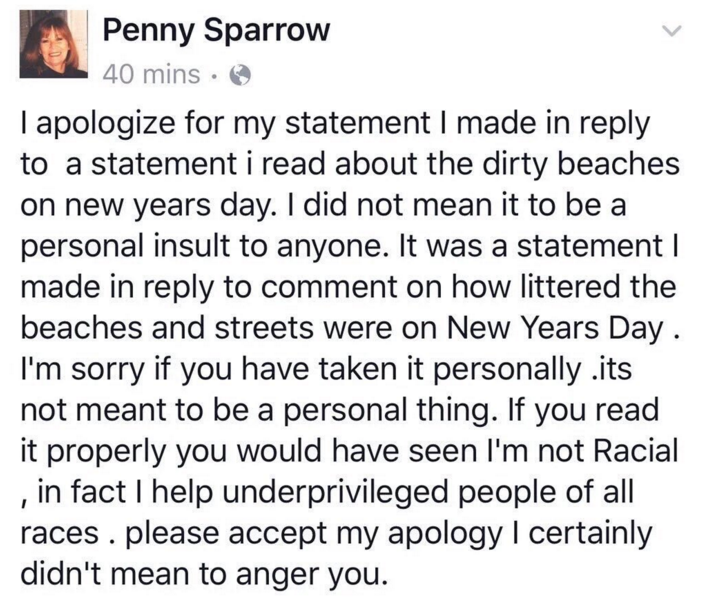 This is what Twitter had to say:
https://twitter.com/jjedowie/status/683911201772978176
Off to work. Is it normal for monkeys to work in offices, wear Versace Man perfume and drive AMG's? I'm feeling strange #PennySparrow

— King Karabo ???????? (@_KingKarabo) January 4, 2016
https://twitter.com/tshepospoko/status/683910774604099589
The #PennySparrow incident is very disturbing. I reported it to the CEO of the EAAB for immediate action. Official statements will follow.

— Menzi Simelane (@simelaneme) January 4, 2016
Dear #PennySparrow. I am "fearfully & wonderfully made in the image of God". I still like Bananas though. pic.twitter.com/NCUyYtBKhk

— Clayson Monyela (@ClaysonMonyela) January 4, 2016
#PennySparrow awful gut churning stuff. People who think like this are destroying our country's future. https://t.co/yl01tthfzj

— Helen Zille (@helenzille) January 4, 2016
Why offer #PennySparrow & fellow racists a one-way plane ticket? That's too kind, morons like her should be thrown into the sea.

— Mmanaledi Mataboge-Mashetla (@MmanalediM) January 4, 2016
#PennySparrow comments are racist. They are an insult to me and to our party. We have too many of these in SA & we must criminalize these.

— Mmusi Maimane (@MmusiMaimane) January 4, 2016
Simply no place for people like #PennySparrow and #JustineVanVuuren any more. The time for forgiveness is over. Be part of SA or leave.

— Amanda Watson (@_amandzing) January 4, 2016
Evil, brainless racists like #PennySparrow need to be called out and dealt with, even if we know we are not what they say we are.

— Khanyi Dhlomo (@KhanyiDhlomo) January 4, 2016
https://twitter.com/Ari_Gold99/status/683801734976770048