Videos shared to social media in the midst of the violence South Africa is currently experiencing have prompted citizens to take up arms in an effort to protect their neighbourhoods.

Due to the fact that the people seen taking up arms are predominantly Indian, Coloured and White, concern has been expressed by black social media users.
Here is a list of neighbourhoods taking up arms
Eldorado Park, Gauteng
Residents in Eldorado Park led the charge by being among the first to put their foot down to prevent the unrest from spreading to their neighbourhood.
Polokwane, Limpopo


Polokwane is the capital of Limpopo and it is reported that a taxi association in the area stepped up to ensure no unrest spread to the area.

Various Facebook pages shared a post referring to an unconfirmed voice note from one of the drivers.
Empangeni
According to the Zululand Observer, people living in Empangeni followed the example of Eldorado Park residents and formed a human chain around their mall.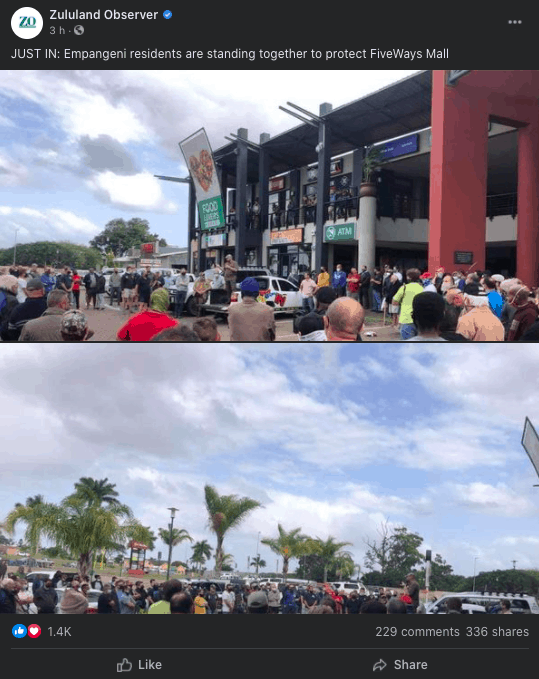 Mahikeng, North West Province
Mahikeng taxi drivers echoed the calls of Polokwane taxi drivers and have reportedly slept in town to guard businesses.
Mthatha, Eastern Cape
Things in the Eastern Cape are also relatively quiet, reportedly due to taxi drivers stepping up to protect businesses like they have in Mahikeng and Polokwane.
Malvern, KwaZulu-Natal
The Durban suburb of Malvern saw residents head out early on Monday to get ahead of the wave of violence.
Westville, Durban, KwaZulu-Natal
Verulam, Durban, KwaZulu-Natal
READ NEXT: