The Lions on Monday released figures to show their ticket prices are not too high after only 30 138 people attended last Saturday's Super Rugby quarterfinal against the Crusaders.
The Lions host the Highlanders on Saturday at Ellis Park in the semifinal, with the kickoff scheduled for 3pm.
Lions chief financial officer Edgar Rathbone explained that ticket prices start at R80 for Category D seats and go up to R350 for Category A seats.
The figures have shown that their prices are lower to what the Stormers, for instance, charged in their quarterfinal at Newlands last weekend.
An All Black Test match can be seen in South Africa on a yearly basis, the last Super Rugby Semi Final was 2014 at Loftus and this is the first Semi Final for the Lions in the professional era.
Also to be taken into account is that the Lions need to pay the visiting team 100 000 Australian dollars, roughly R1 000 000.
The only complaint maybe can be the fact that a Lions season ticket doesn't include the playoffs because it wasn't included at the initial budget compilation.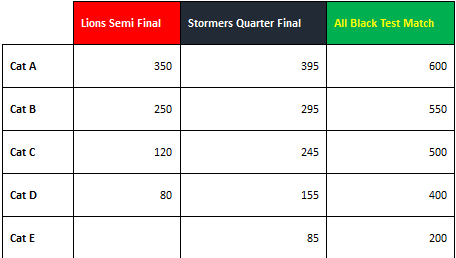 Tickets in the stadium per category are as follows:
| | |
| --- | --- |
| A | 21973 |
| B | 18180 |
| C | 9279 |
| D | 3755 |