Ratings Afrika analysed the recently published audited financial statements (for the year ended June 30 2016) of all eight metropolitan municipalities in South Africa and scored each with regard to financial stability. Moneyweb will publish its analysis of each of the metros in the coming days. Read Ratings Afrika's findings on Joburg, Cape Town and Tshwane.
The latest Municipal Financial Sustainability Index (MFSI) from Ratings Afrika, based on the financial results up to June 2016, reveals mixed results for the eight metropolitan municipalities in South Africa.
The MFSI is a scoring model that evaluates the operating performance, liabilities management, budget practices and liquidity position of a municipality and scores these components out of 100.
eThekwini's (Durban) overall financial sustainability score of 60 (out of 100) reflects an adequate level of sustainability and a significant improvement over 2015's score of 49.
The operating performance is considered moderate with a surplus of R1.5 billion that represents an operating margin of just over 5% and an improvement from the last two years.
eThekwini's spending on maintenance is moderate at some 5% of the value of its fixed assets. Its staff costs however, at almost 45% of its operating expenditures, are high and affected its operating margin adversely.
eThekwini's investment in infrastructure of R4.9 billion for 2016 is considered moderate as it equates to some R1 300 of average spend per capita per year. The spending during 2016 was funded from its own sources and capital grants received from national government.
eThekwini did not borrow during 2016 but its debt burden at 52% of operating revenue is still considered high even though it has displayed a declining trend since 2011.
The liquidity position of eThekwini is sound with a liquidity surplus (net current assets) of R5.5 billion. Furthermore its revenue collection rate improved to 99% in 2016 which contributed to its sound liquidity.
eThekwini is displaying adequate financial sustainability but it can increase its spending on infrastructure to accelerate the improvement of its service delivery infrastructure.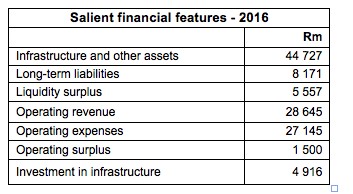 How eThekwini compares:

Note: The Financial Stability score is based on the analysis of the financial statements only.
Leon Claassen is an analyst at Ratings Afrika.
Brought to you by Moneyweb
For more news your way, follow The Citizen on Facebook and Twitter.