The economy is off life support but weak confidence, electricity supply constraints and uncertainty in the run-up to next year's election may conspire to keep economic growth below levels that will appease ratings agencies or support meaningful job creation in the short to medium term.
South Africa officially emerged from a technical recession in the third quarter after gross domestic product (GDP) climbed 2.2%, data from Statistics South Africa showed on Tuesday. The second quarter slump was revised from 0.7% to 0.4%.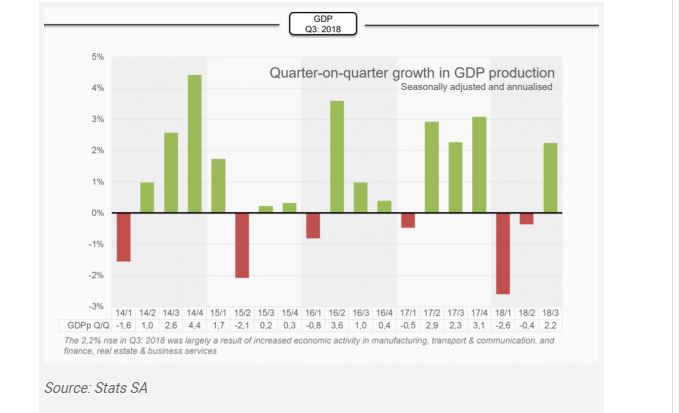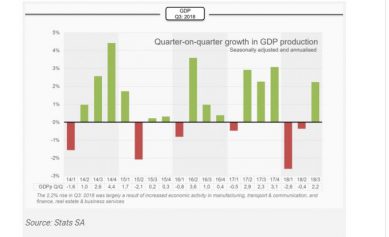 The manufacturing industry, which grew 7.5%, was the main driver of growth and experienced its largest jump in production since the second quarter of 2016.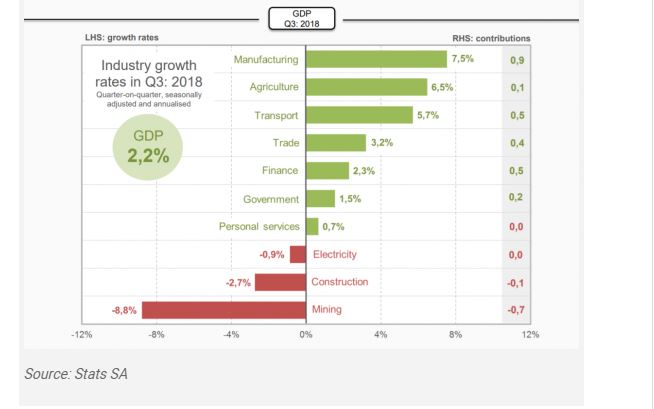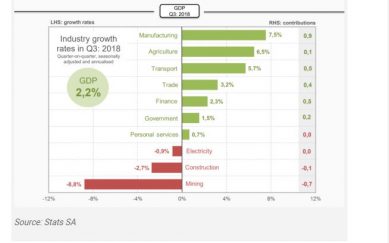 Despite the improvement, the economy remains weak and economists are predicting growth of between 0.7% to 0.9% for 2018, lower than the 1.3% recorded in 2017.
"It is still pretty dismal," says Johann Els, chief economist at the Old Mutual Investment Group. "We expect growth to continue to pick up on a cyclical basis next year and then, after the elections – as policy certainty hopefully comes through – some better growth to come through eventually."
Business Unity South Africa (Busa) president Sipho Pityana says while any bit of growth is welcome, the organisation would caution against an unrealistic reading of what is an urgent situation in the economy.
"We know what the issues are, and the time for talking is over – we have entered a phase where we need to act swiftly and decisively and make the necessary changes, reforms and interventions required on the economy," Pityana says.
Els says that while South Africans expect more to be done, there has been some steady progress on many fronts, including improvements to the cabinet, commissions of inquiry into state capture and the South African Revenue Service, new boards at Eskom, Transnet and Denel, as well as a new mining charter. All these factors will work together to stabilise confidence.
President Cyril Ramaphosa on Tuesday appointed advocate Shamila Batohi as the new national director of public prosecutions.
Better growth prospects and a low inflation environment will also help, but these things take time, Els says.
The confidence factor
"Often you can see a sharp turnaround in confidence. We are not there yet – we probably need to wait till after the elections [in 2019]."
If policy certainty returns and confidence improves, economic growth could recover to 2% in 2019 and 2.5% in 2020. Although lots needs to happen to get growth sustainably above 3%, an improved outlook, relatively low inflation and a stable to stronger currency should help to improve confidence, he says.
"We need confidence and once it comes through in terms of consumer, business [and] investor confidence, things should start improving."
Reza Hendrickse, portfolio manager at PPS Investments, says that while third quarter data presents a solid foundation to build on, they remain circumspect around future growth prospects.
"The short-term impetus we are currently seeing is encouraging, but may be negatively impacted by Eskom's power generation capacity affecting economic output."
Eskom has implemented rotational load shedding daily since November 29.
Els says that while load shedding is a risk to the economic outlook, it is difficult to ascertain the extent thereof.
"We don't know what industries are being impacted on a daily basis, but we have to assume that it is going to pull down growth."
Eskom
Busa CEO Tanya Cohen says they are "particularly perturbed" about the situation at Eskom – not only the negative economic impact of power outages, but also its dire financial situation.
"We cannot afford a repeat of 2008," Cohen says. "There is no fiscal space to bail out Eskom, or any other SOE, amid rising public sector debt levels and a runaway state wage bill. We are extremely concerned about National Treasury's ability to contain the budget."
Hendrickse says forecasts are currently expecting growth to accelerate towards 2% in 2019, but with global growth having plateaued, the backdrop for accelerating domestic growth could prove challenging.
Jabu Mabuza, co-convenor of the CEO Initiative, says while the positive performance in the third quarter is welcome, they are cognisant that a lot of work remains to be done before the country can achieve the level of growth that would sustainably improve the lives of its most vulnerable citizens.
Investor-friendliness required
"As such, we urge the government and its social partners to continue with effecting the required reforms the country needs to perform at its optimal level. A more investor-friendly environment, along with the impact of the government's stimulus efforts and recovery plan, should result in a sustainable economic improvement over the medium term," Mabuza says.
Els says Moody's has been willing to give South Africa the benefit of the doubt, but if growth does not reach at least 2-3% over the next few years, the country will face another credit rating downgrade.
"At this pace, we can't make any inroads in the deficit unless we cut [expenditure] significantly," he says.
Cosatu spokesperson Sizwe Pamla says that unfortunately, the government is continuing to adopt regressive and contractionary policies that only focus on cutting social expenditure and thus weaken the capacity of the state.
"The deceleration of fiscal spending since 2014 in an environment of depressed private sector investment and household spending will continue to keep this economy on its knees."
Brought to you by Moneyweb
For more news your way, download The Citizen's app for iOS and Android.