The Economic Freedom Fighters (EFF) in the city of Joburg council, which voted in DA mayor Herman Mashaba after the local government elections of August 2016, is calling for allegations of nepotism against Mashaba to be investigated "thoroughly".
The Sowetan, which also corrected its earlier story that Mashaba had "hired" a consultant who works for his wife's company, as there was no contract, is reporting that the EFF is still concerned about a perceived conflict of interest arising out a free service offered to Mashaba by Akhter Alli Deshmukh.
"If it is found that he is involved in corruption, he should face the music," EFF caucus leader Musa Novela is quoted. When The Citizen contacted Novela this morning, he said he was at a rally where the noise level was simply too loud to conduct a telephonic interview. He asked to be contacted in the afternoon. The call was reportedly supported by Patriotic Alliance councillor Lloyd Phillips who said the allegations were "serious".
READ MORE: EXCLUSIVE: Mashaba recycles top law firms that give legal opinion he doesn't like
Meanwhile, it has been confirmed that suspended City Ombudsman Adv Sduduzo Gumeme has resigned a few days after the Labour Appeals Court reinstated him to his position after having been suspended by Mashaba in May 2017.
Business Day also reported that Gumede's resignation is expected to be tabled at the council meeting on Thursday. It confirmed that Gumede's lawyer, Jayson Kent of Cowan Harper Attorneys, said the city had accepted his resignation.
Randburg Sun attributed Gumede's resignation to the costs of legal battle and said he "literally ran out of money to continue fighting" and wrote that it had obtained a document from the city's legal representatives that were later removed from the case, advising the city to not suspend the ombudsman because the reasons for his suspension were not justified.
The Citizen was able to obtain communication between the city and Gumede's lawyers in which it announced it would press on with the case and would not grant the postponement he requested.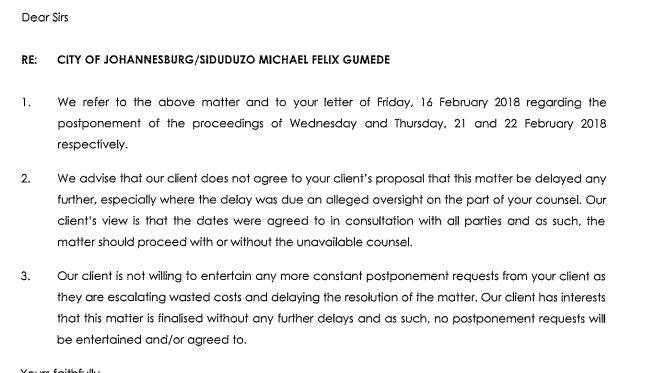 Mashaba loses legal battle as Labour Appeals Court reinstates Adv Gumede as Joburg Ombudsman