Mpho Mosehle died after being involved in a car accident while travelling home from school last Wednesday, reports Bosveld Review.
Mpho was born in Soweto in 2000, but had to move to Polokwane to finish school after his mother passed away. He had a passion for astrophysics and aspired to be an astrophysicist.
ALSO READ: Teary schoolmates bury Luyanda, high achiever who died in Ennerdale shooting
Mpho Mosehle is remembered as a unique, exceptionally talented and intelligent young man.
"He was one a million, and we have lost an asset to the school, especially in the science department. I taught him Life sciences, and he did very well. I remember with first informal test which was out of 105 and he got 97, I had to call him and asked whether he got access to the question paper before sitting down for the test and he said no," said Mosana Frans, the school principal.
He was always ahead in his classes, and would not accept anything but the best when it came to his schooling.
"In the June exams he got 120 out of 150 then he said that's nothing, he wanted to obtain around 140 there," said Mosana.
His goal was to make a positive impact in the world by addressing scientific problems through scientific innovations. He was constantly in the library researching studies published on this subject and was ready for the challenge, said Dr Keyhole NL from the University of Limpopo.
"As an aspiring scientist, he wanted to study at the University of Cape Town to fulfill his dreams of creating or coming up with inventions of creating energy and recycling water. He took part in various science expo competitions including the Eskom science Expo where he managed to obtain a gold medal at the national level."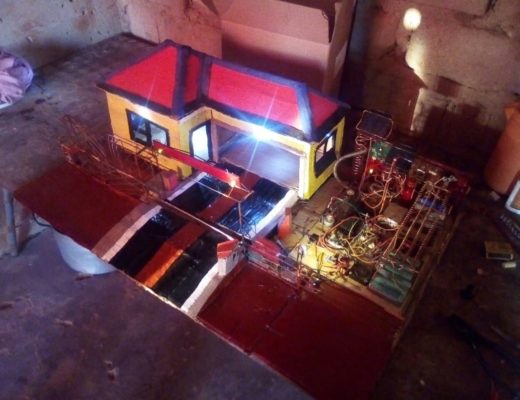 "His latest project [water purification] is currently in the Science Laboratory of University," he added.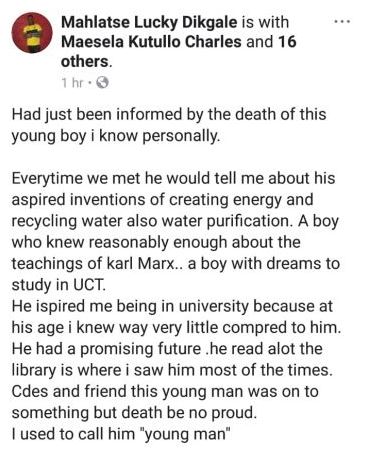 He is survived by his aunt and uncle whom he regarded as his parents, older brother, two nephews and a niece.
For more news your way, download The Citizen's app for iOS and Android