A social media user's recent post highlighted that not all home affairs stories are gloomy and frustrating.
Marius Botha recently posted a tribute to Nosipho Mkhupheka for her "unselfish and exceptional service" after she helped him and many others at the department of home affairs in Scottburg, KwaZulu-Natal.
Botha said that Mkhupheka stayed on at work after 4pm, despite the rest of her colleagues leaving work for the day, to assist the remaining customers. This is despite the department declaring earlier this year that their larger offices should be open temporarily from 7am to 7pm, to address the massive backlog of document distribution and registration.
ALSO READ: Gauteng reduces ID collection backlog
His tweet says Mkhupheka helped at least 40 people with a smile on her face.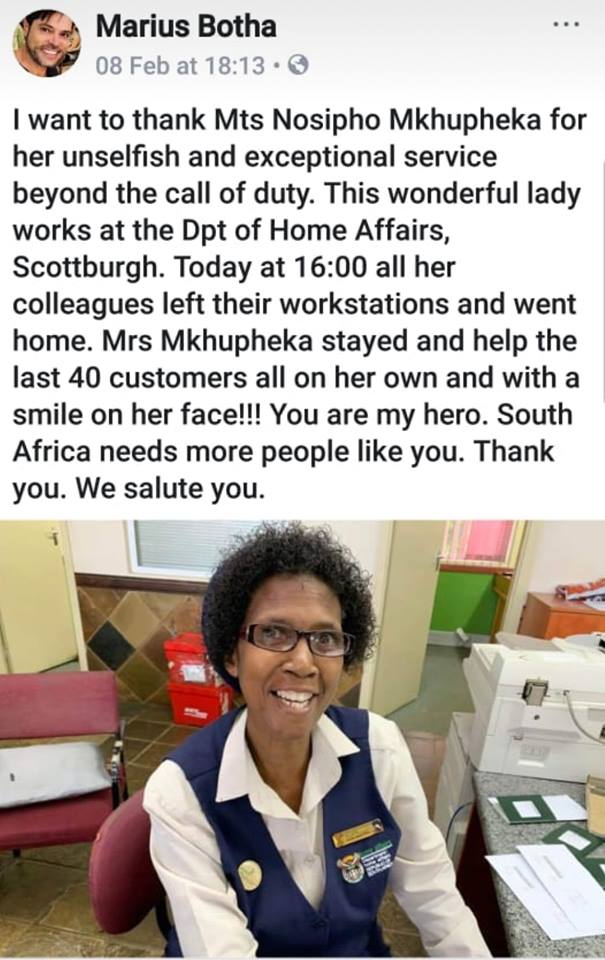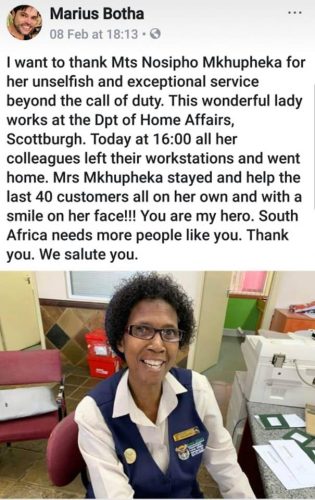 Since Botha's post, social media users from across the country thanked Mkhupheka, hailing her exceptional work and dedication as embodying the ethos of Batho Pele (People First) principles, which are often lacking in home affairs departments.
My heart has been warmed by the trending story of Ms Nosipho Mkhupheka,
a dedicated and selfless home affairs official who embodies the ethos of Batho Pele.
On behalf of the Public Service, I wish to extend our gratitude for your dedication to our people.
Enkosi Nosipho ???????????????? pic.twitter.com/oY9xBewcIS

— Ayanda Dlodlo (@MinAyandaDlodlo) February 10, 2019
Had the same experience at Randburg Home Affairs some time back. Office Manager, Mr Herman Lekalakala, personally stayed behind and assisted about 30 of us with document processing.

— Gordon Chilvers (@GordoACM) February 10, 2019
The thanks should not go one sided though. Just as much this Comrade is a star I blv @MariusBotha is one true spirited to go as far as posting this service excellence here. Thanks bro

— Joesim Joseph (@joesimarchite1) February 10, 2019
There are many of those young dedicated servants even if you go to Libode @MinAyandaDlodlo you will find a lady by the name of Nonkonzo Mzondi who even sacrifice her lunch time and went on to work even after hours to finish the que

— Ndumiso Jim (@jim_ndumiso) February 11, 2019
Staff at home affairs have also received flak from the public, and the department has called for a ban on cellphone usage by frontline staff.
Chairperson of the parliament portfolio committee on home affairs Hlomani Chauke said: "It is unacceptable that the public [spends] excessive amounts of time at home affairs offices, while officials spend a disproportionate amount of time busy with their cellphones. Officials are primarily employed to offer a service and the complaints point to dereliction of duty by some officials, yet they continue to draw a salary at the end of the month."
Home Affairs Minister Suyabonga Cwele also declared earlier this year that the massive ID backlog experienced at the Gauteng home affairs was addressed in four days.
Cwele said the department reduced the backlog from 90,000 uncollected documents to just 55,000.
For more news your way, download The Citizen's app for iOS and Android.