Kiernan Forbes, otherwise known by his stage name AKA, took to Twitter on Monday to announce he would no longer be performing at the Back2TheCity festival this year. AKA last performed at the festival in 2011 and he said he felt the desire to make a comeback this year.
However, the rapper apparently had conditions he needed to be met in order for him to perform. In his statement, AKA says he wanted the festival organisers to make a "big deal" about him the same way they do about international acts.
He said he had asked for promotion leading up to the show, adding the performance was not about money, as he was prepared to do the show "effectively for free" but just wanted his fans to experience "a certain level of production value".
AKA said the show organisers failed to meet his conditions, as his name was confined to a "minor detail" on the flyer. According to Forbes, international acts Camp Lo, J Live, Skyzoo and Elzhi were promoted more, which led to his pulling out of the festival line-up.
AKA has always been vocal about not opening for international acts, saying that they get better treatment than local artists.
AKA's statement got Twitter talking. Some tweeps said it was time local artists got the respect they deserved, while others accused Supa Mega of being dramatic and wanting special treatment.
In light of the comments and people lashing out at the festival organisers for not respecting local artists, Back2TheCity also went on Facebook to respond to AKA's statement and "social media rants".
In their statement, the organisers said AKA's withdrawal took them by surprise as they were in communication with AKA's management about a campaign that would highlight his performance feature by having extended time, a live band, special lighting effects, graphic display and fireworks.
The organisers said his withdrawal was unexpected, as they were still finalising the campaign plan, trying to meet his demands. However, the organisers expressed their will to continue the negotiations with AKA's management about his performance.
AKA again took to Twitter today saying he does not understand why the organisers saw the need to be "nasty" as he withdrew with his reasons and never tweeted about it.
Read AKA's statement below: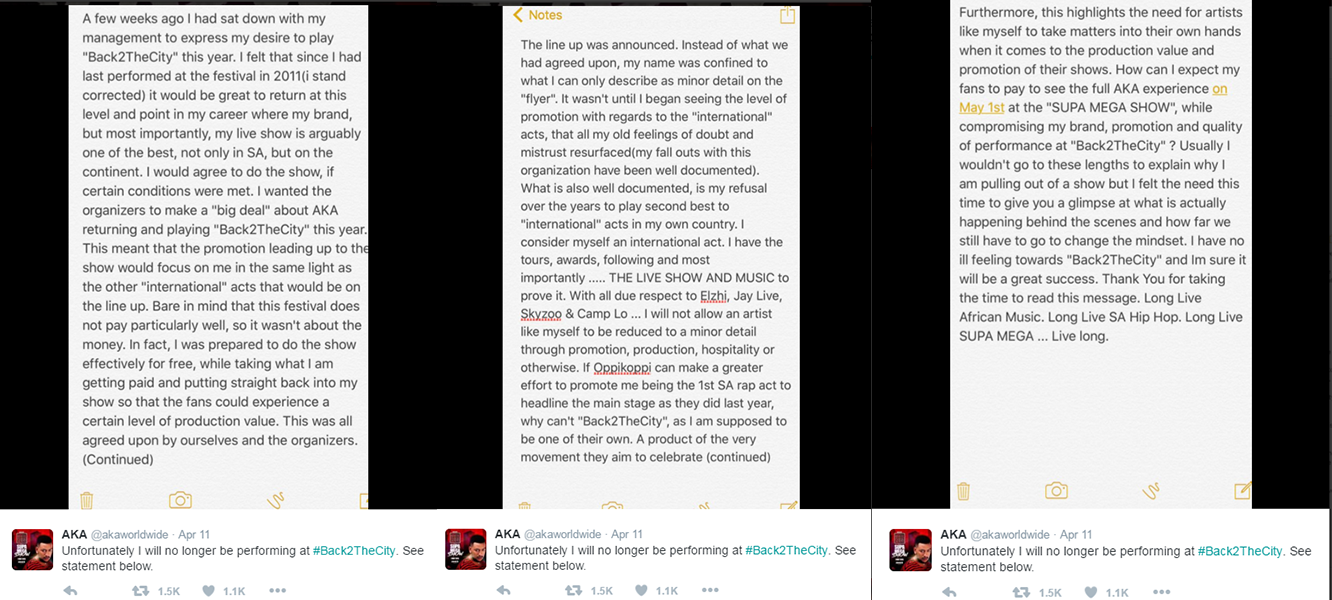 And a screengrab of the conversation between AKA's manager and Back2TheCity organisers: