South African Twitter is an endless source of entertainment, especially when celebrities are involved.
However, sometimes it's a playground of petty insults and retaliation – which is slightly amusing, but there has to be a limit right?
Here are a few times that local celebrities were simply far too petty on Twitter.
Somizi
Somizi couldn't help throwing some shade in the direction of his ex-bestie, Bonang Matheba, when he compared the performance of their two books.
Former Miss World contestant, Emma Wareus
What does a pageant winner from Botswana have to do with South African Twitter? Emma Wareus tweeted her name into folklore when she schooled Bonang (aka 'Champagne Darling') Matheba on how to pronounce 'Moët'.
Deleted my last tweet before I got in trouble. Shorter version: Moët is pronounced with the T – its 'mo-wett' not 'mo-way' ????.

— Emma Wareus (@Emma_Wareus) October 5, 2017
Pearl Thusi's stinging slaps
Pearl is undoubtedly the queen of shade, so when you even think of criticising her on the social media platform, expect a spicy clap-back.
However, we have to agree that mocking someone's physical appearance or body shaming is taking it way too far.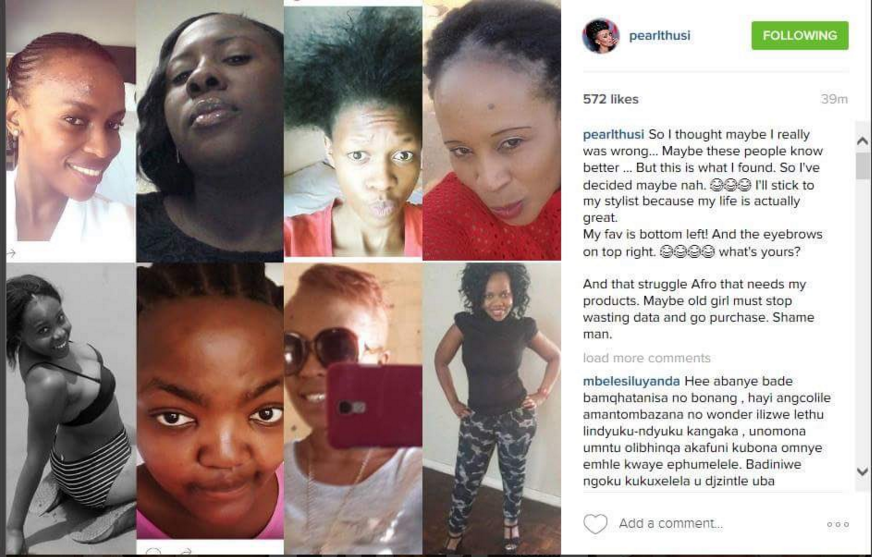 Tshedi Mholo
This tweet by Tshedi Mholo might seem innocuous, but you need some context to understand the petty shade. Tshedi was in a girl-band called Malaika, circa 2003, and they had a song called Destiny.
On Cassper Nyovest's new album, he featured her bandmate Gaopele for a remake of the hit single, also titled Destiny. Tshedi seems to think only one person can sing this song …
I will sing #Destiny better than anyone once ???????????? again????????????????????????????????…Book tickets @joburgtheatre/0861670670
Khamaaaaaan! pic.twitter.com/Tf4nwQCbVd

— TM (@tshedimholo) August 2, 2017
Fikile Mthwalo
Fikile Mthwalo couldn't help throwing some shade towards her husband's ex-girlfriend, Thembisa Mdoda on Instagram. When Twitter users dragged her for getting involved, she hit back strongly.
Euphonik
Euphonik has no chill on Twitter. but his chill well and truly disappeared after Bonang mentioned him in her book. His response was peak pettiness.
Let me take drugs. Cry wolf. Accuse and lie about some people. Believe my own lies. Wreck some homes, take more drugs then write a book. ????

— Euphonik™♛ (@euphonik) August 2, 2017
Lasizwe
Lasizwe single-handedly made himself Bonang's biggest enemy this year after parodying her on numerous occasions.
His video, titled Being Boneng went viral in 2017 – much to Queen B's chagrin.
Vlogger Lasizwe Dambuza comments on AKA's cheating Issue in new skit – Being Boneng https://t.co/BeSf2f6X7G pic.twitter.com/BP3WC71L58

— News365.co.za (@news365coza) September 24, 2017
Sizwe Dlhomo
When Pearl Thusi innocently questioned why Wizkid was so far down the list of 100 influential young Africans, Sizwe Dlhomo chimed in by revealing that it was actually in alphabetical order. He may have been correct, but his mansplaining tone was a little too petty for our liking.
Brought to you by All4Women
For more news your way, follow The Citizen on Facebook and Twitter.