There are some public figures who genuinely do not want to share their comments or opinions on political affairs because they feel it could damage their careers – or that their opinion isn't taken seriously because of their position of privilege.
The looting and rioting sparked by the imprisonment of former president Jacob Zuma has led many local celebs to add their voices about chaos in parts of KwaZulu-Natal and Gauteng.
After President Cyril Ramaphosa's address on Monday evening about the looting and vandalism, people flooded Twitter with their thoughts and what the president should have said and what can be done.
And, yes, those people included many celebrities. Actress Pearl Thusi's looting comments didn't help her intended argument.
ALSO READ:
She compared the violence to the situation in neighbouring Eswatini. The country has experienced pro-democracy protests against the monarchy and calling for the democratisation of the nation. The protests have been violent with protesters killed by police. Thusi thought the comparison was just.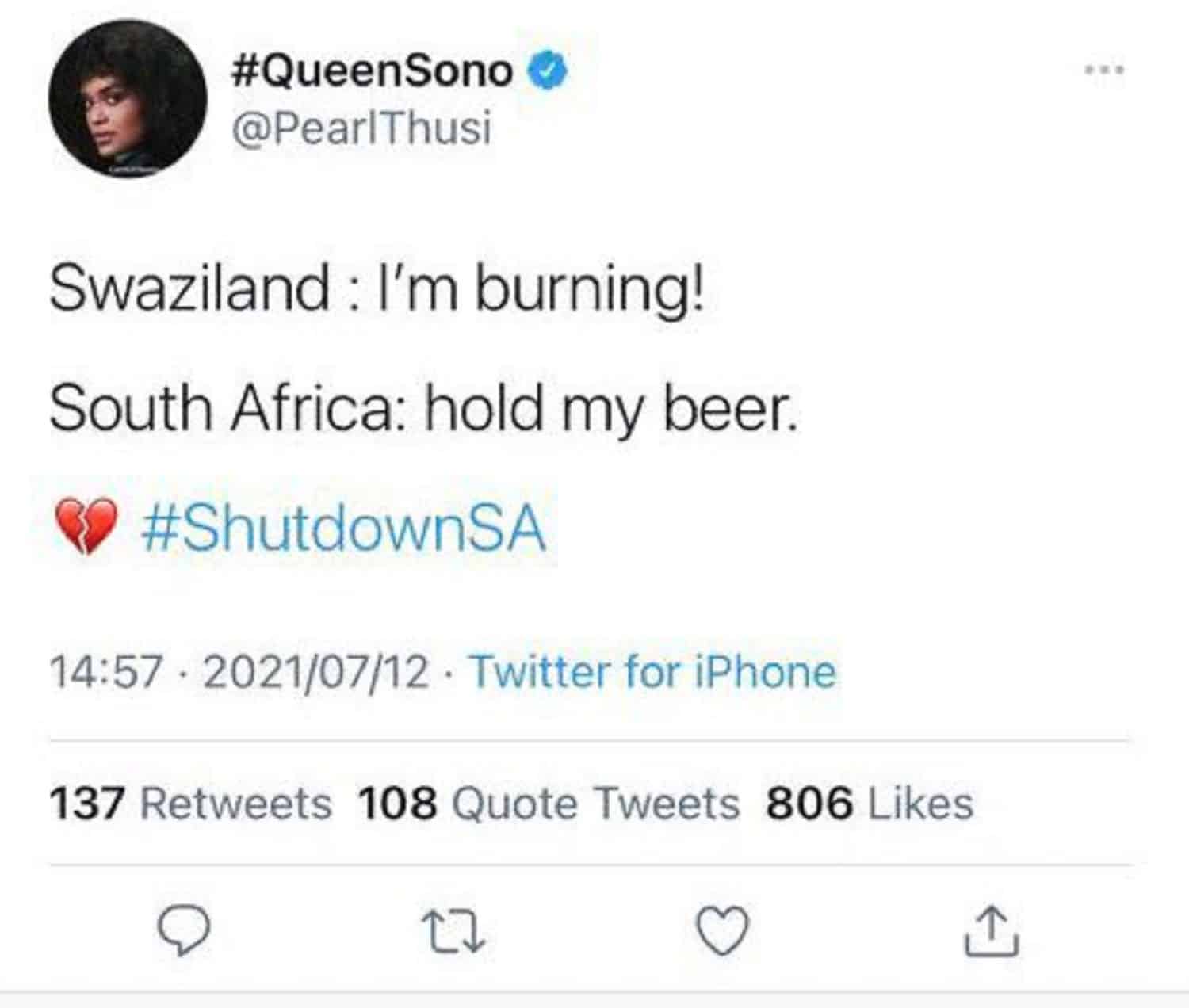 She later deleted her tweet, saying it was clearly a joke.
Thusi then added: "Why was an army not dispatched when FP Zuma was removed from office… surely there's more to this… people have been unhappy with our govt… anyway."
The actress's tweets set off a storm on her timeline, with Twitter users saying she needed to "educate" herself before tweeting her opinion and as a public figure she should keep her comments to herself. This was something she did not agree with.
Clapping back to some tweets in a condescending way.
Underground Railway actress Thuso Mbedu has continuously shared her opinion on current affairs in SA. She said the government and people of privilege were "short-sighted."
Some celebrities chose not to say anything due to it affecting their bank accounts. TV presenter Ayanda Thabethe said she won't be outspoken about this political affair, as it doesn't help her career.
"As a public figure, you really don't win when you discuss your views on politics. Since the topic doesn't help my career." Previously, Thabethe slammed Duduzane Zuma for not acknowledging his privilege.