It has been a decade and television personality Bonang Matheba seems to still have the power to get under poet and musician Ntsiki Mazwai's skin.
The poet recently went on a rant on Twitter, saying Bonang is a "marketing gimmick", and making it clear to her followers that Bonang does not actually own bubbly brand House of BNG.
"Believing Bonang owned the wine was like believing Bonang owned Revlon. She is just the marketing gimmick to sell these products. Not the owner," said Mazwai in a tweet.
The musician then went on to talk about her own beading business. She mentioned how she is a true entrepreneur because she has full ownership over the business, owns the whole value chain for her product and makes all decisions pertaining to her business.
"Entrepreneurship is what I'm doing with my beadwork. Where I own the whole value chain for my product and make all the decisions. Pricing, marketing, design, pay [sic] workers. Everything.
"It is not this cut and paste your name onto other people's products," said Ntsiki.
ALSO READ: Ntsiki Mazwai disgusted at DJ Zinhle's new business
Socialite and supermodel Babalwa Mneno, commonly known as Barbielish, took to Instagram to address Mazwai's hate, and defend her buddy Matheba.
Barbielish expressed concern over the poet still getting hot and bothered by Bonang after 10 years, which was when the attacks towards the television personality started.
"My main worry with all of this is how Ntsiki is still having nightmares about Bonang 10 years later," said the socialite.
Babalwa then asked if Bonang was the only black person that does not have full ownership over their alcohol brand, querying if Ntiski had "applied her mind" over the possibility that sometimes being a marketing gimmick can be more profitable that actually starting your own business.
"Is Bonang the only black person that doesn't own their wine/alcohol brand or whatever? Also, has Ntsiki properly applied her mind, open-mindedly, that maybe some marketing gimmicking can make you more money than actually starting ur own sh*t?" said the former Big Brother star.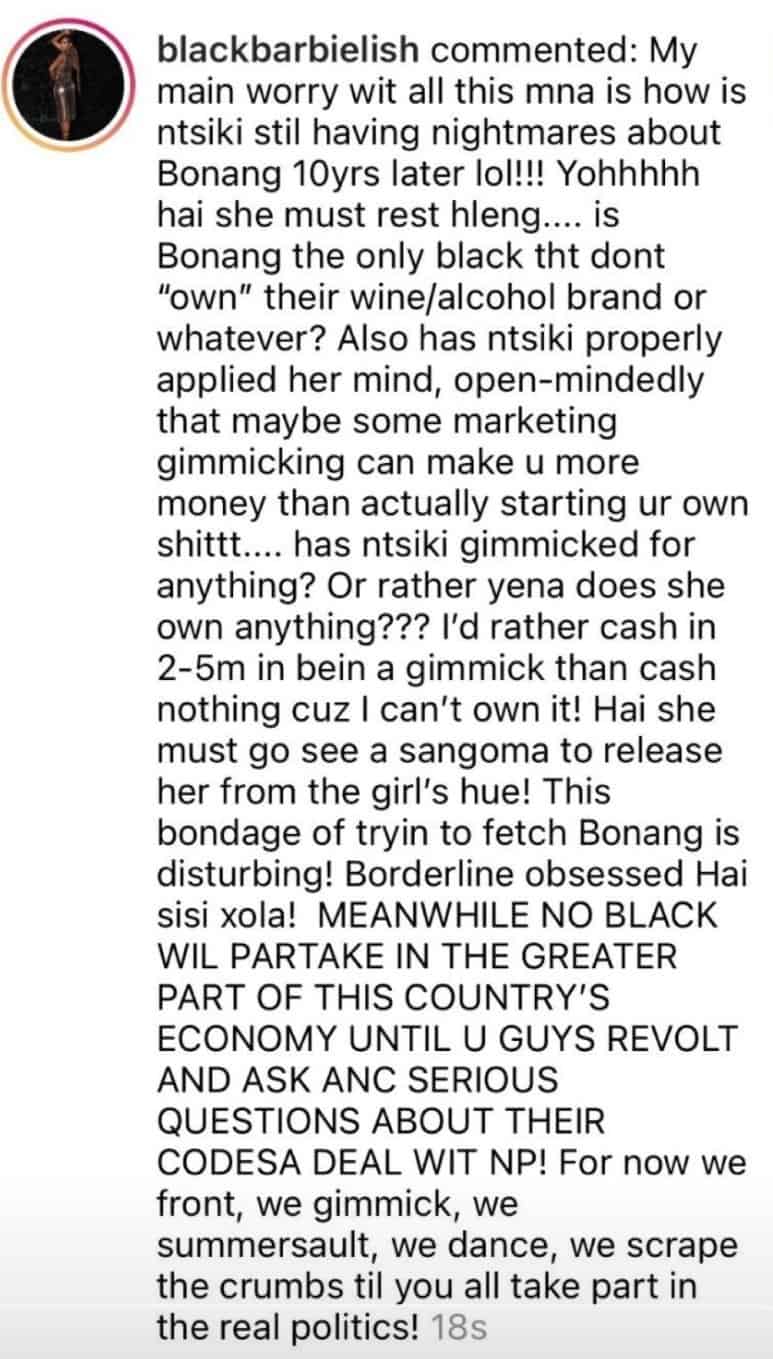 READ NEXT: OPINION: Ntsiki Mazwai has beef with pretty women