The super-sized spectacles, titled Perceiving Freedom, made of stainless steel, are a full 60m2 in size and look out to Robben Island; creating a focal point of commemoration between its location and our country's history.
There was a lot of debate around the art work; not everyone appreciated the Elion-City of Cape Town collaboration and, instead, saw it as opportunistic.
Duane Jethro said the art work suggests Mandela is beckoning us from the afterlife to buy Ray-Ban sunglasses, to do our duty for reconciliation and nation-building by consuming this luxury product."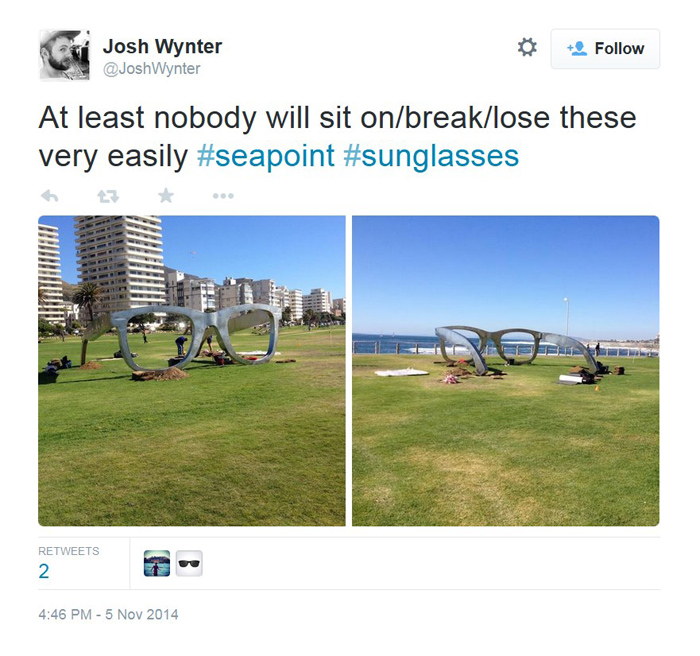 While Richard Poplak from the Daily Maverick described the work as "pointedly non-political, inclusionary, and user-friendly".
The group Tokolos Stencils who stand for 'freedom and justice' (and are 'willing to fight for it') have vandalised the art work.
The vandals say they 'intervene in white supremacist corporatist art'.
The group says "there is always space to broaden our vision so that we can all see the bigger picture" on Mandela's sunglasses.
Their tumblr page says they are an anonymous group of artisits, activists and concerned citizens – remaining anonymous because their work is often illegal.
They believe South Africans need to be reminded that freedom will remain 'elusive' unless we fight for it.