Colourful Ndebele patterns greet the visitor, along with some hearty singing by a number of gentlemen decked out in traditional Zulu garb. The singing is endearing, but rather shortlived, as the welcome party stops singing once guests are inside.
Some women stationed outside one of the huts near the entrance sell some jewellery made out of beads. They make them there at their station in the shade. These items are spectacular and quite affordable. Everything thus far seems set up for the foreign visitor, but once inside the first place our guide takes us to, Lesedi Cultural Village, proves to be a symbol of South African heritage and a gentle reminder of where we come from, especially for high school pupils and those who bunked history class.
The Village awaits those willing to participate in an adventure that reveals the mystical culture of the people of the region, steeped in tribal folklore and ancestral traditions. The guide describes culture as the light of the nation and directly translated, "Lesedi" means "light". One of Lesedi's differentiating factors is the village's natural and tasteful incorporation into the surrounding bush, river and forests, with five traditional homesteads.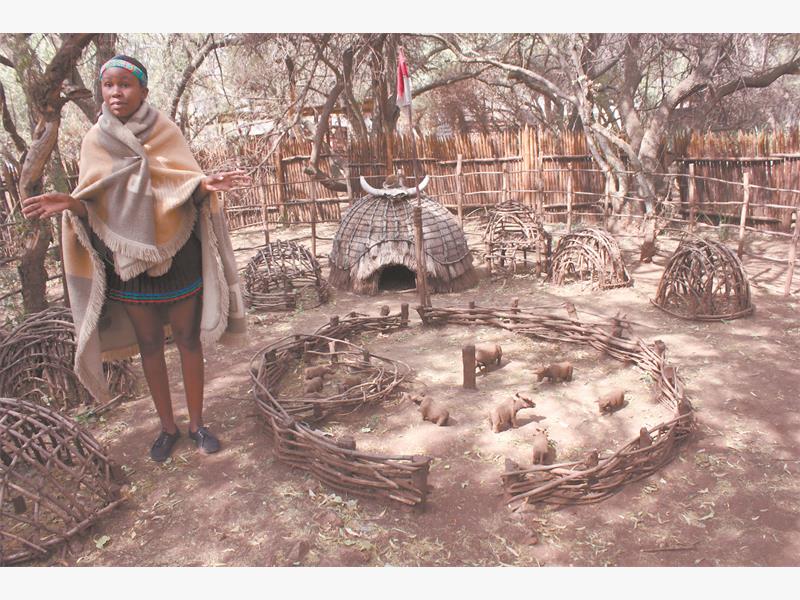 A video presentation of events from the arrival of the Dutch settlers all the way to our first democratic elections sets things in motion for visiting parties, most of whom are school children. After this the audience is taken on a journey through the various language groups and tribes in our country.
A passionate orator spoke of the Zulu nation with great pride as he regaled the audience with a recollection of the Battle Of Isandlwana in which the Zulu defeated a British army. He spoke of Shaka, who opted for shorter spears instead of long ones and implored his soldiers to fight at close quarters. A demonstration of Zulu stick fighting paid testament to the skill involved.
In the Giant Ingoma Dance Boma, a drum beats rhythmically. The dance floor erupts as various tribes in cultural dress leap and stamp in a proud parade. Pedi women execute a hip-swaying rain dance in honour of Rain Queen Modjadji, who reigns in the Limpopo Province. "Now, help us summons our ancestors!" screams our guide.
Herbs are scattered over an open fire, releasing a sweet scent. Dancing becomes increasingly frenzied, culminating in men wearing zebra masks leaping across the floor.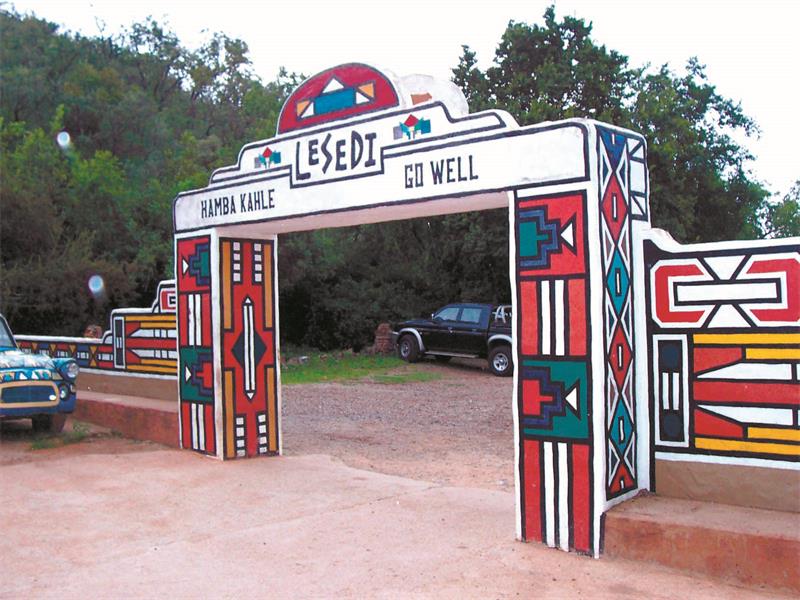 The Lesedi Marimba Band from West Africa play some music at meal times at the Nyama Choma Restaurant. They are accompanied by other musicians, taking listeners down to KwaZulu-Natal and its maskandi music, which is also referred to as "Distance Music", because if you are travelling a distance and playing your guitar, you will reach your destination without feeling the distance because of the music.
At the end of this historical journey, guests are taken on a tour of five homesteads, which includes examples of the Zulu, Xhosa, Basotho, Ndebele and Pedi styles. The Pedi still wear a Scottish kilt as part of their traditional attire in remembrance of their battle against the Scottish. It is said that Pedi let their guard down when they saw people in skirts, thinking they were women. They put their weapons down and were attacked.
The way some of the huts and villages were arranged was determined by fears of impending attacks. The Basotho used to have their cattle in the middle of their homesteads, which resulted in mayhem for them because enemy forces would destroy property in the process of taking cattle. Later they kept their cattle outside their homesteads so that cattle was all the enemy took.
Local families live permanently in each of these five homesteads and they encourage visitors to actually live among these families in guest accommodation that offers all the necessary modern-day amenities and comforts.