With the only sounds being rattling leaves in the wind and crickets chirping under a starlit sky, you re-learn to appreciate the serenity of nature. Taken from the local Swazi language, the name Kwa Madwala means "place of the rock."
A 4 000-hectare private game reserve near Hectorspruit, Mpumalanga, the lodge offers a spectacular view of the Lowveld, with beautiful towering granite outcrops surrounding the area. Although close to Swaziland, Mozambique and the Kruger National Park, there's no need to leave the grounds, as Kwa Madwala offers everything. From daily game drives to private bush-view terraces, you can enjoy a diverse variety of wildlife.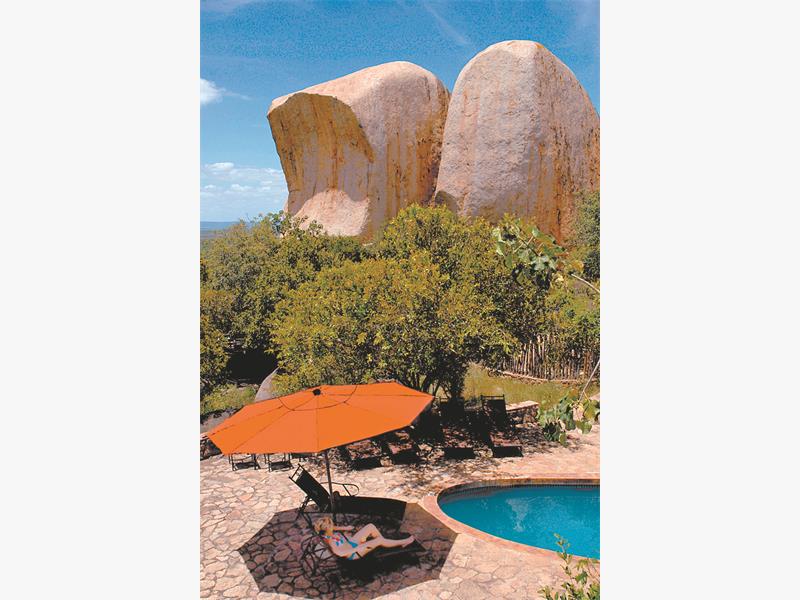 The rooms, at first glance, look like small, shabby African huts blended into their rock surroundings. As you enter the rooms, however, the decor and red and white linen create a luxurious effect. And the deceptive first impression is further undone by the discovery that the size of the rooms is more than adequate.
If you're going to spend time with nature, what better way to become one with your surroundings than an open-air shower? Each balcony, cleverly postitioned to face away from anyone else's line of sight, offers the opportunity for a little liberty.
A highlight is the traditional boma dinners. There's an evening fire set in front of two gigantic outcrops, lit with paraffin lamps, and rustic wooden tables are scattered all around.
This is a luxury experience: leave the smart shoes at home, and embrace it. Kwa Madwala can arrange elephant-back safaris, hiking tours and microlight flights.