We are not even close to being exhausted from our recent quest of dining in the top fine dining restaurants in Johannesburg and Solo Sandton was up next.
If you are a regular on Instagram, you may have seen plenty of pictures of a particular wine cellar in the heart of a Sandton restaurant named Solo Sandton. Plenty of well-known celebrities have taken images at this spot before, and the images have been shared on many feeds on the "gram", but the least talked about is the actual dining experience. 
So, does Solo Sandton food and menu match its Insta-worthy pics?
Located in the heart of Africa's richest mile, Sandton's restaurants are often perceived as expensive and only being for the rich. However, Solo Sandton has somehow managed to appeal to everyday people, not just the affluent. The restaurant's decor is very modern with granite stone style aesthetic from the tables, flooring and walls centred around the bar and kitchen.
As we were seated, our every need was catered for throughout the night. The menu, which is nicely compact and not overwhelming, is divided between tapas, speciality menus, lots of sushi and dessert.
Tapas are always a must when tagging along with a partner or a group as the sharing of small plates isnt going out of trend any time soon.
ALSO READ: Date night: Gemelli for quick service and amazing cheesecake
We tried the arancini which are Italian deep-fried balls, stuffed with crushed peas, wild garlic mayo and pecorino romano emulsion- a cheese sauce that usually coats spaghetti pasta. The arancini balls were quite fishy, it was filled with plenty of shredded salmon and the flavours didn't assist in breaking this strong flavour.
However, the prawn kataifi was the right type of balanced seafood with three dips; aioli, ponzu mayo and hot African Pepper sauce.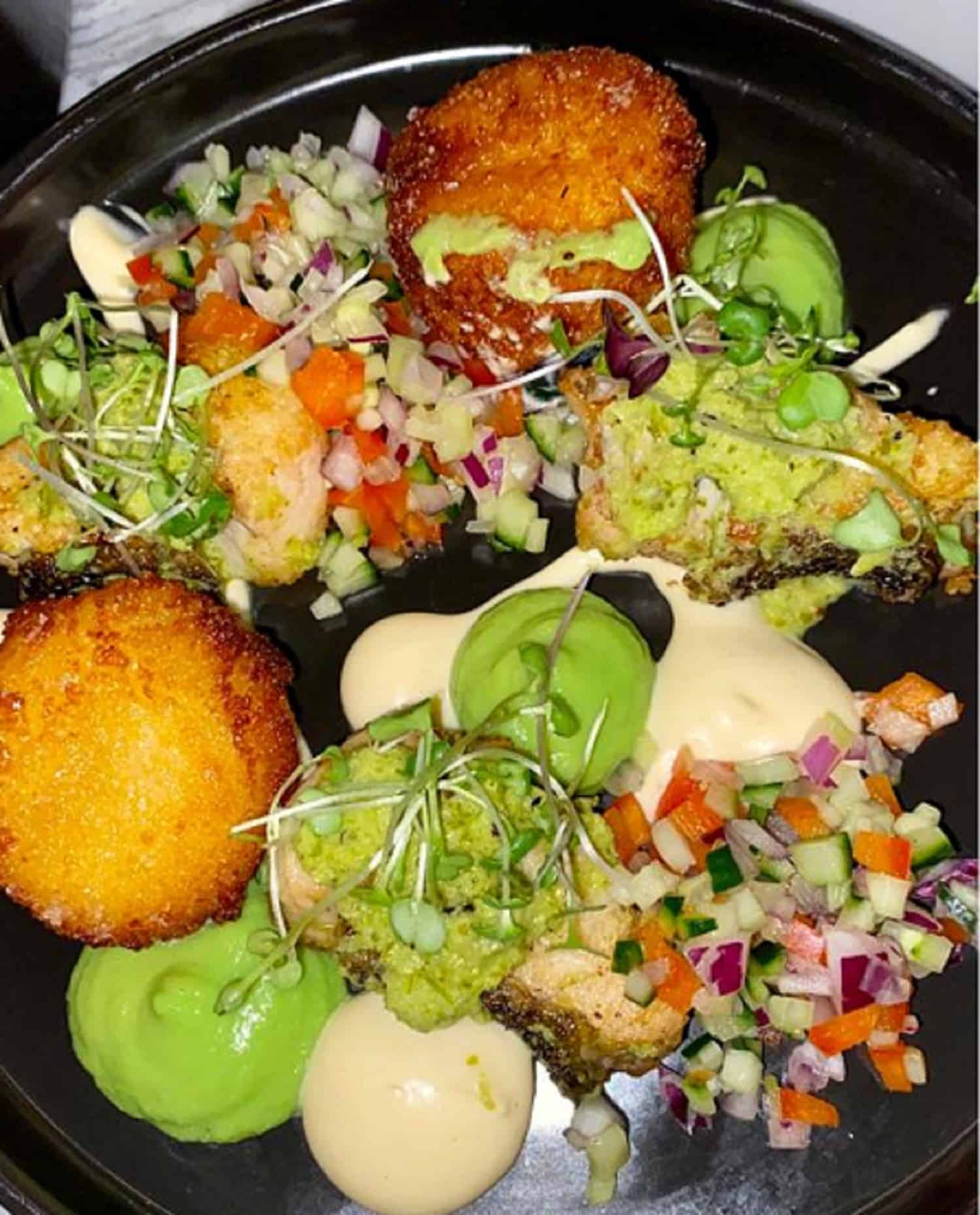 The bunny chow and pork taco from the tapas selection were the winners. The bunny chow is a slow-roasted lamb neck curry with mango atchar and mojito yoghurt. Basically, a bunny chow that went to private school. The dough of the bunny chow was more of a dombolo- or dumpling, fresh and quite delicious, everything on the dish just went well altogether.
Staying true to an original taco, Solo Sandton's pork taco is filled with guacamole, fermented tomato salsa, roasted pork belly and a chipotle sauce. A make or break of any taco is the shell – they are either hard or soft. Made out of cornflour, the tacos were soft and held their shape as we tucked in. 
The tapas can be your starter and main, you can have a look at the sushi too because the portion sizes were quite generous and filling.
The mains range from Solo's speciality dishes and pasta. The parmigano Reggiano (cheese) risotto, truffle, dried mushrooms which gave a nice bite with an onion confit and an 18-month matured cheese. The risotto was cooked well and a smaller portion than expected. But considering how much we had for starters, it was a welcome surprise. My partner had a pork belly crackling with tempura maize, spiced carrots, salted caramel shallots and aniseed jus.
The pork belly was bountiful, and the edges were overcooked, however, for the most part, the pork was cooked well, soft and still succulent.
For personal preference, pairing cocktails with dishes can work at times. Solo Sandton's cocktails are quite boozy, such as the 'between the sheets' liquored up with Hennessey, silver tequila, triple sec, and sweetened with agave syrup, grapefruit juice and a squeeze of lemon juice.
Budget R500 for food because the mains do start from R250 and above. However, there are choices of platters for people sharing and for drinks budget R150 plus.
Rating:
Service: 8/10
Food: 6.8/10
Ambience: 7/10