These 15-minute meals take the strain of cooking away but still pack a punch when it comes to flavour. And, considering the fact that we have reached the 10th month of the year already, slogging over a hot stove is just not an option.
And, they're totally Instagram-worthy too.
Chargrilled chicken chimichurri salad
Ingredients
Chicken breasts 2, small
Dried oregano 1 tsp
Dried chilli flakes 1 tsp
Olive oil
Extra-virgin olive oil
Red wine vinegar 1 1/2 tbsp
Red onion 1/2, finely diced
Garlic 1/2 small clove, crushed
Rocket 2 handfuls
Coriander a small bunch, leaves picked
Flat-leaf parsley a small bunch, leaves picked
Method
Lay the two chicken breasts between clingfilm and bash until they are 1cm thick.
Put in a bowl with the oregano, chilli flakes, some seasoning and 2 tsp olive oil.
Whisk 1 tbsp extra-virgin olive oil and the red wine vinegar together with some seasoning in a bowl and add the red onion and garlic.
Heat a griddle pan to high and fry the chicken pieces for 3-4 minutes on each side until chargrilled and cooked through.
Rest on a plate for 2 minutes before slicing.
Add the rocket, coriander and parsley leaves to the dressing and toss well.
Pile onto plates and top with the sliced chicken and any resting juices
Source: Olivemagazine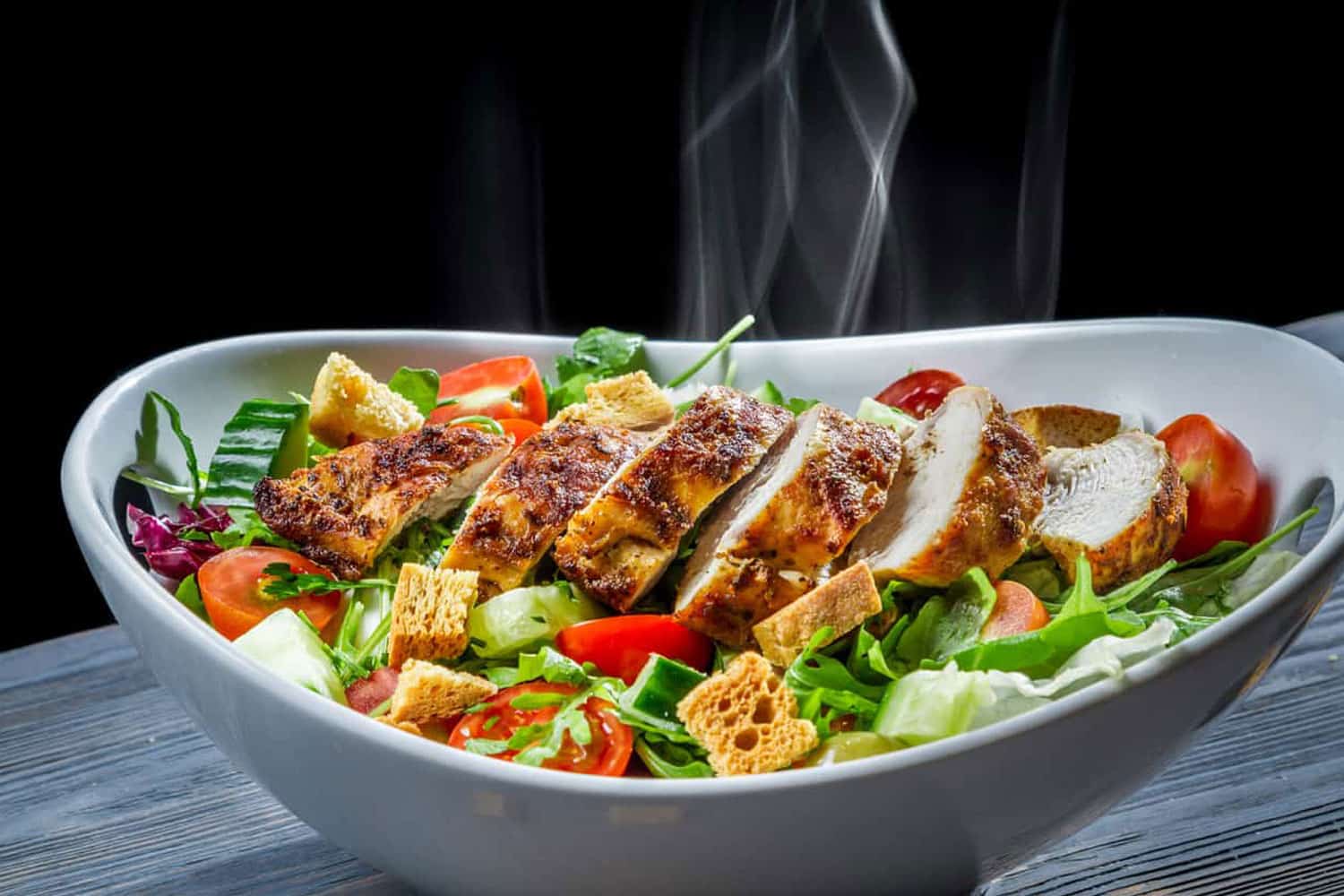 Quick Lamb Tagine
Ingredients
2 small aubergines
300g quality lamb neck fillet
1 heaped teaspoon garam masala
olive oil
a few sprigs of fresh coriander
1 mug (300g) couscous
1 heaped tablespoon shelled pistachios
1 heaped tablespoon sesame seeds
1 tablespoon cumin seeds
1 good pinch of saffron
650 g ripe mixed-colour tomatoes
1 preserved lemon
4 spring onions
½ –1 fresh red chilli
Method
Prick the whole aubergines all over with a fork, then cook in the microwave (800W) for 7 minutes.
Put 1 mug of couscous and 2 mugs of boiling water into a bowl and cover.
Cut the lamb into 8 pieces and flatten with your fist, then toss with sea salt, black pepper and the garam masala. Put into the large frying pan with 1 tablespoon of oil, turning when golden.
Toast the cumin crunch mix in the medium frying pan until lightly golden, then pound in a pestle and mortar. Return the empty pan to a low heat.
Carefully transfer the aubergines to a board, then halve lengthways and add to the lamb pan, skin side down, pushing the lamb to the side. Put the saffron into a mug half-filled with boiling water.
Roughly chop the tomatoes, finely chop the preserved lemon, trim and slice the spring onions and chilli, then add it all to the medium frying pan with 2 tablespoons of oil, the saffron and its soaking water.
Turn the heat up to high, bring to the boil, then season to taste.
Fluff up the couscous, then spoon over a large serving board or platter.
Flip the aubergine over to soak up the pan juices, then place on top of the couscous and pour over the tomatoes and any juices.
Lay over the lamb, then scatter with the cumin crunch and the coriander leaves. Serve with the yoghurt.
Source: Jamieoliver.com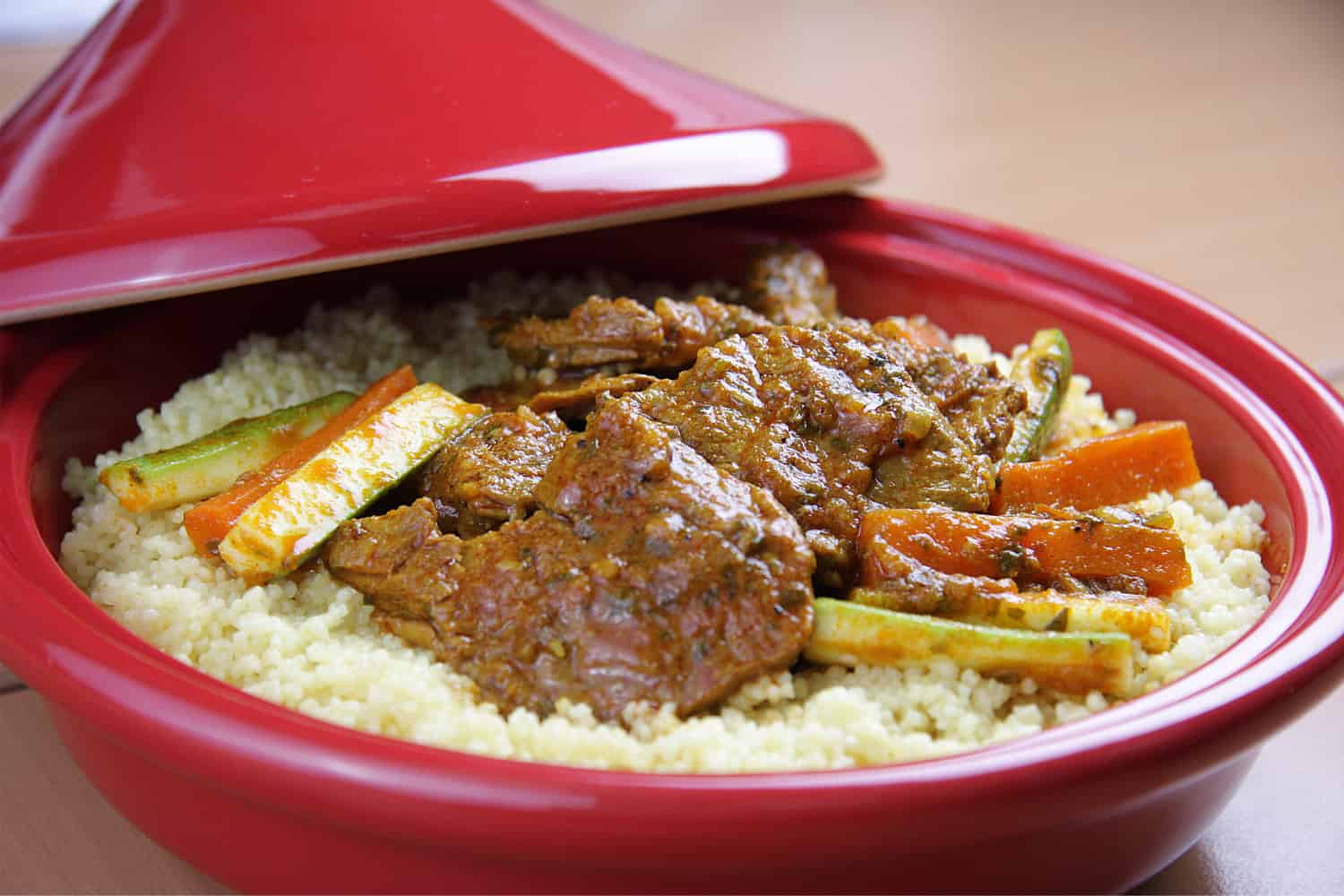 Thai green prawn curry
Ingredients
1 tbsp sunflower oil
1 shallot, finely chopped
2 garlic cloves, finely chopped
1-2 tbsp Thai green curry paste, or to taste
125ml coconut milk
75g sugar snap peas, thickly sliced diagonally
85g cooked prawns, peeled
1 tsp soy sauce
1 tsp lemon juice
small handful coriander, chopped, to serve
noodles, to serve
Method
For this 15-minute meal, heat the oil in a wok or large saucepan. Add the shallot and garlic, and stir-fry for 1-2 mins. Add the curry paste, coconut cream and 50ml water, and bubble for 2 mins.
Add the sugar snap peas and cook for 1-2 mins until just beginning to soften.
Add the prawns, soy sauce and lemon juice and heat through. Stir in the coriander and serve straight away with noodles.
Source: BBC Good Food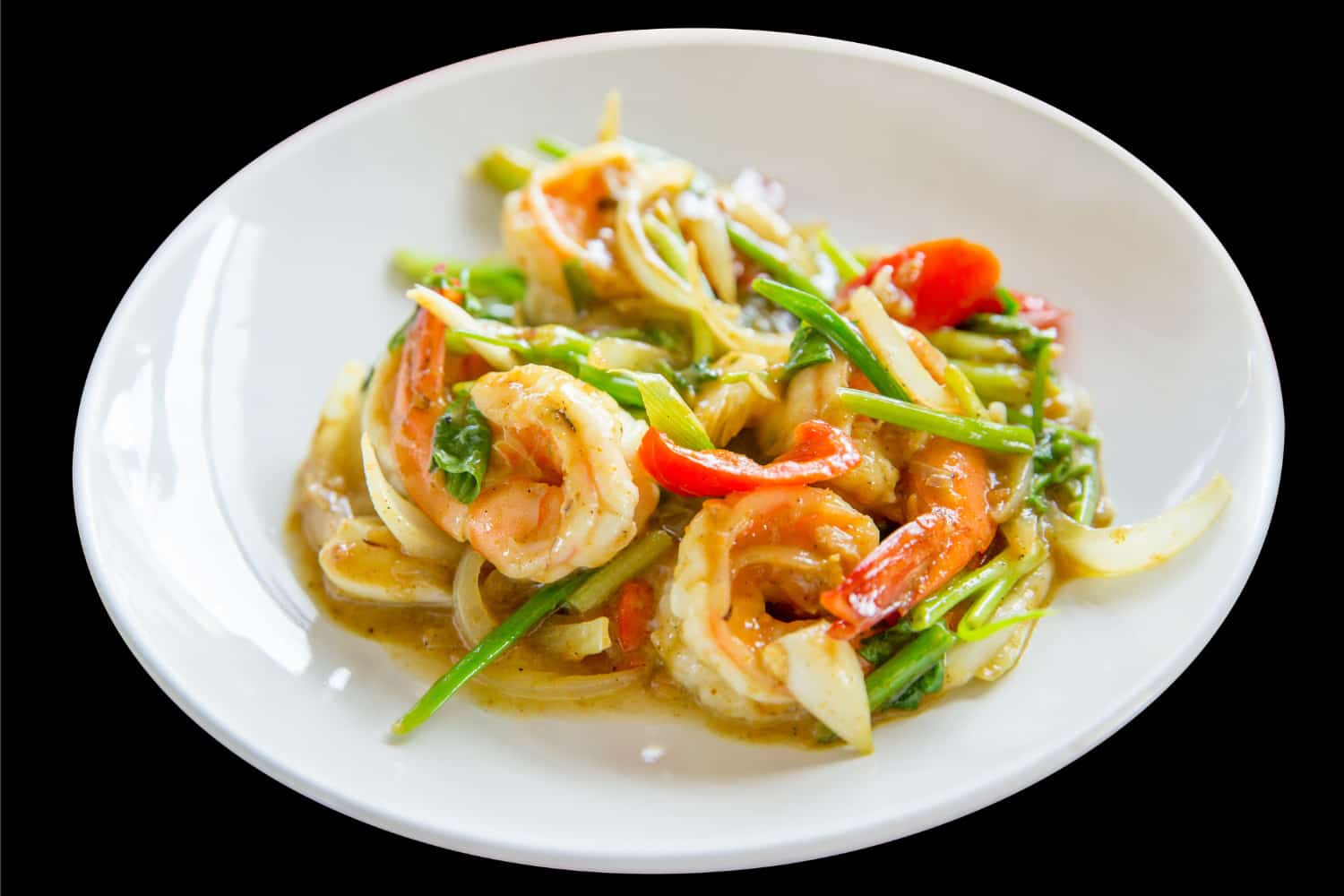 Chicken broccoli stir fry
Ingredients:
1 tbsp peanut oil
500g Chicken Thigh Fillets, thinly sliced
1 large red onion, cut into wedges
450g packet hokkien noodles
2 tsp minced garlic
2 tsp crushed ginger
1 head broccoli, cut into florets, stem halved lengthways and thinly sliced
1/3 cup (80ml) oyster sauce
1/2 cup (75g) unsalted cashews, toasted
Method
Cook the noodles. Drain well.
Meanwhile, heat the oil in a wok or large frying pan over high heat. Stir-fry the chicken, in 2 batches, for 2 mins or until golden brown and cooked through, transferring to a plate between batches
Combine the chicken, onion, garlic, ginger and broccoli florets and stems in the wok or pan. Stir-fry for 4 mins or until broccoli is tender.
Add the oyster sauce with 1/4 cup (60ml) water and cashews. Stir-fry for 2 mins or until heated through. Divide noodles and stir-fry among serving bowls. Serve immediately.
Source: Taste.com.au