As always the traditional ball draw for grid positions would shake things up for the first race of the day. Seef Fourie (Pro) drew pole position ahead of Fred Els (Master). Willie Erasmus (Pro) drew third position with Shaun Nel (Pro) starting alongside him. Newly crowned champion Devin Robertson (Pro) would start from the third row with Divan Myburgh (Pro) making a welcome return in sixth.
Liqui Moly Legends Championship – Round 11 – Red Star Raceway – 28 November
Race 1
Pole man Seef Fourie had his hands full with fast starting team mates Willie Erasmus and Devin Robertson challenging him for the lead early on. Divan slotted into fourth position after his cousin Llewellyn Myburgh (Pro) and Keagan Wessels (Semi-pro) tangled coming onto the main straight at the end of the first lap.
Robertson grabbed the lead on lap two with Divan taking second onto the back straight. Erasmus used the opportunity to relegate Fourie to fourth, but Fourie retook the position a lap later down the back straight. The battle behind the leaders was just as close. Franco Di Matteo (Master), Anro Stadler (Semi-pro) and Nel were fighting tooth and nail for sixth position, with a recovered Llewellyn Myburgh closing in on them quickly as well.
Clinton Bezuidenhout (Young Lion) soon joined the party when he got past Nel for eighth position. Llewellyn continued his charge by overtaking both Stadler and Di Matteo, and then passed Justin Robertson (Master) for fifth position on the penultimate lap of the race as well.
Robertson proved why he is the three time SA champ by taking a comfortable Overall and Pro class victory ahead of Divan and Fourie. Sixth placed Robertson Senior took the Masters win with ninth placed Bezuidenhout taking the Young Lions category. The Semi-pro honours went to eleventh placed Stadler.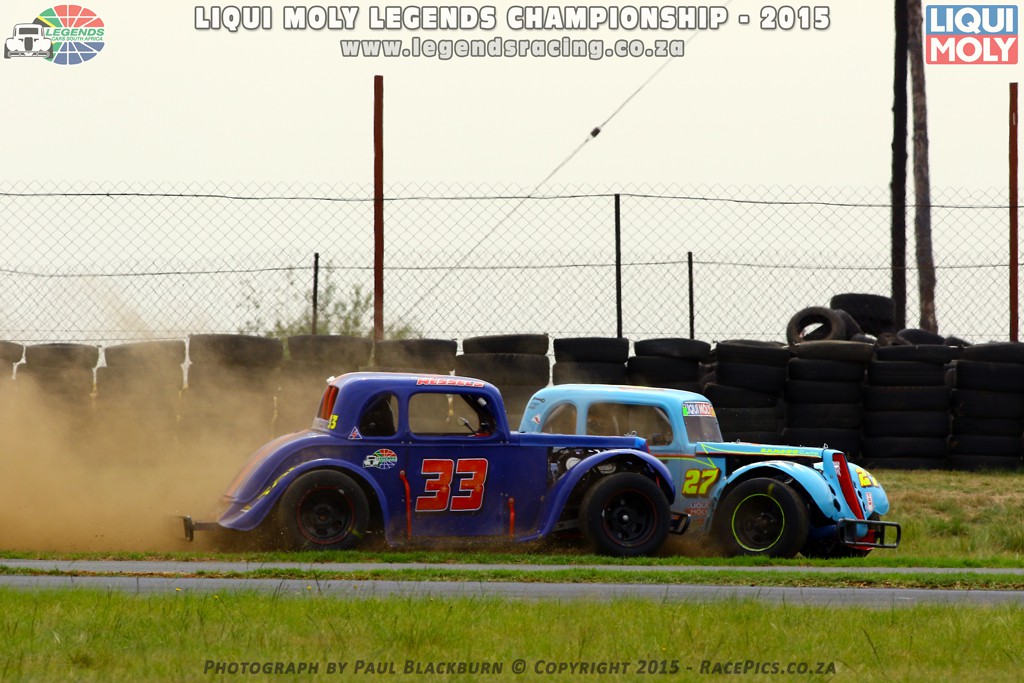 The drama started early in race one
Race 1 Results
Devin Robertson – Best lap: 2:14.077
Divan Myburgh – Best lap: 2:14.535
Seef Fourie – Best lap: 2:14.325
Willie Erasmus – Best lap: 2:15.781
Llewellyn Myburgh – Best lap: 2:14.703
Justin Robertson – Best lap: 2:17.079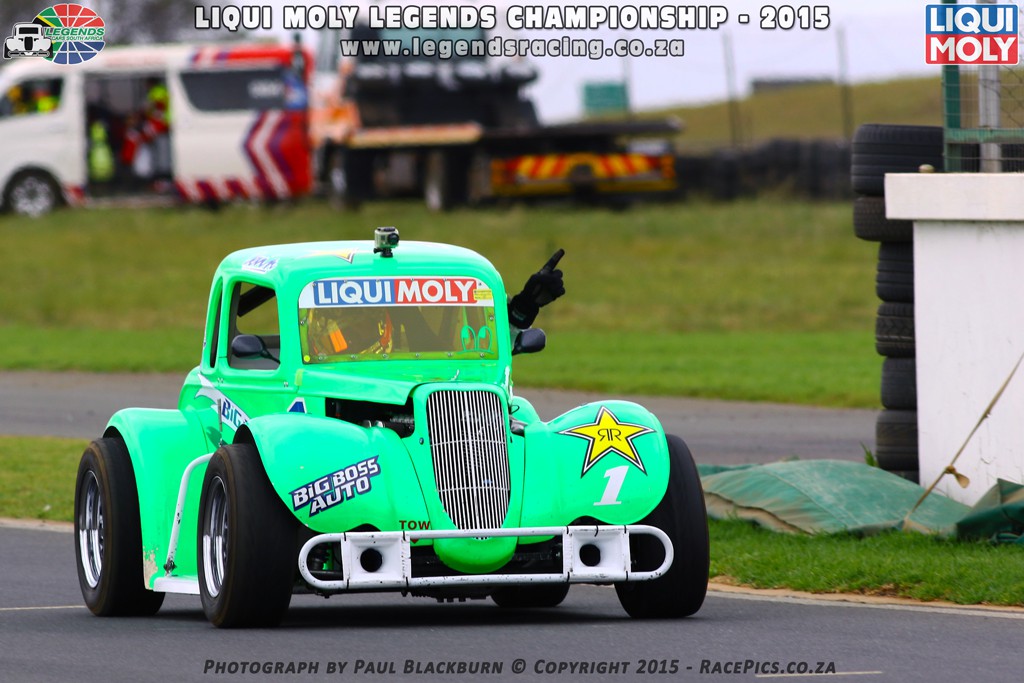 2015 series Champion Robertson took first blood
Race 2
The second race of the day would be a repeat of the first with nonstop action highlighting a brilliant six lap sprint race. Llewellyn's luck ran out once again when he was turned around through turn one at the start of the race – by his cousin Divan no less. Justin Robertson took the lead through turn one with Franco Di Matteo and the rest of the pack in tow. Devin Robertson was up to second by the end of the first lap with Stadler relegating Di Matteo to fourth.
Robertson Junior then grabbed the lead when his uncle ran wide coming out of turn one on the next lap. Di Matteo slotted into second and was followed by Divan, Stadler, Nel and Wessels with Robertson Senior re-joining in seventh place. Fourie was also fighting his way through the pack from fourteenth on the grid and quickly took a hand full of positions to move into fifth by lap three! A fired up Fourie then took fourth place from Nel through turn two, with Wessels getting past Nel through turn six on the same lap.
Nel seemed to be battling with a loss of power as both Robertson Senior and Stadler passed him on the same lap too. Fourie continued his charge as he took third place from Di Matteo on the penultimate lap of the race. Young Wessels was having the race of his life when he slotted in behind the experienced Fourie as well, dropping Di Matteo another spot down the leader board.
Robertson went on to take another comfortable Overall and Pro class victory – this time ahead of Divan. Fourie only just kept Semi-pro winner Wessels at bay to take third position. Fifth placed Di Matteo took the Masters honours with eleventh placed Lonika Maartens taking the Young Lions laurels.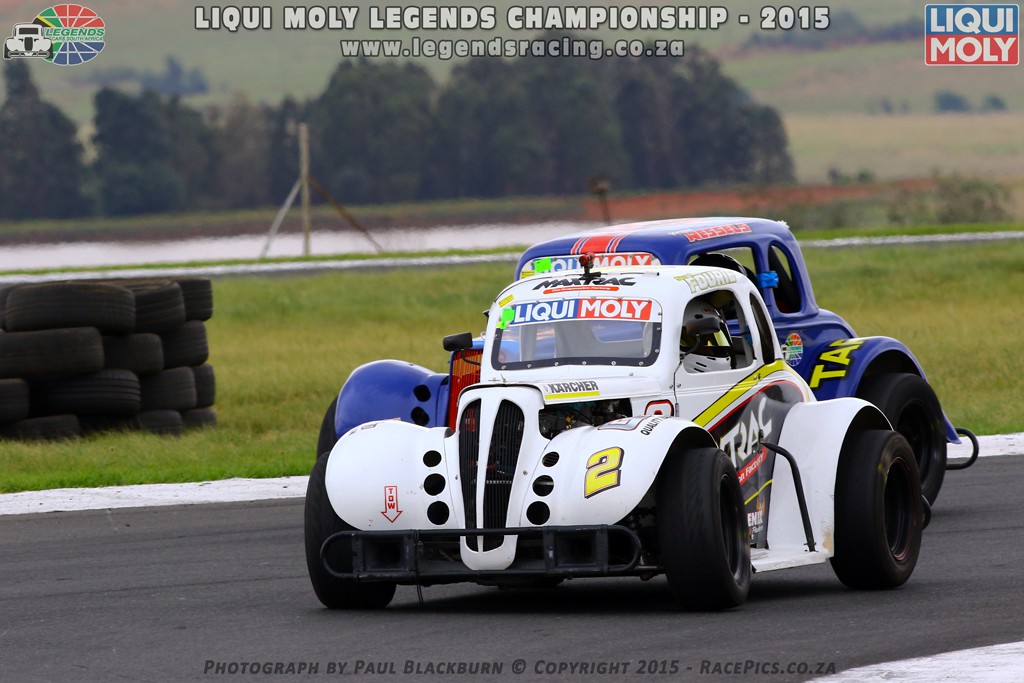 Fourie and Wessels had a close but clean battle for third position
Race 2 Results
Devin Robertson – Best lap: 2:14.525
Divan Myburgh – Best lap: 2:15.015
Seef Fourie – Best lap: 2:14.680
Keagan Wessels – Best lap: 2:15.882
Franco Di Matteo – Best lap: 2:18.129
Llewellyn Myburgh – Best lap: 2:15.060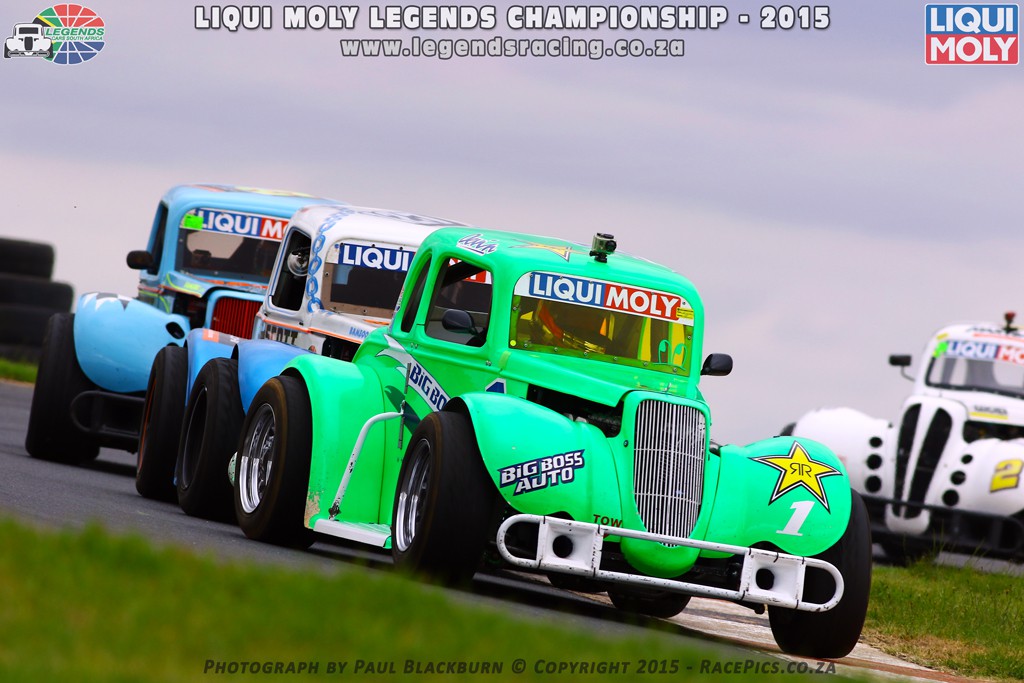 The battle for the lead could not have been closer
Race 3
A better script could not have been written for the final race of the day. A four way battle for the lead earmarked a fitting finale' to the end of the 2015 racing season. The traditional reverse grid for the last race set the proverbial cat amongst the pigeons as always. Willie Erasmus didn't help his chances when he ran wide through turn one however.
Llewellyn Myburgh grabbed an early lead ahead of the rest of the pack. Seef Fourie slotted into second by the end of lap one with Devin Robertson and Keagan Wessels in tow. Divan Myburgh was on a charge as well and was up to fifth shortly thereafter. Robertson took the lead on lap two with Llewellyn, Fourie and Divan in tow. The battle behind the leaders was just as close with young Clinton Bezuidenhout grabbing fifth place ahead of Wessels and the rest of the pack.
The leading quartet were involved in a battle royal, with positions being changed through almost every corner. Divan was up to second on lap five and then dived past Robertson a lap later coming onto the back straight to take the lead. Fourie was still hot on their heels with Llewellyn dropping back slightly. The fifth place battle was just as close with Bezuidenhout having to hold off Wessels and a recovered Erasmus.
Divan took the narrowest of victories over newly crowned Champion Robertson – 0.105 of a second separating them across the line! Fourie did enough to hold onto third position with Bezuidenhout getting the better of Wessels and Erasmus in their own battle further back in the pack. Divan ended the season where he had started – with an Overall and Pro class victory. Fifth placed Bezuidenhout took his second Young Lions victory of the day with sixth placed Wessels doing the same in the Semi-pro category. Ninth placed Robertson Senior would end the season on a high with another win in the Masters category.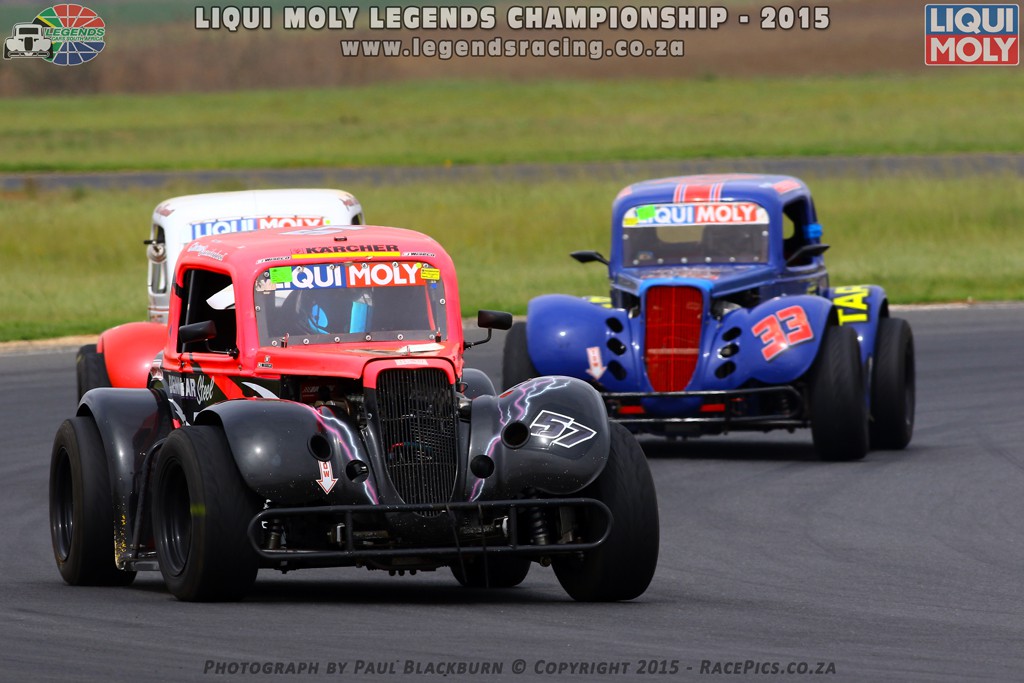 Bezuidenhout drove with maturity beyond his years
Race 3 Results
Divan Myburgh – Best lap: 2:13.585
Devin Robertson – Best lap: 2:13.067
Seef Fourie – Best lap: 2:13.619
Llewellyn Myburgh – Best lap: 2:14.531
Clinton Bezuidenhout – Best lap: 2:15.672
Keagan Wessels – Best lap: 2:17.219
Final points for 2015
Devin Robertson – 5635 points
Seef Fourie – 4955 points
Willie Erasmus – 4335 points
Franco Di Matteo – 4080 points
Llewellyn Myburgh – 3875 points
Justin Robertson – 3815 points
Shaun Nel – 3570 points
Keagan Wessels – 3140 points
Lonika Maartens – 3035 points
Divan Myburgh – 2795 points