Horrific dog fight near George: Animals confiscated
Warning sensitive content: Garden Route SPCA inspectors were sent a video of a dog fight and immediately hunted down the perpetrators.
Two injured dogs were confiscated by the Garden Route SPCA (GRSPCA) following a dog fight in Maraiskamp outside George on Tuesday afternoon.
A horrific video of the dog fight in Makriel Street was sent to GRSPCA immediately after the fight, which took place in the street during daylight.
Seconds after seeing the video, senior inspector Salomé Bruyns, inspector Estelanie van Wyk and inspector Henrico Pypers jumped into action and started looking for the perpetrators.
The video and a plea for assistance were posted on the GRSPCA's Facebook page. Mere hours later, the alleged perpetrators linked to the fight were hunted down by the dedicated team and they were tracked to two separate houses in the area.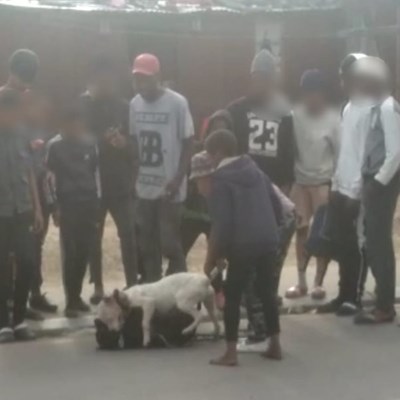 Both dogs have been found and confiscated and will receive the necessary care from the GRSPCA.
"This behaviour is cruel and barbaric, and we will not rest until the accused are brought to justice," said GRSPCA's Amber du Preez. Cases of animal cruelty and dog fighting have been opened with the police.
The GRSPCA thanked local veterinarian Dr Elke Schwellnus of VetCare for her unwavering support and care in the matter.
Any donations toward the care and medical assistance of these dogs will be greatly appreciated.
Desensitised society
The sad reality is that those who participated in the fight ranged from minor children as young as 10 or 12 years old to adults who 'should know better'. Besides the appalling footage of the two dogs at each other's throats, equally shocking is how desensitised the children are to scenes like this.
The video shows not only minor children participating in the dog fight, but other children looking on and blasély walking by.
Also disconcerting is the fact that no adult intervenes while the fight, which is obviously illegal, is carried out, and everyone just goes about their business as usual.
It has become glaringly obvious that serious intervention is needed to curb the ills of animal abuse and especially dog fighting.