Bird experts Peter Lawson and Duncan McKenzie have researched, authored and launched Birds of Mbombela, a comparative study of the region's feathery friends.
The city of Mbombela supports a diverse and colourful birdlife, with many special and accessible birding spots. With a checklist of almost 350 species recorded since the late 1970s, it is one of the best "city birding" destinations in South Africa, reports Lowvelder.
ALSO READ: Kruger bird project a chirping success
The local bird club, BirdLife Lowveld, has been performing bird assessments in the city since 1979, and this book combines the data of three such assessments into one concise publication.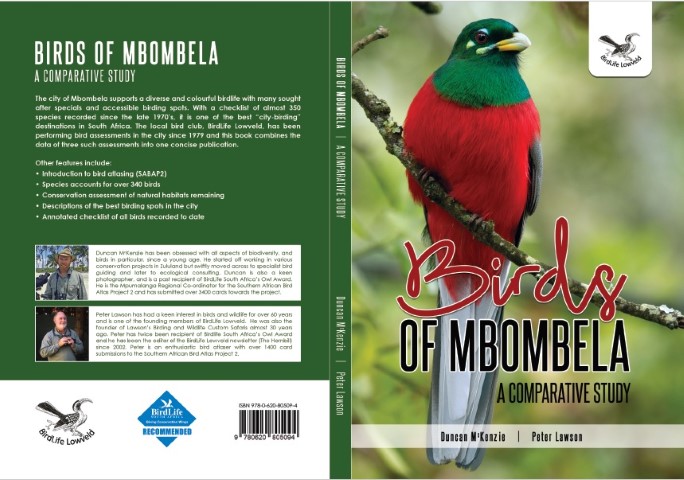 Other features include an introduction to bird atlasing (SABAP2), species accounts for over 340 birds, and conservation assessment of natural habitats remaining.
Duncan McKenzie has been obsessed with all aspects of biodiversity, and birds in particular, from a young age. He started off working in various conservation projects in Zululand but swiftly moved across to specialist bird guiding and later to ecological consulting. Duncan is also a keen photographer and is a past recipient of BirdLife South Africa's Owl Award.
He is the Mpumalanga regional coordinator for the Southern African Bird Atlas Project 2, and has submitted over 3,400 cards towards the project.
Peter Lawson has had a keen interest in birds and wildlife for over 60 years, and is one of the founding members of BirdLife Lowveld. He is also the founder of Lawson's Birding and Wildlife Custom Safaris, which was established almost 30 years ago.
Peter has twice been the recipient of BirdLife South Africa's Owl Award, and he has been the editor of the BirdLife Lowveld newsletter (The Hornbill) since 2002. Peter is an enthusiastic bird atlaser with over 1,400 card submissions to the Southern African Bird Atlas Protect 2.
Interested parties can meet at A Bica Coffee Shop for the launch on Thursday.
The book will be available on sale at R150. Tickets for the event cost R50 per person and include a sit-down meal. To book your seat, phone A Bica on 062 422 6842. The event will start at 6pm.
For more news your way, download The Citizen's app for iOS and Android.