With a total of 350,879 confirmed Covid-19 cases, South Africa has become the country with the fifth highest number of cases worldwide.
According a global tally by the World Health Organisation, the United States of America leads global infections with 3,5 million cases. Brazil has just over 2 million cases and Russia 765,437 confirmed infections.
Globally, just under 14 million cases have been confirmed with the death toll standing at 593,087 fatalities.
In a statement on Saturday evening, Health Minister Zweli Mkhize announced that another 13,285 cases had been identified in the last 24 hours.
Gauteng now accounts for 36,7% of all cases with 128,604 infections. The Western Cape has 85,411 cases and the Eastern Cape 60,976.
The minister also reported another 144 deaths, bringing the total number of fatalities to 4,948.
The recovery rate stands at 52% (182,230 cases).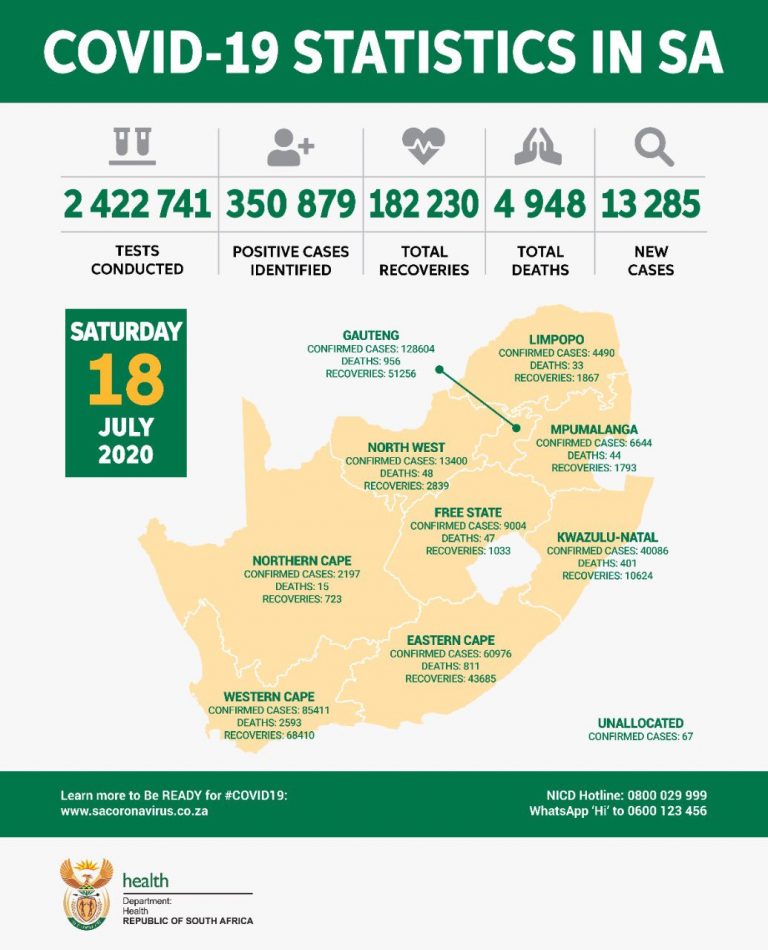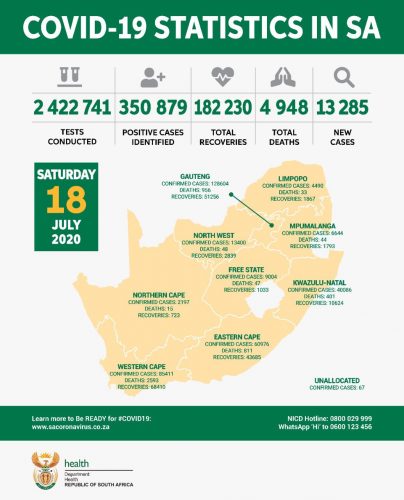 In a message to citizens, the minister again appealed to the public to adhere to regulations, including non-pharmaceutical interventions such as hand washing and sanitising, wearing a face mask and social distancing.
"We are extremely concerned that fatigue seems to have set in and South Africans are letting down their guard at a time when the spread of infection is surging. We see poor or no social distancing in communities. Masks are being abandoned or not worn properly and there is laxity setting in around frequent hand-washing.
"This will directly influence the rise in numbers in the next two weeks. We must all appreciate that there is a direct causal link between the surge of cases and our ability, or inability, to adhere to these very basic principles.
"We do not have a vaccine. We do not have a cure. Our ability to break the cycle of infection depends on our willingness to remain focused and disciplined and take non-pharmaceutical interventions seriously. We can beat this pandemic together. We have already proved this during the lockdown. It remains in each and every citizen's hands to admonish family members, colleagues, friends. who refuse to adhere to measures that protect lives by limiting the spread of this virus," the statement read.
Editor's note: A previous version of this article stated that South Africa had the fourth highest number of infections worldwide. This is incorrect and the post has been updated since. We regret the error.
For more news your way, download The Citizen's app for iOS and Android.