A defect in a Sasol pipeline at Isipingo, KwaZulu-Natal, has resulted in the leak of an unknown product into the marshland strip that runs between the N2 and R102, South Coast Sun reports.
READ MORE: Numerous people treated after chemical leak at Germiston factory
The pipeline connects the tank farm on the opposite side of the N2 at the old Durban airport site, and crosses beneath the highway on to the R102.
On Saturday morning, June 23, the South Coast Sun happened upon the area at the corner of the R102 and Sabjee Road, where a marquee has been erected as a makeshift operations centre.
On the R102, in the sliver of marshland that runs parallel with the N2, a dark slick of what smelled like diesel was being tackled by a team of workers wearing dust-masks and protective gear.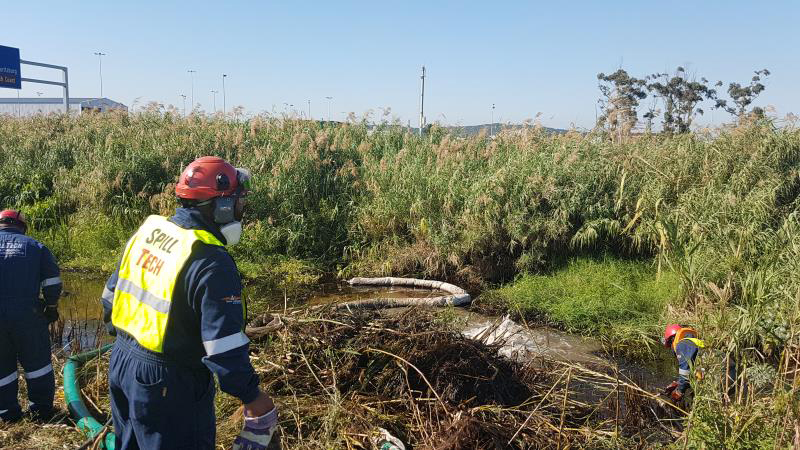 The surface of the canal that runs the length of the R102 was matted in the dark substance, and a Skip bin had already been filled with reeds that were coated in the product and had been cut away for another team of men to suction away as much of the product as possible.
Another worker was creating movement in the reedbed to agitate and move the slick. Attempts were also being made to aerate the water.
Four chemical spill trucks were on site, and on an adjacent vacant plot of land, excavators were clearing an area where the Sasol pipeline markers denoted the path of the subterranean pipeline.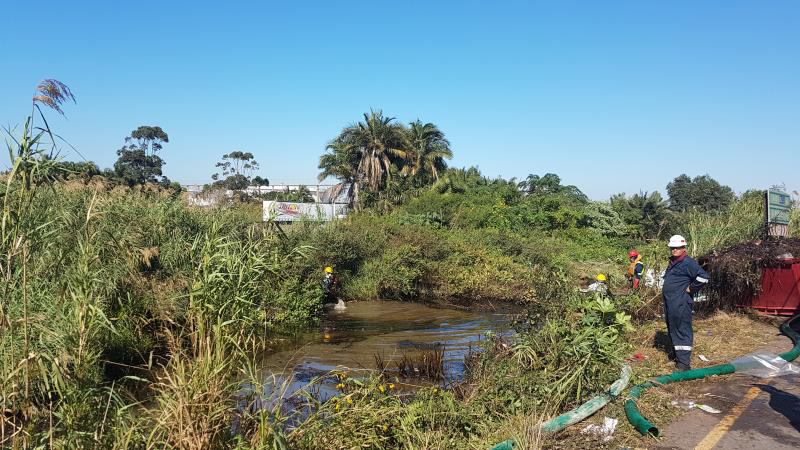 The crew had been at work on the leaked oil or petroleum product since Thursday, June 23.
Responding to the South Coast Sun's query, Sasol spokesman Matabello Motloung said the leak was detected during routine inspections.
"Due to its depth, extensive excavations are required to access the pipeline in order to confirm the defect and repair as necessary. As a precaution, the use of the pipeline was immediately stopped until the defect can be confirmed and repaired.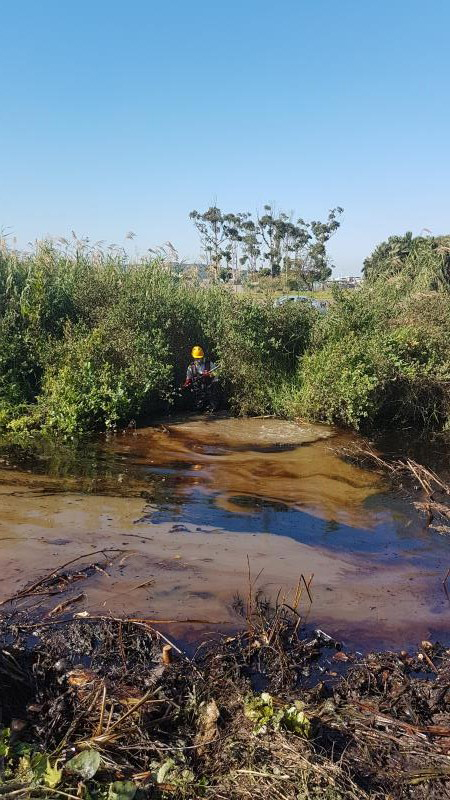 "Further, as a precautionary measure, an environmental pollution prevention company was called to site to assist as necessary. Investigations so far do not indicate significant contamination."
Motloung did not clarify what the leaked product was, nor whether there was any threat about potential health impacts to nearby residents or businesses.
For more news your way, follow The Citizen on Facebook and Twitter.