Reports of the death penalty returning in the country have been labelled fake news.
Oft discredited website HINNews led with the headline "South Africa to introduce death penalty for rapists and murderers".
The report has been confirmed to be fake news by the department of justice and fact-checking organisation Africa Check.
The news report by HINNews said the country was following India's example where convicted rapists of girls under the age of 12 could face the death penalty.
"The situation is even worse in South Africa, the statistics of rape has assumed an all time alarming rate, with rapist spreading diseases and infection to their vulnerable victims [sic]," reported the site.
"Since South Africa is also experiencing a similar deadly act of rape by some heartless individuals, some advocates have proceeded to pass a piece of legislation which would be of good interest of all concerned."
The HINNews article has gained momentum and is being shared rapidly on social media.
Both the department of justice and Africa Check have labelled the report fake. Spokesperson Mukoni Ratshitanga said nothing about the death penalty's return was ever tabled.
The death penalty is considered unconstitutional by the Constitutional Court.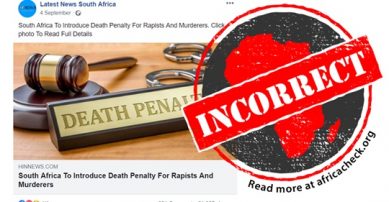 The HINNews site has been linked to a Nigerian businessman. The acronym HIN is short for Happenings in Nigeria, according to Africa Check.
For more news your way, download The Citizen's app for iOS and Android.