If you want to be spoiled and pampered in the most romantic setting ever – complete with spectacular scenic views, fine dining, service excellence and luxurious accommodation – then a getaway to Karkloof Safari Villas is your dream destination.
KZN is green and gorgeous at the moment – thanks to plentiful rains – and the gentle streams and lush vegetation provide a feast for the giraffe, buck and warthogs that roam freely among the 3 000 hectares of Karkloof.
Exclusive villas nestled among majestic rolling hills offer privacy and unsurpassed luxury
At Karkloof, each guest receives a warm, exclusive and personalised 'home away from home' experience.
Our weekend began with a hot towel at reception after the car journey and a valet parked our car while a driver collected us for the short trip up the hill to our villa.
This extraordinary, once-in-a-lifetime destination, made up of vast spaces and intimate exclusivity, boasts 16 individually decorated and indulgent private villas, surrounded by magnificent terrain, abundant in wildlife, and is ideal for those in search of effortless luxury, solitude and jaw-dropping scenery.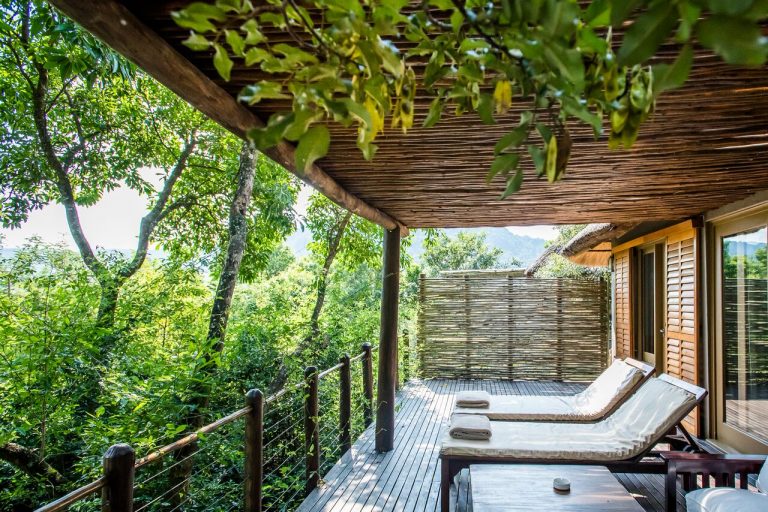 Designed with both space and privacy in mind, the villas are the ideal romantic retreat
Our massive deck overlooked bush and hills – where zebra graze on the steep slopes and baby warthogs munched on grass right outside our door.
Inside, sophisticated and contemporary décor evokes a warm African vibe, and a Nespresso machine (essential to every five-star establishment), speedy wi-fi, complimentary snacks, gowns and slippers and a well-stocked bar fridge, with fresh milk and lemon slices (no long-life sachets and creamers at Karkloof) make for a comfortable and cosseted experience.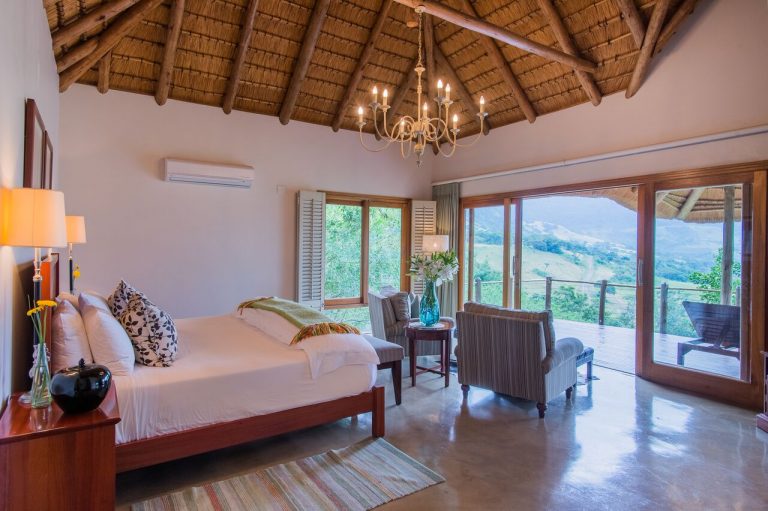 The bathrooms are just beautiful too
Bathrooms in the villas are complete with a glass shower, heated towel rails, his and hers basins, organic bath products, and a massive tub set in front of a sliding door with American shutters that opens onto the deck – and the spectacular view.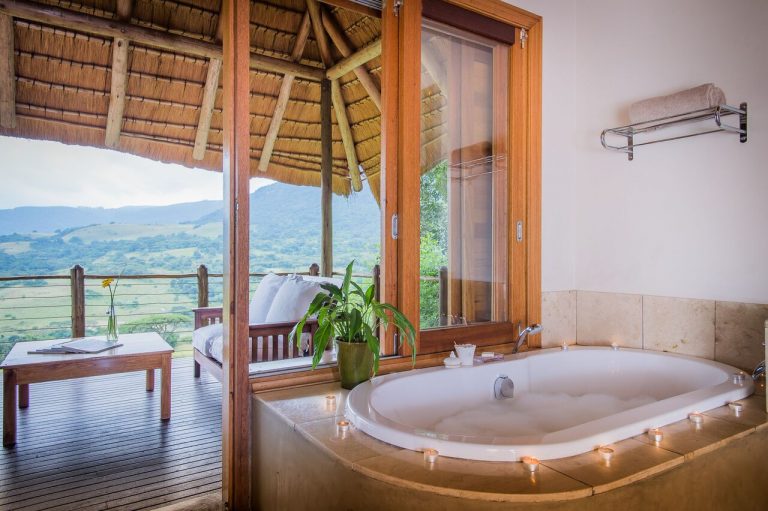 After a full day of pampering at the Karkloof Safari Spa on the premises, we relaxed on our deck with a sundowner as the sun set over the hills, and the nocturnal animals came out.
A soak in the tub with a drink was mandatory, while my husband dozed off on the king-size bed in front of the TV after his afternoon with the Thai massage therapists.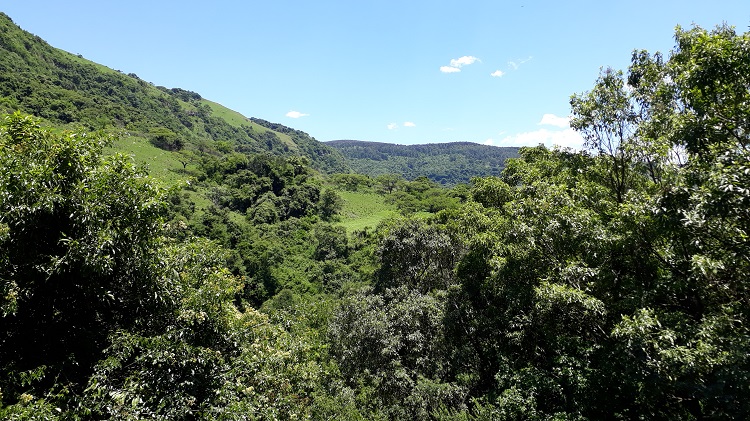 Dinner at Karkloof is an unhurried, relaxed, fine dining experience
Guests can have a pre-dinner drink at the bar or in one of the lounges – inside the lodge or on the deck, before adjourning to the dining room for a fabulous four course dinner.
The wine list is impressive and the waiters knowledgeable, discreet and efficient. The tiger prawn starter was delicious and so was the gazpacho soup that followed. Pork belly is a favourite on South African menus this year – and the Karkloof chef didn't disappoint – in flavour, texture or portion size.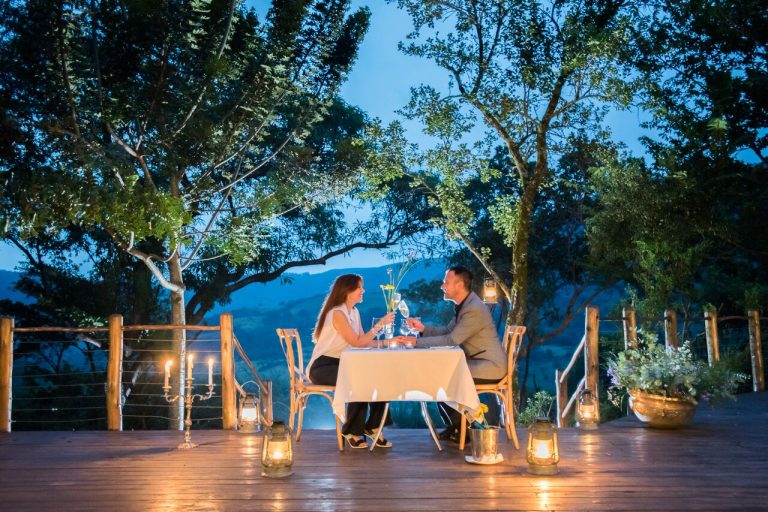 The next morning, we were greeted by the local residents on our way to breakfast – buck grazing outside our villa who were so tame that they allowed us to pose right next to them for photos (nobody is stressed or highly strung at Karkloof it seems…).
Breakfast with a view
Breakfast was another gastronomic delight: the basket of warm, fragrant, freshly-baked muffins and croissants was too tempting to pass up, and my salmon and scrambled egg breakfast was garnished with feta and capers – and served with homemade toasted bread.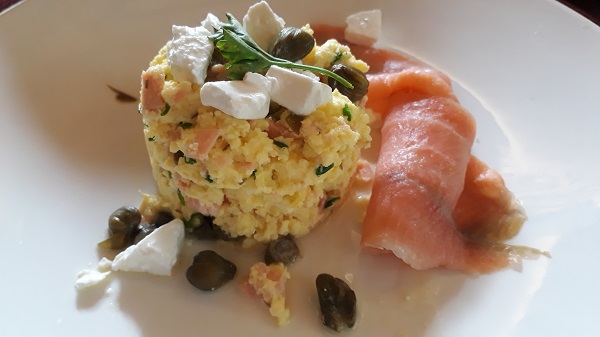 We lingered over coffee – reluctant to leave this tranquil oasis and return to the city – with its December traffic and crowded malls. But we left with our bodies relaxed and nourished – and our souls rejuvenated and ready for the Christmas chaos – and just a little bit more in love with each other after our romantic break at one of the most beautiful and luxurious destinations Africa has to offer…
Karkloof Safari Villas is also the perfect destination for intimate romantic weddings, family celebrations, special occasions, bespoke business meetings and unforgettable client spoils, with a wonderful conference package added to the mix. With the privacy afforded to guests based on the style and exclusivity of the destination, guests are given the utmost attention by the property's exceptional staff, whereby every need is catered for.
There are a range of excellent activities available at Karkloof Safari Villas – game drives, romantic picnics, bush braais, bike riding, bird watching, guided walks, hikes to the Karkloof Waterfall, fishing at Albert Falls Dam as well as exceptional day spa packages at the Karkloof Safari Spa located within the property's grounds.
Karkloof Safari Villas boasts three of the African Big Five on the estate – White Rhino, Buffalo and Leopard as well as wildlife such as Giraffe, Hippopotamus, Warthog, buck and a wonderful array of flora and fauna, both big and small.
Karkloof Safari Villas is a tranquil and unmistakably beautiful destination that is so unique in its offering, guests often feel as if they have been transported to a bygone era.
Personalised on every level and complemented with unfailing luxury and impeccable standards, Karkloof Safari Villas offers a bespoke and luxurious safari villa experience.
Karkloof Safari Villas is also wheelchair friendly.
The following facilities are wheelchair accessible:
• One Villa (villa # 4)
• Reception
• Toilets (Reception, Lodge & Spa)
• Restaurant
• Bar
• Spa and some treatment rooms
For more information or to make a booking, visit www.karkloofsafarispa.com or contact the reservation team on +27 (0) 33 569 1321.
Brought to you by All4Women
For more news your way, follow The Citizen on Facebook and Twitter.