As recently as three years ago, Treasury expected the economy to grow by 2.8% this year (in February 2014, Pravin Gordhan forecast growth of 3.5%!). Since then, it's been one downward revision after another. In last month's Medium-Term Budget Policy Statement (MTBPS), finance minister Malusi Gigaba "adjusted" the growth forecast for this year to just 0.3%. This is less than a tenth of the original forecast made four years ago.
The Reserve Bank is, generally, far more conservative with its forecasts. At around the same time (at monetary policy committee meetings in September and November 2014), it expected real GDP growth of 1.2% in 2017.
Now of course, there are a number of own-goals that have combined to guarantee that we are not growing anywhere near our potential. Four finance ministers in 18 months (including three in a week) has jolted what little investor confidence there was in a stalling economy with no credible growth plan.
But, these very optimistic forecasts are not new. A Moneyweb analysis of forecasts published by Treasury at the main budget in February and Medium-Term Budget Policy Statement in October each year, shows that estimates have been off the mark since at least the global financial crisis and subsequent recession in 2008/2009/2010.
The disparity between the original medium-term forecasts and the forecasts in October of the year concerned has been getting worse, not better, however. Factor in actual growth numbers, generally available a few years after the fact, and the picture by-and-large looks even worse.
In 2012 and 2013, for example, when growth was roaring ahead in the recovery from the global financial crisis, estimates were 1.7 percentage points and 0.8 percentage points too high, respectively. Contrast that with 2015, 2016 and 2017, where growth was 2.8, 2.8 and 3.2 percentage points lower than the original forecasts, respectively.
Compounding this divergence is the fact that global commodity prices took huge strain in 2015 and 2016, before a decent recovery in 2017. No one expected this – not least of which anyone involved in Treasury's forecasting – and this is clear to see in the sharp downward adjustments made in October 2014, October 2015 and during 2016 and 2017.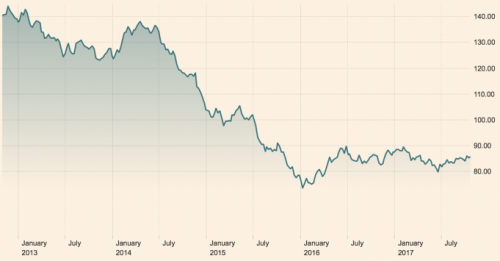 That we're at the whim of these prices – despite protestations that we're "not" a commodity economy – makes Treasury's task doubly difficult. But, surely expecting that we'd be able to sustain long-term growth rates of 3% to 4.5% was naïve? (And in the boom years of 2006, 2007 and 2008, Treasury again got its forecasts wrong, by estimating growth that was too low.)
Since the recession caused by the financial crisis, we've managed growth of above 3% in just two of the seven years (2011 and 2012's final GDP numbers were 3.5% and 3.2%, respectively). Here, despite a global environment almost completely conducive to growth, the lack of a stable electricity supply held us back. Yet, the medium-term forecasts for 2014, 2015 and 2016 were each well over 4%. The closest we got was halfway there.
Credit ratings agencies and global investment banks have surely been running the numbers all along and have adjusted down whatever forecasts Treasury publishes to more "reasonable" levels?
The real question is how credible Gigaba's forecasts in October for 0.7% growth next year and 1.1% the year thereafter really are. The Reserve Bank's view has always been more sober than that of Treasury, but for the first time in a while, the forecasts in the MTBPS are even lower than what the Reserve Bank expects (1.2% and 1.5%, respectively, at its September Monetary Policy Committee meeting). The MPC meets this week and the growth forecasts announced thereafter on Thursday will be very telling indeed….
(Never mind that the chart included in this analysis paints a picture of a dreadfully ailing economy….)
Hilton Tarrant works at immedia. He can still be contacted at hilton@moneyweb.co.za.
Brought to you by Moneyweb
For more news your way, follow The Citizen on Facebook and Twitter.