It's finally out! The book that many of us have been waiting for has been released to hit the shelves from this Friday, 1 October.
As the title tells you, Surviving The Beast is a sequel to Agrizzi's bestseller, Inside the Belly of the Beast – The Real Bosasa Story.
It came out mainly because something strange happened to the whistleblower. They wanted to kill him, he claims – he was poisoned but he survived (the beast). His sin was to spill the beans on extensive corporate capture of the state and massive graft at Bosasa before the Commission of Inquiry into Allegations of State Capture chaired by Deputy Chief Justice Raymond Zondo.
It didn't come as a surprise though because he did the unthinkable and touched the untouchable – blowing the whistle on top level corruption involving the ANC top guns at a time when they were still very active in the party and government politics and their corrupt Bosasa business allies.
Who has ever survived telling an embarrassing story regarding the theft of state money on a massive scale in South Africa? Where are Free State government officials Nobby Ngombane, whistleblower Ignatius "Igo" Mpambani, would-be whistleblower and many others today? They were all silenced with a bullet, mostly in broad daylight. That's the brazen manner in which whistleblowers are assassinated in democratic South Africa.
Exposing corruption is a risky exercise but necessary if the graft is to be rooted out from our society. This is the journey that Angelo Agrizzi chose to take to tell the truth – at the risk of his life. This time, Agrizzi was poisoned so that he could die silently.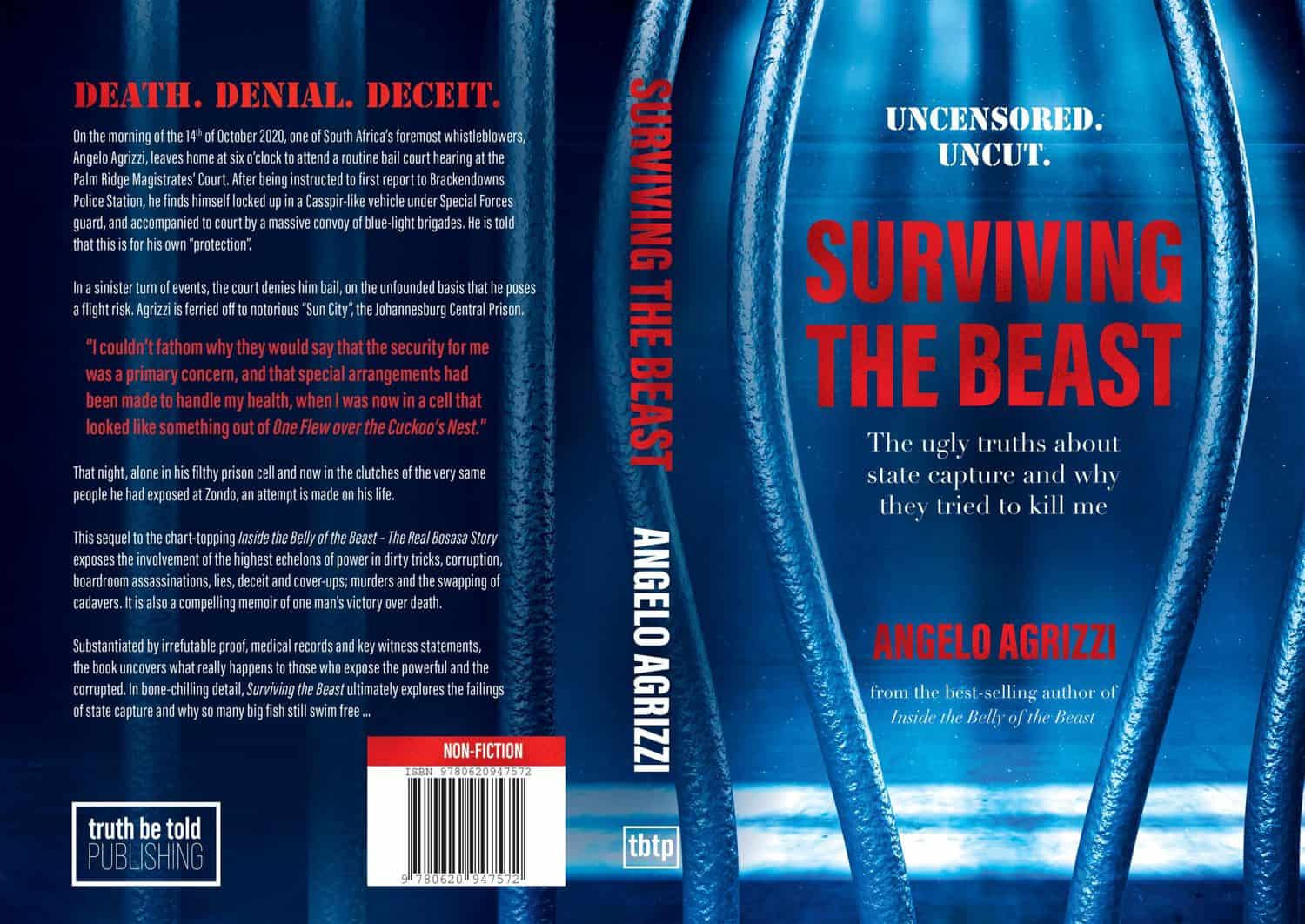 Political analyst Professor Lesiba Teffo calls whistleblowing a "national service" because he believes whistleblowers like Agrizzi and others are patriots who should be protected and honoured instead of being left in limbo and thrown into the belly of the beast.
There are many like Agrizzi who were left at the mercy of the very people they blew the whistle on without the state providing any form of protection for them.
In bone-chilling detail, Surviving the Beast explores the failings of the Commission of State Capture and why so many big fish still swim free. Substantiated by irrefutable proof, medical records and key witness statements, Surviving The Beast uncovers what really happens to those who expose the powerful and corrupt.
In his new book, Agrizzi, seen as one of South Africa's foremost whistleblowers, relates the story or exactly the drama of his near fate when on the 14 October, 2020, he left home at 6am to attend a routine bail court hearing at the Palm Ridge Magistrate's Court.
After being informed to first meet at the Brackendowns Police Station, he found himself locked up in a military tank, under special forces guard, and escorted to court by a massive convoy of between 10 and 15 blue light brigade vehicles. It was for his own "protection". Protection? What protection?
As he relates on the book, Agrizzi is at first unperturbed – he's far more excited at the prospect that his explosive Bosasa tell-all memoir, Inside The Belly of the Beast will be going to print by lunch time.
In a sinister turn of events, the court denies him bail on the basis that he poses a flight risk. Agrizzi is ferried off to the notorious Sun City, Johannesburg Central Prison. On hearing the judgment broadcast across the media, his publishing house inexplicably pulls the book. And so as the wheels of (in)justice start turning, the printing press grinds to a halt.
That night, alone in his filthy prison cell, now in the very clutches of those he exposed at Zondo, an attempt is made on Agrizzi's life. That's the drama – the Hollywood-styled movie script as Agrizzi himself would say as he got reminded of the former top movie blockbusters he used to enjoy during his youth.
Surviving The Beast exposes the highest echelons of power's involvement in dirty tricks, corruption, boardroom assassinations, lies, deceit and cover-ups. There are murders and the swopping of bodies. It is also a compelling memoir of one man's victory over death.
Agrizzi, a great story-teller, will entertain you with his command of English even painting a clear mind picture for the reader about the dramatic armed escorted drive to the Palm Ridge court, the prison and later hospital. He might have felt a bit like a VIP with all the blue lights surrounding the armoured vehicle (a Caspir) he was being transported in. But he questioned himself as the convoy snaked through traffic as to "for what is this?"
His mind queried why the taxpayer's money was being wasted this way.
Then he could see the plot of the sinister agenda in the whole thing. A sickly man and the rough ride to court, it was indeed a harrowing experience, no wonder at one time he had to take a deep breath of oxygen from his concentrator.
"My lungs felt like they had taken a beating……It was as if he (driver) had been briefed to purposefully drive recklessly to instil fear in me, it was as though he had been told to literally shake me up."
It was claimed they were more concerned about his health, something that did not make sense to Agrizzi. They should have rather kept him at the prison hospital if his health was a real concern.
Instead, he was subsequently placed an "overcrowded, filthy and Covid-risky facility with no medical resources".
From court, he was driven to prison with his oxygen bottle which was later swopped with a low quality, faulty one. He believes this is how he was poisoned.
Agrizzi says the experience reminded him of a threat made directly against him during a Bosasa meeting in 2017. There a conversation between Johannes Gumede and Jackie Leyds who said they told particular lawyer to "tell Angelo not to mess with us. Things can happen – prisoners can be used, cells are opened up…"
Even a comment by a prison warden who pitied him for being there made him uncomfortable and suspicious, in addition to the faulty prison regulator and the quality of the oxygen he had to breathe.
As in the first book, In The Belly of The Beast, the publisher did a very professional job in putting the latest book together. An attractive trade paperback cover with a wonderful shine and extracts that also feature "About the author" and publisher information.
It has QR codes, which when scanned with a phone create a unique interactive experience for the reader, bringing to life key video evidence, articles, interviews, testimonials, and documents from the Zondo State Capture Commission of Inquiry as well as never-seen-before details, photographs and graphic accounts of relevant events. The reader will also have access to photographs revealing what really happened to Gavin Watson.
You will be surprised but laugh to see the mix of familiar figures featured in the chess-pieces depicting Africa's most notorious state capture game, which Agrizzi himself played.