Melbourne model Shanina Shaik – who is of Lithuanian, Pakistani and Saudi Arabian descent – is the new face of Studio AW17, Woolworths' winter campaign.
Before her breakout on the Victoria's Secret runway in 2012, the Australian beauty was a runner-up in Make Me A Supermodel, in 2008.
Shaik has since appeared in many catalogues, including for Macy's, Avon, Urban Outfitters, Lovable, Burda Style, Spiegel, Free People, Bloomingdales, JC Penney and Ann Taylor.
Her advertisements include Aéropostale, Cotton On, Olay New Look, Burneo Chocolate, Body & Bath Works' Dark Kiss fragrance, Edward Joseph and Imari by Avon.
Shortly after signing with New York Model Management, Shaik appeared in editorials for Seventeen Magazine and Men's Health.
Other appearances include Level Magazine, Orlando Style Magazine, 2Wheel Tuner Magazine and Philadelphia Style Magazine.
The industrious model now lives in her adopted home of New York City with her lovable French bulldog, Chopper.
Speaking about the city she says: "I love the energy … it lives up to its reputation as the city that never sleeps."
Shaik's mother inspired a passion for fashion and beauty in her from an early age.
Like so many girls, her first experience of beauty products came from exploring her mom's make-up drawers.
"When I was nine years old I would watch Fashion TV late into the evening. I learnt everything about fashion from watching that show. I also loved looking at my mother's lipsticks and spraying all her fragrances."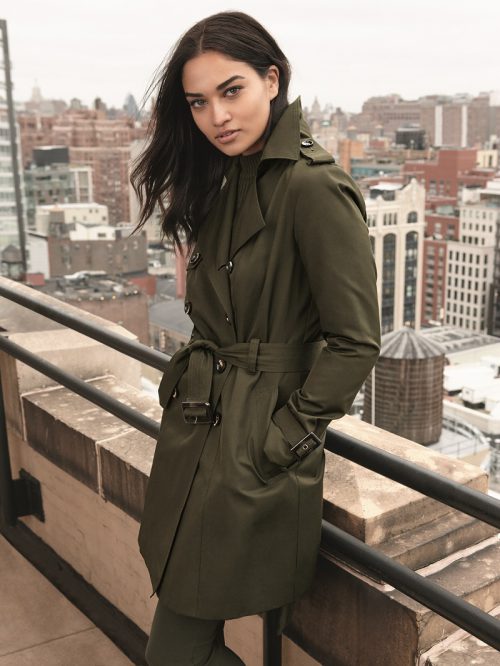 The Studio W 2017 winter collection campaign was styled in New York by international stylist Margaret Zhang, who describes it as utilitarian, masculine and practical. She's a big fan of Shaik, too.
"Shanina and I are good friends. We've worked together a lot in Australia and Paris – she's really great to work with, knows her body, knows clothes, and is super professional," says Zhang.
Q&A with Shanina Shaik, the face of Studio AW17
1. Describe your style in three words? Cool, sexy, boho.
2. Who are your style icons? Rosie Huntington-Whiteley and Rihanna.
3. Who are your go-to designers? Zimmerman, Givenchy, Tom Ford and Versace.
4. You spend a lot of time in LA. Does your style change depending on which coast you're on? Yes, it does. LA has a boho, beach style that best fits my personal style.
5. First fashion memory? When I was nine years old I would watch Fashion TV late into the evening. I learnt everything about fashion from watching that show.
6. What would you never wear? A heel, which is extremely uncomfortable and hinders me from walking normally.
7. Do you have rules on how often you can wear a particular item or repeat an outfit? Do not wear the same outfit more than once in the same week. 8. Are you a closet editor or builder? Closet editor.
9. What have been some of your favourite career moments thus far? Walking in Victoria's Secret and Chanel shows.
10. If you weren't modelling, what would you be doing? I'd like to study child psychology.
For more news your way, follow The Citizen on Facebook and Twitter.