"It's such an exciting roller-coaster ride," says show co-host Katlego Maboe.
"I have a special relationship with all of the contestants so its really hard when they get eliminated."
When the celebrity contestants were announced a few weeks ago, television presenter Boity Thulo, Top Billing's Jonathan Boynton Lea, comedian Donovan Goliath and actress Khanyi Mbau seemed to be fan favourites. But things have changed since the ballroom dancing competition began last month. Goliath's humour was entertaining but the judges felt he didn't take the competition seriously enough. Then, on the day he decided to show the world his stern side, he was placed in the bottom two for not being himself. Goliath and his partner Mary Martin became the most recent couple to hang up their dancing shoes.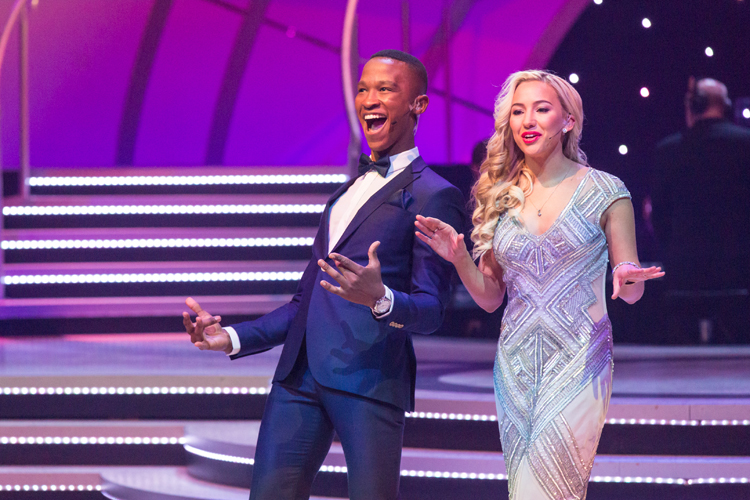 "We had something really special planned for our next dance," says Goliath.
"It's a pity South Africa will not get a chance to see it."
Despite her massive following on social media, Thulo and her dance partner Ryan Hammond didn't get enough votes to stay in the competition. But even though she often looked out of place on the dancefloor, Thulo was definitely not the weakest celebrity dancer.
"A lot of contestants tend to focus a lot on entertaining," says Maboe.
"But the best way to win the judges over is to work hard on the technique. Working hard in that area is also another way to show the viewers that you belong in this competition."
Khanyi Mbau was one of the few contestants who managed to perfect the dance techniques while also providing great entertainment. But last week Mbau found herself in danger, with a low score from the judges.
"I am human," she said. "I cannot be perfect all the time."
Mbau put a lot of pressure on herself and her partner Quintus Jansen when she joined the competition a few weeks ago, declaring herself and Jansen the season's winners.
"If we are not the last couple standing then we live in a sick country," she said.
Info:
>  Actress Zakeeya Patel and professional dancer Ryan Hammond won the sixth season of Strictly Come Dancing SA.
> Katlego Maboe and Roxy Burger have replaced Marc Lottering and Pabi Moloi as the show's presenters.
> Katlego Maboe hopes to be a contestant on the show one day.
> Winners are determined by a panel of judges and public votes.