Anele Mdoda wants fans to know that she is unbothered by the latest Kelly Rowland bikini drama playing out on social media.

Although she did not directly state that fact, she retweeted images of the infamous yellow swimsuit that has everyone talking.
Earlier this week, singer and former Destiny's Child band member Kelly Rowland shared an image of herself while on holiday in Italy and the picture instantly went viral. This is because Rowland was wearing a swimsuit similar to one that Mdoda wore during her Maldives holiday back in August.

Fans of both public figures lost their minds and began theorising that Kelly had gone in search of the exact same swimsuit, scenery and necklace in an effort to send Mdoda a message. 
This is after Mdoda commented negatively on Kelly's appearance some years ago. Her friend and fellow media personality Sizwe Dhlomo postulated that Kelly could possibly be the best-looking Destiny's Child member – a band she used to be a part of alongside Beyoncé Knowles and Michelle Williams.
Mdoda rebutted Dhlomo's point by claiming Kelly owes her beauty to make-up, adding that she has "receipts" (slang for proof) of what she was saying and proceeded to post a side by side image of Kelly with and without make-up on.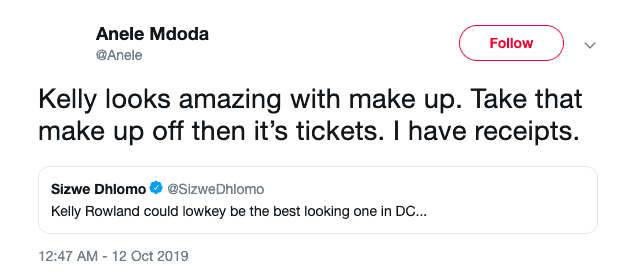 What Mdoda said about Kelly has been a topic among both American and South African Twitter users for years. 
It is such a popular topic that both women often trend each time the other does something completely unrelated to the initial comments, and this case is no different.
On Friday morning, Mdoda reshared the images from her holiday and toasted to the weekend. Her post sparked further conversation about how she had been body-shamed in comparison to Kelly.

Neither Mdoda nor Kelly have addressed swimsuit-gate.
READ NEXT: 'This one is for Kelly Rowland' – Tweeps react to Anele's boot disaster