I chatted to him about one specific topic in his world of food: the beauty and art behind his dishes.
How important is the aesthetic when it comes to food presentation?
"It is everything," Higgs explains. "When presenting a dish in The Saxon's fine dining restaurant Five Hundred, I want my guests to completely experience the dish from the moment it is placed in front of them. Before they even pick up their cutlery, I want them to be able to taste it. The visual element is important in this regard. I want the taste to then be an affirmation of how beautiful the food is. I want my guest to say it tastes as beautiful as it looks."
How do you achieve this beauty visually?
"A lot plays a role in this. Texture is important and I give a lot of thought to what types of food to pair together – is it going to be smooth, silky, rough, etc. I also consider colour. Colour on the plate is crucial and as I put dishes together, the colours come together. I often make these decisions based on seasonal considerations."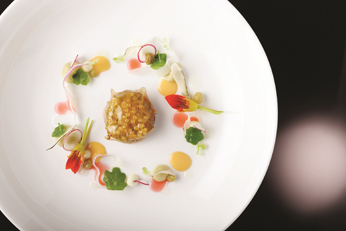 How creative is the menu planning process?
"I like to be quite spontaneous about our menu and go with my gut feel as I sit with my team to brainstorm ideas. We first choose the ingredients that we are going to be working with and then we play with colours and textures to get to a dish we're happy with. Food needs to be a combination of fun and serious. As a chef, you want to excite your diners but not overwhelm them. Whatever is on the plate needs to be there for a reason. Twenty five years ago, we garnished everything."
Where do you get your inspiration?
"This tends to come from an ingredient and the thought process behind any of my meals is sparked by one item – usually from our roof-top vegetable garden that was started with help from Sought After Seedlings. It's a confidence game and I've become more adventurous over the years as my confidence has grown."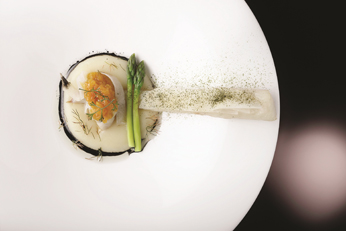 Is food art?
"This is a question I get asked quite often. And my answer is always the same: it has to be. The preparation of the food – from the initial creative process deciding what the meal entails to the eventual plating of the meal – is its own form of art. In some ways, I truly believe what we do is sometimes more difficult than conventional art. We have to reproduce our 'art' on a daily basis, it needs to be tasty, it needs to be hot, and it needs to be produced in a small timeframe. I guess you could see it as transient art."
So then, what can someone expect from a David Higgs original?
"Beauty. Colour. Design. Elements on a dish that work together and that are interesting. Everything should be there to enhance the meal and the taste should be something that is exciting, unique, and memorable."
For more information about David Higgs, visit his website davidhiggs.co.za or follow him on twitter @David_Higgs. For bookings at Five Hundred, contact The Saxon Hotel on their website saxon.co.za or via email reservations@saxon.co.za.