Try this delicious beef stir fry with rice recipe for yourself and the family tonight. This recipe is super easy to make, and you will not spend more than 30 minutes in the kitchen preparing it.
Delicious, crunchy veggies combined with the spice of ginger but the sweetness of maple syrup makes the moorish dish a must-try.
Beef stir fry with rice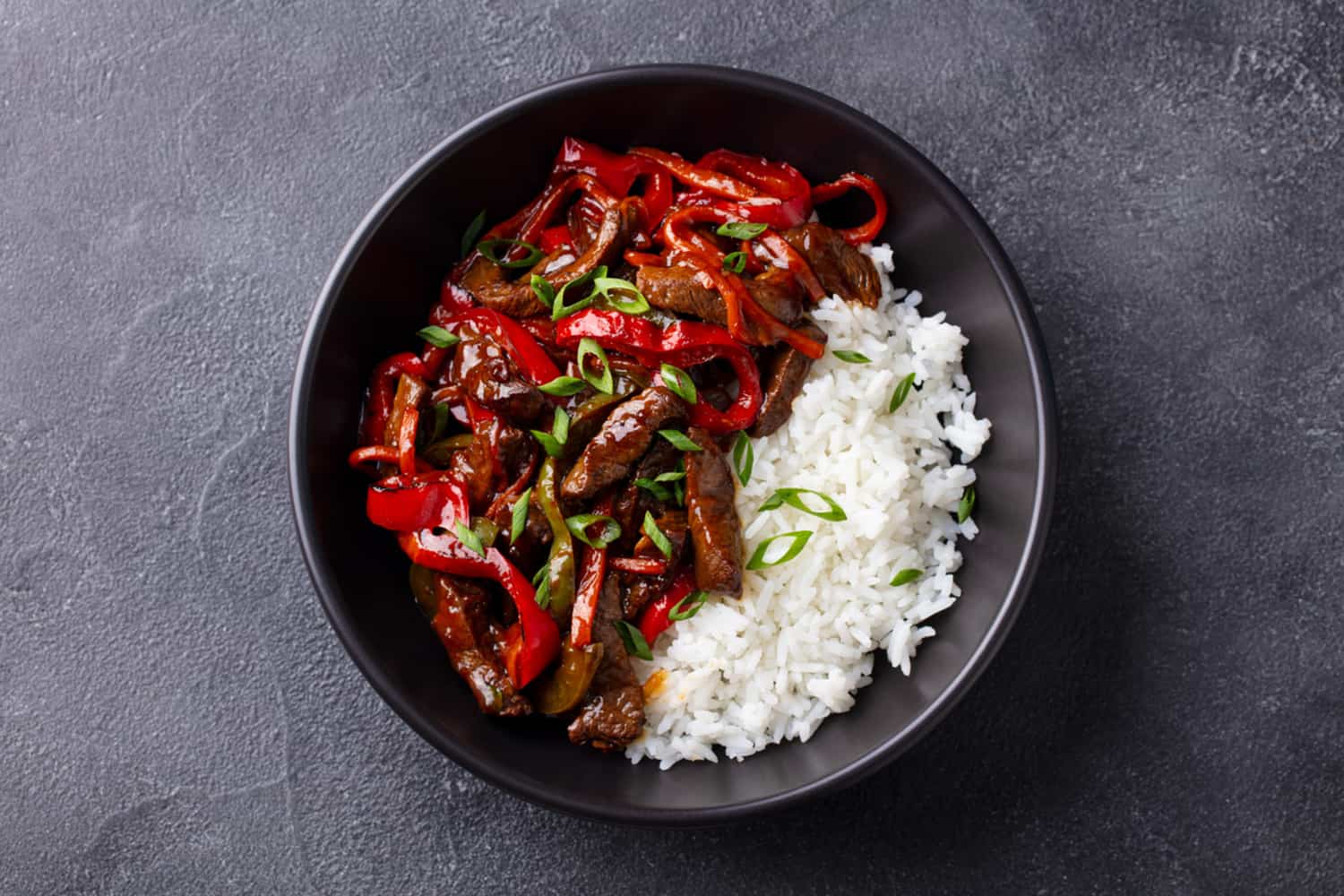 Ingredients
450 grams of top sirloin steak thinly sliced
Salt and Pepper to taste
1 medium yellow zucchini sliced on the diagonal
1 medium onion sliced
1 red bell pepper sliced
225 grams of mushrooms thin sliced
1 teaspoon of grated ginger
1 garlic clove minced or pressed
1/2 tablespoon of sesame seeds for garnish
3 tablespoons of oil to Saute *
3 tablespoons of original BBQ Sauce we used Stubbs brand
3 tablespoons of maple Syrup
2 tablespoons of low sodium soy sauce we used Tamari brand – gluten free
ALSO READ: Recipe of the day: Creamy mushroom pasta
Instructions
Stir together 3 sauce ingredients and set aside.
Heat a large heavy pan or wok over high heat and add 1 tablespoon oil. When oil is hot, add beef in a single layer and sautee undisturbed 2-3 mins. Stir and sautee another 2 min or until nearly cooked through. Season lightly with salt and pepper, add ginger and garlic and sautee 1 min.
Drizzle beef with sauce to taste (I added 5 tablespoon) and stir-fry another 1 min or until beef is fully cooked through. Remove beef to a plate and cover to keep warm. Wipe pan clean with a paper towel.
Place clean pan over high heat and add 1 tablespoon oil. Once oil is hot, add mushrooms, season lightly with s & p and stir fry until golden (5 min). Transfer mushrooms to the plate with beef.
Add oil along with sliced onion and veggies and stir fry about 8 min or until soft and golden.
Combine vegetables with beef and mushrooms, drizzle in more sauce to taste (I used another 2 tablespoon) and stir fry just until hot. Serve over steamy white rice.