It has had to move smartly as customer requirements change as it does not have a vast array of products to support a derivative that is not sufficiently popular. As a result the development of their large SUV goes back quite some time.
The Grand Cherokee can be traced back decades as people moved from heavily utilitarian 4x4s like the Wrangler to capable vehicles that offered at the same time the creature comforts of a luxury sedan.
Jeep have moved rapidly to improve build quality in the Cherokees to meet market standards. The latest incarnation lifts the bar further by adding several technical improvements.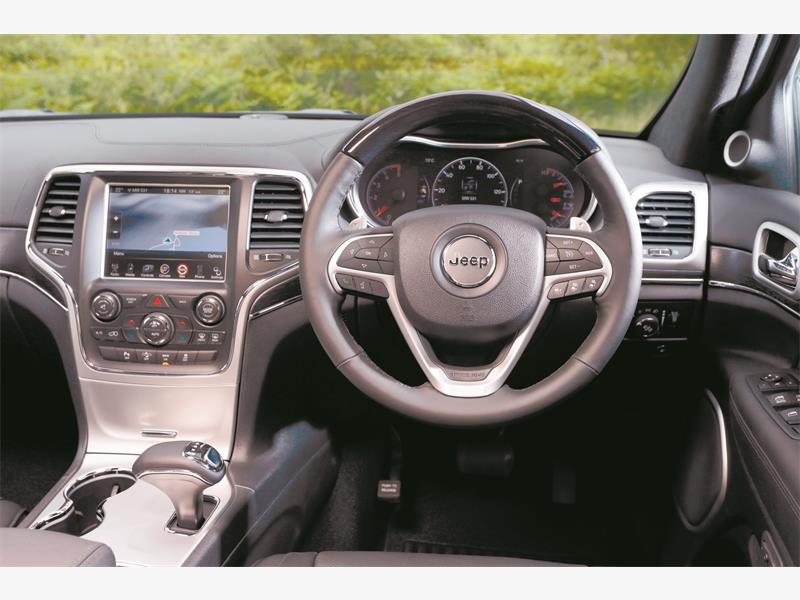 An all-new eight-speed automatic transmission is fitted as standard across the entire line-up and is aimed at reducing fuel consumption and emissions while improving acceleration and securing smoother and faster gear shifting. It certainly succeeds in being smooth and fuel consumption was not to far out of line with what might be expected from a large vehicle of this nature.
This is aided by an Eco Mode that optimises the Grand Cherokee transmission's shift pattern as well as throttle sensitivity. Eco Mode is automatically engaged upon vehicle startup.
A button on the centre stack allows driver's to disengage Eco Mode if sportier performance is desired. In addition, Eco Mode activates Quadra-Lift air suspension system to further enhance the vehicle's aerodynamics, for optimum fuel efficiency.
Fuel Saver cylinder deactivation on the V8 models, optimizes fuel economy further by disengaging four-cylinders when V8 power is not required.
There are three petrol engine options: the 3.6-litre Pentastar V6, the legendary 5.7-litre V8 and the powerful 6.4-litre HEMI® V8 engine that powers the high-performance SRT model. A 3.0-litre turbo, direct-injection V6 common-rail diesel engine will be available later this year.
The 3.6-litre engine delivers 210 kW and 347 Nm is fitted on both the Limited and Overland models of the 2014 Grand Cherokee lineup. It proved quite adequate and given the high standard specification level of even the "entry level" Limited model, should prove popular.
The 5.7-litre Multi-displacement System (MDS) V8 delivers 259 kW and 520 Nm. The advantage of this version is that it can realistically and legally tow a trailer of up to 3 500 kg. It is available only at the Overland specification level.
The coolest Cherokee is obviously the SRT powered by the powerful 6.4-litre HEMI V8. It produces 344 kW and 624 Nm for the most fun you could want.
Jeep are very proud to tell us it has fuel saver technology that alternates a four-cylinder mode of the HEMI engine when less power is needed, and a V8 mode when more power is in demand in order to optimize fuel economy and decrease overall emissions.
I don't think it helps much, but if you want to blast a huge SUV to 100 km/h in five seconds be prepared to pay at the pumps.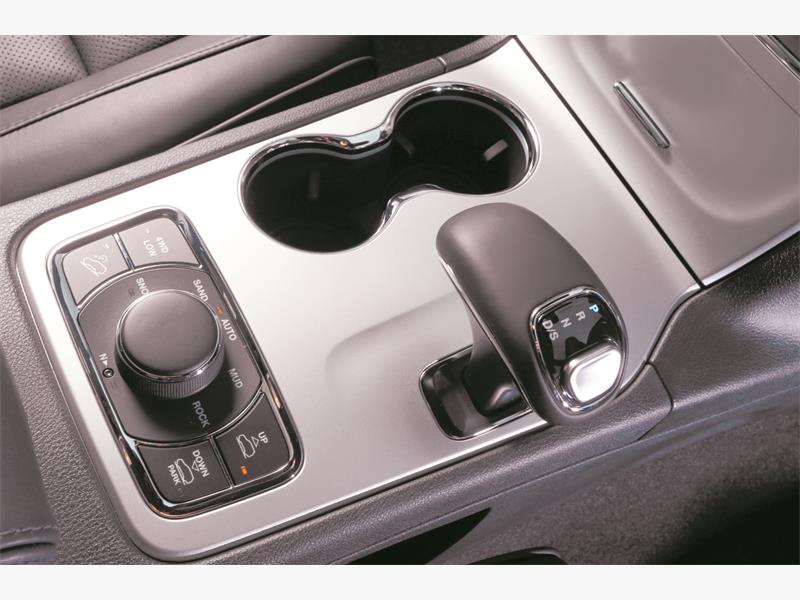 The Jeep Grand Cherokee offers a choice of 4×4 systems: Quadra-Trac II and Quadra-Drive II with rear Electronic Limited-slip Differential (ELSD) and, exclusive to the SRT, the Quadra-Trac active on-demand four-wheel-drive system, also featuring rear Electronic Limited Slip Differential (ELSD).
The standard Quadra-Lift air suspension system allows the ride height of the Grand Cherokee to change up to a maximum ground clearance of 280mm. This is very impressive but the air suspension is noisy off road and quite disconcerting as a result.
With the front air dam removed and the Quadra-Lift air suspension, the new Jeep Grand Cherokee features a 35.8-degree approach angle, a 29.6-degree departure angle and a 23.5-degree breakover angle.
New exterior and interior design features include new bi-xenon headlamps with LED daytime running lights (DRLs), new wheel designs and new interior/exterior colour combinations. Handcrafted interiors now deliver even more refinement to the Jeep flagship thanks to the use of premium leather and high-quality wood.
A highlight is the large 8.4-inch touchscreen and satellite navigation and the new seven inch TFT configurable cluster display. Rear passengers get heated seats as well as two USB ports to power whatever stops them driving you mad.
The signature seven-slot grille is shorter in height, the headlights are slimmer and the lower front fascia has been slightly elevated while the fog lights have been raised and are more pronounced.
The main design enhancement for the 2014 Jeep Grand Cherokee is the new high-intensity discharge bi-xenon headlights with LED daytime running lights (DRL), offered as standard.
In addition to its standard safety equipment, including ESC with Electronic Rollover Mitigation, ABS, Brake Traction Control System (BTCS) and seven airbags, the new 2014 model offers upgraded Forward Collision Warning with Crash Mitigation and Adaptive Cruise Control.
Pricing:
3.6 Limited R584 000; 3.6 Overland R646 990; 5.7 Overland R679 990; SRT8 R879 990.