Former Prasa CEO Lucky Montana's explosive submission to the portfolio committee on public enterprises in parliament yesterday, characterised by social media as "singing beautifully like a canary", has elicited a mixed bag of reactions.
Interviewed on radio this morning, former Prasa board chairperson Dr Popo Molefe said Montana could not declare himself squeaky clean.
"I resent this approach that every time Mr Montana talks, he brings Popo Molefe's name. He is reducing his role in maladministration into a tussle between himself and Popo Molefe. I listened to the committee, it appeared ignorant of the many cases and judgments against Lucky Montana, especially the Swifambo matter, which has been appealed. Let him have an opportunity to answer for himself before the court," Molefe said.
READ MORE: Montana calls Martins' bluff, insists he invited Duduzane Zuma and Rajesh Gupta
Pieter-Louis Myburg, the author of the 'Republic of Gupta', recalled that Montana himself is a subject of investigations and court cases, including judgments that didn't go in his favour.
"[Yes], we are that desperate to get to the bottom of this Gupta mess. Montana … there is litany of misconduct under his leadership. The technical aspect of the trains tender, it details engineers' concern of the train. If you follow the money, there is a collection of money around the tender.
"It was siphoned off as kickbacks and named as fees. One of them being a lawyer who was implicated in the PetroSA scandal. The lawyer told Oswald Mashaba that Swifambo had to pay R40 million because he is the fundraiser for the ANC.
"Maria Gomez was also paid R50 million without any connection to the business deal. Hundreds of millions of rands were paid to Siyangena Technologies, and they purchased a property to the value of R25 million, which Montana is using. There is a kind of paralysis and seeming unwillingness to act by the Hawks despite Molefe opening criminal cases," Myburgh said.
RELATED: Molefe demands Hawks take corrective action in Prasa probe, then board gets sacked
Member of the committee and DA MP Natasha Mazzone defended the committee's handling of Montana's evidence, and indicated they were not dealing with anything related to Prasa or Transnet
On Twitter, Myburgh reminded his followers Montana could have lied: "A team of RSR [Rail Safety Regulator] engineers agreed with Transnet and Prasa engineers – trains too tall."
#Prasa #LuckyMontana A team of RSR engineers agreed with Transnet and Prasa engineers – trains too tall. But Montana knows better than qualified engineers, obviously. pic.twitter.com/8N57RePKVT

— Pieter-Louis Myburgh (@PLMyburgh) January 30, 2018
Myburgh also said this inquiry was a "joke".
This #StateCaptureInquiry is a sad joke. The MP's from all the parties are lauding #LuckyMontana as if there isn't a horrific record of corruption and capture at his #Prasa.

— Pieter-Louis Myburgh (@PLMyburgh) January 30, 2018
Montanta submitted that the ANC itself wanted to benefit from the rot.
Montana: It was a long meeting and for the first hour, I spoke at the meeting.
Tony Gupta and Duduzane were very shameless; they said "Lucky you are not going to be at Prasa forever; we can take you to Dubai. You will work with us and we will take care of you".

— Scapegoat (@AndiMakinana) January 30, 2018
His 'tea' included an accusation that former ANC treasurer-general Zweli Mkhize solicited 10% bribe, or donation, from the locomotive deal.
Former PRASA CEO Lucky Montana says former ANC Treasurer General Zweli Mkhize wanted the ANC to be given 10-percent of a multi-million rands tender that was awarded to a company that provided locomotives to PRASA.

— SAfm news (@SAfmnews) January 30, 2018
His attempt to unpack how state capture worked at the state-owned entity he headed was followed by a swift reminder that at some point he said state capture was a figment of one's imagination.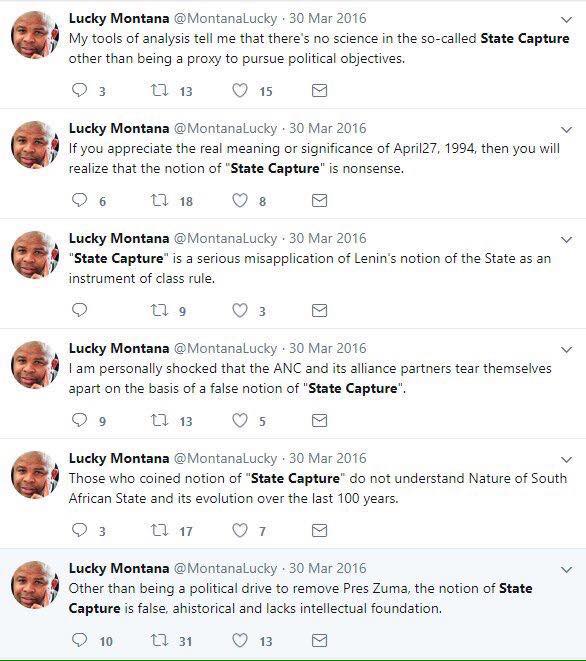 Martins doesn't know where he was during 'state capture meeting', calls Daniels a 'liar'