As of Wednesday, South Africa has recorded a total of 757,144 Covid-19 cases, with 2,888 new cases identified since the last report, Health Minister Zweli Mkhize announced.
Regrettably, 123 more COVID-19 related deaths have been reported: Eastern Cape 35, Free State 31, Gauteng 4, Kwa-Zulu Natal 3, Limpopo 7, North West 31 and Western Cape 12. This brings the total deaths to 20,556, he said.
Of the 123 deaths 17 reportedly occurred in past 24 hours: 4 in Eastern Cape, 2 in Gauteng, 11 in Western Cape.
Total recoveries now stand at 701,534 which translates to a recovery rate of 92.6%
"We extend our condolences to the loved ones of the departed and thank the healthcare workers who treated the deceased patients," said Mkhize.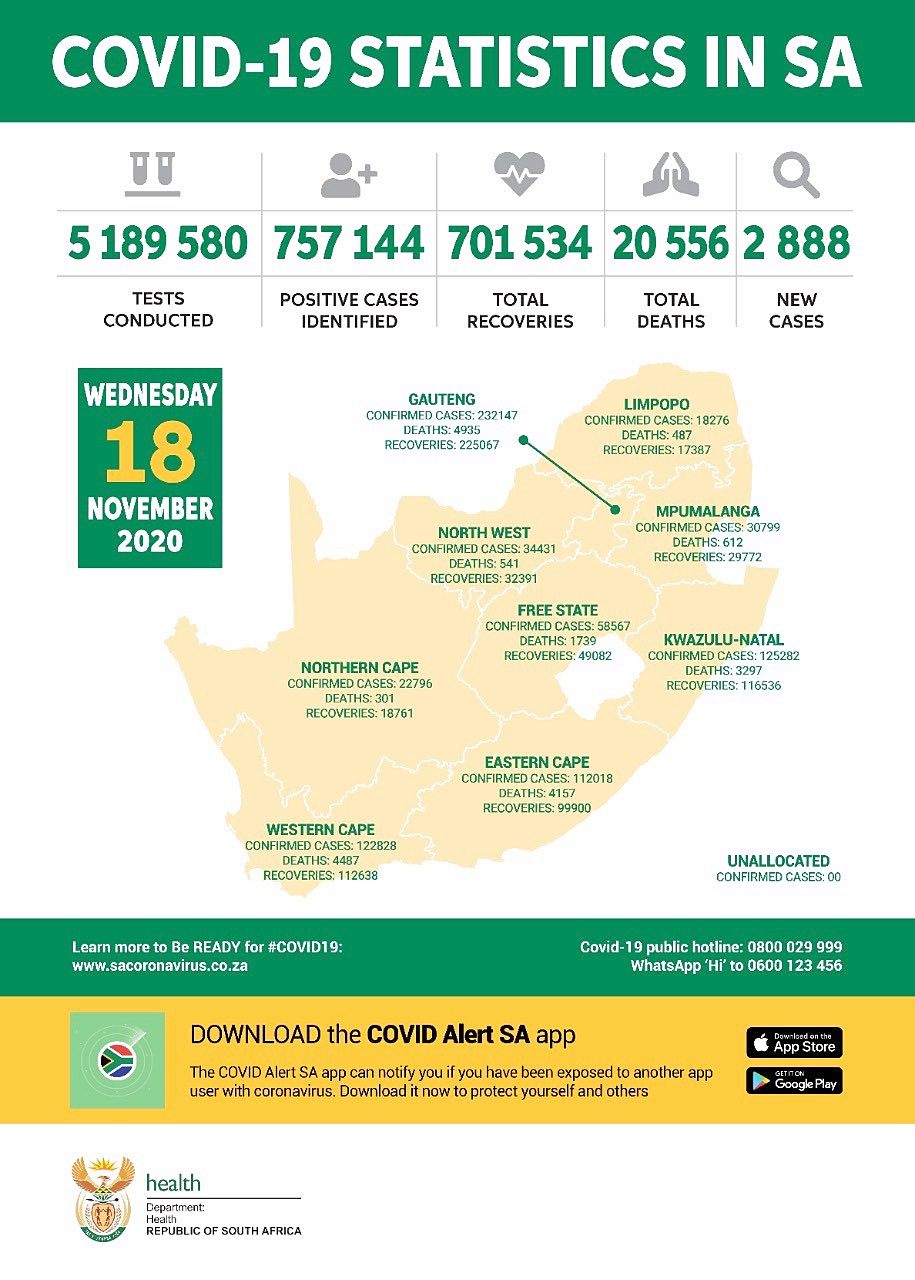 Vaccine protects 95% of people, Pfizer says
Pfizer and BioNTech said on Wednesday a completed analysis of their experimental Covid-19 vaccine found it protected 95 percent of people against the disease and announced they were applying for US emergency approval "within days."
The US pharmaceutical company and its German partner brought further hope to a world upended by the coronavirus pandemic with the announcement, which follows one last week when they said a preliminary analysis showed the product was 90 percent effective.
Adding to the encouraging data was that the efficacy was found to be consistent across all age-groups — a primary concern for a disease that hits the elderly the hardest — as well as genders and ethnicities.
"The study results mark an important step in this historic eight-month journey to bring forward a vaccine capable of helping to end this devastating pandemic," said Pfizer CEO Albert Bourla.
"With hundreds of thousands of people around the globe infected every day, we urgently need to get a safe and effective vaccine to the world," he added.
For more news your way, download The Citizen's app for iOS and Android.