The "Zimbabwean Royal Family" is currently undergoing a tough time as Zimbabwe's military seized control of the country on Wednesday and vowed to target "criminals" close to President Robert Mugabe.
Mugabe is under house arrest, together with his family and bodyguards at his presidential palace in Harare.
Amidst all the chaos, we started wondering what the family was getting up to. According to some sources, Grace has fled the country after her husband negotiated her departure. But what about the Mugabe children?
Bona Mugabe
Bona Mugabe keeps an extremely low profile. She doesn't appear to be active on Twitter, and her Instagram account is private just like both her brothers'. However, she has been spotted practising to take over her father's duties.
Look at Bona Mugabe practicing to take over her father's duties. pic.twitter.com/6iJtsL8owo

— Prophet Cynic (@CynicHarare) October 5, 2017
In other words, sleeping during speeches.
Robert Mugabe Junior
Robert Mugabe Junior is upholding a positive outlook by endorsing "peace and love over everything".
He shared an archive video of his father denouncing military takeover and pledging to rule with firmness. The clip originated from a BBC Newsnight interview, recorded in 1980 when Mugabe first became prime minister of Zimbabwe.
"I'm not going to have anybody advocate the overthrowing of a government and remain in the country. He's not one of us if he does that. The alternative is to put him in detention, and I don't want to do that," Mugabe said in the interview.
"The right to overthrow a constitution doesn't exist at all, it is not a right of the individual," he added.
Robert Junior posted the video on Instagram on Thursday morning with the caption: "Peace and love over everything." His brother also posted the same video on his social media accounts, with the hasthags #LikeFatherLikeSon and #WatchThisSpace.
Chatunga Bellarmine Mugabe
Chatunga Bellarmine Mugabe recently came under fire for flaunting an expensive watch and bragging about his father's power, in what appears to be a nightclub in Sandton.
A video emerged last week of him pouring a R3 700 bottle of champagne over his diamond-encrusted watch, which he claimed was worth R850 000.
While #GraceMugabe is bidding to be Vice President her sons are living it up pouring tax payers money out of a bottle #ThisFlag???????? #SaveZim pic.twitter.com/QESdlXb4KE

— Peter Ndoro (@peterndoro) November 7, 2017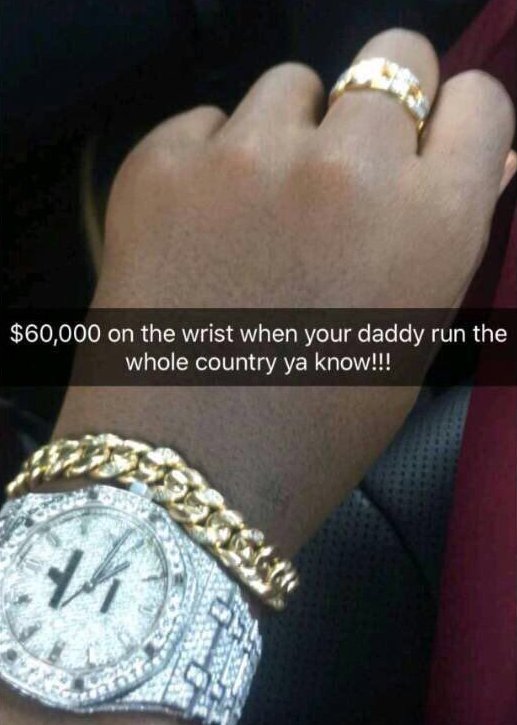 Looks like nothing can bring the Mugabe children down. As Robert Junior once said: "They keep on talking, we keep on rolling."
For more news your way, follow The Citizen on Facebook and Twitter.