The Economic Freedom Fighters (EFF) have called on the charges commander-in-chief (CiC) Julius Malema will face in the Bloemfontein Magistrates' Court on Friday to be dropped.
Malema will appear in court for contravening the Riotous Assemblies Act of 1956, charges the party says are meant to frustrate its leader "from conducting a successful revolution".
The EFF leader was charged under this law, which the party called Apartheid legislation after he encouraged EFF members at the party's elective conference in 2014 to occupy land.
He repeated the same call in June last year near Madadeni, KwaZulu-Natal.
"These charges are also a waste of resources and time: the Riotous Assemblies Act used to charge the CiC is an Apartheid law used against anti-Apartheid activists at the Rivonia Trial," the party said in a statement.
The Rivonia Trial led to the imprisonment of, among other freedom fighters, late former president Nelson Mandela.
The EFF added the Riotous Assemblies Act of 1956 was inconsistent with the democratic Constitution of South Africa.
"Thus there is no doubt that the higher courts will rule against it being used today, particularly to suppress people's views and engagement in public discourse.
"There is nothing right-wingers can do anymore because land expropriation without compensation is a resolution of the 5th democratic Parliament, and it is going to happen.
"The Constitution will be amended to allow expropriation without compensation because for South Africa to have a lasting peace, black people must have access to the land," the party said.
Ongoing public hearings on the possible review of section 25 of the Constitution to make it possible for the state to expropriate land without compensation being conducted by the Constitutional Review Committee got under way after Parliament voted in favour of an EFF motion on land expropriation without compensation.
The committee was mandated by the National Assembly and the National Council of Provinces to review the section of the Constitution following the parliamentary vote.
The EFF reiterated its call to have the charges Malema faces to be dropped and for the land issue to be confronted.
"Charging people who are campaigning for better change is not a solution, and will never benefit anyone."
Malema's court appearance comes as the EFF is expected to celebrate its 5th birthday in East London on Saturday.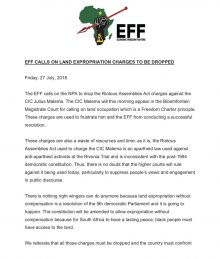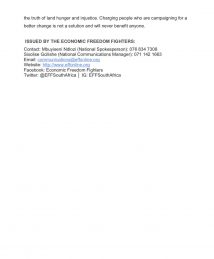 For more news your way, download The Citizen's app for iOS and Android.