Steinhoff Africa Retail (Star) dropped a bombshell on Friday when it announced that it was party to a guarantee of "third party debt" related to a historic Pepkor Holdings management investment scheme "underpinned by the Steinhoff share price".
Moneyweb understands from sources familiar with the subject that this investment scheme includes a number of current and former Pepkor employees and executives that decided to invest in Steinhoff through an entity called Business Ventures Investments 1499 (Pty) Ltd (BVI). Neither Star nor Steinhoff have any interest in BVI.
According to Steinhoff's share register at the end of November, BVI held 43.2 million shares in the company before the dramatic events unfolded in early December, and this remained unchanged up until the end of January.
BVI borrowed money to increase its exposure using Steinhoff shares as collateral and with a facility provided by Rand Merchant Bank. This scheme is now deep underwater according to information Moneyweb has been provided with (see table).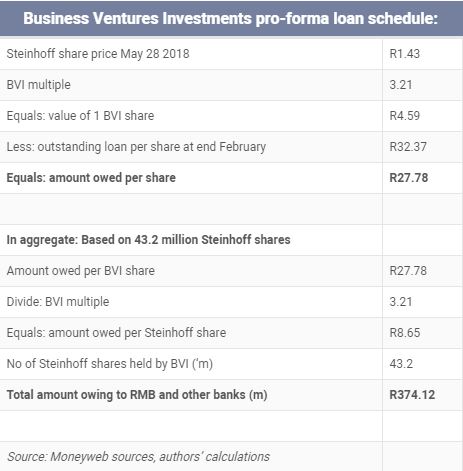 According to Moneyweb sources, following the fallout post December, a clause was included in the directors' report of Pepkor Trading which stated: "Subsequent to year end, the company issued a guarantee in favour of RMB for R430 million for performance of a loan payable by BVI".
Moneyweb was made aware of the existence of the guarantee back in April. When we initially asked Star about it through an exchange of emails on May 10 they provided the following response, effectively denying it:
Moneyweb: Has the company entered into any agreements to cover losses or potential shortfall on any exposure by the groups' directors or employees to the Steinhoff share price following the announcement by Steinhoff that it was investigating "accounting irregularities"?
Star's response: "Star has not entered into any agreements to cover Star directors' or employees' exposure as a result of the Steinhoff events. The only factor which may be relevant here is that a long-term cash retention scheme was implemented for Star key senior management who were historically incentivised by way of Steinhoff shares. This is to ensure that key senior management remains motivated over the long term and remains with the Star group."
Moneyweb understands the long-term cash retention scheme is something completely separate to the guarantee issued by Pepkor on behalf of BVI.
In more correspondence provided on Monday, Star added the following details:
At the time of your questions, Star had not (and still hasn't) entered into any agreement to cover losses or potential shortfall of employees included in the scheme.
The various options available of dealing with the third party debt was taken under review which included legal advice and mandatory consultation with shareholders of the scheme.
A decision was reached at the audit committee meeting on Friday May 25 to take a conservative approach and to provide for the third party debt guarantee. The matter was considered by the audit committee based on significant engagement with all parties and seeking advice from external audit.
 The historic Pepkor Holdings management investment scheme – for which Star's subsidiaries are guarantor for, started in 2011 and the scheme continues to operate. It is also very important to note that the debt has not been called upon and management has taken the conservative view to provide for this."
This raises an obvious question: How can a Star subsidiary that has issued a guarantee to a bank for third party debt involving current and former employees, not construe this as entering into agreements to cover losses or potential shortfall?
Other questions that management can answer at the company's interim results announcement today [Tuesday] include: How does Star justify issuing a guarantee for third party debts while it was scrambling to source liquidity in the aftermath of December? What makes the shareholders – who are employees of Star – so special that they get financial assistance from the company when thousands of others that have seen their wealth evaporate in Steinhoff's collapse, have not? And finally, are the beneficiaries of BVI technically insolvent, and if so, how can they be entrusted to run a company?
This problematic situation comes at a time when Star and its parent company, Steinhoff, have yet to explain why the company did not disclose the imminent litigation emanating from former Tekkie Town shareholders ahead of the bookbuild conducted on April 11, which saw Steinhoff selling 200 million shares in Star through a private placement.
Brought to you by Moneyweb
For more news your way, follow The Citizen on Facebook and Twitter.