Sibanye's proposed R4bn takeover of Aquarius Platinum would make it appear that Neal Froneman and his team at Sibanye are "pointing at anything and shooting" in the current environment. But this appears not to be the case.
The offer of R2.66/share ($0.195) represents a 56% premium to Aquarius' closing share price on the day before the announcement, and a 62% premium to the volume weighted average price over the 30 days prior to, and including, October 5. The offer has been endorsed by the Aquarius board.
If approved by shareholders and regulatory authorities, the transaction will make Sibanye the world's fifth-largest platinum group metals producer (PGM), with annual production of some 1.1Moz of PGMs. Roughly 750Koz of this will be platinum.
Froneman confirmed in an interview with Mineweb (watch it here) that discussions around acquiring Aquarius began before those that led to Sibanye acquiring the Rustenburg operations from Anglo American Platinum.
For a R4bn ($294m) price tag, Sibanye gets a business with roughly R1bn of cash in the bank, and the ability to deliver synergies with the Rustenburg operations that should "conservatively" yield R800m a year in savings, starting in three to four years' time. When the transaction is couched in this way, you can appreciate why the market liked the news so much – the Sibanye share price advanced 10% on the day of the announcement.
Aquarius has two operating assets in the form of the Kroondal mine (Rustenburg) and Mimosa mine (Zimbabwe). Kroondal's operations are adjacent to the Rustenburg operations Sibanye is in the process of acquiring from Anglo American Platinum (see graph below).
Proximity allows for integration and synergy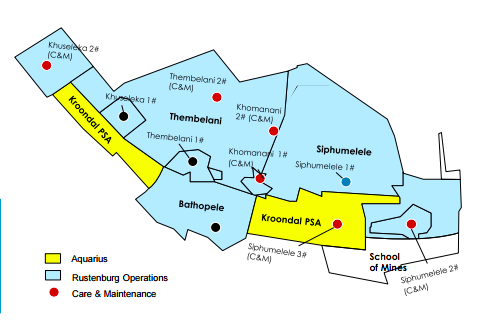 Source: Sibanye Gold presentation
"Its similar to the removal of mine boundaries in the gold industry 10-15 years ago," says Froneman. "There are things like concentrators, surface infrastructure, and surface tailings that are not being optimised. Group overhead can be shared. So there are numerous ways to achieve economies of scale in terms of being able to reach the R800m a year in savings."
Stakeholders will be pleased to hear that this will not involve cutting jobs. "Where we find ourselves today [in South Africa] it is all about saving jobs. No jobs will be lost at the lower end of the organisation. So its important in terms of what's right for South Africa," says Froneman.
Nor does it deviate or affect Sibanye's declared strategy of paying returns to investors via dividends. "This deal is synergistic, it is value accretive, and it is consistent with our dividend strategy," says Froneman, who was very complementary of the Aquarius management team led by CEO Jean Nel. "All-in-all it's an attractive, cash generative business, and Jean and his team have been ahead of the game."
As can be seen from the accompanying graph, Aquarius' assets are well placed in terms of costs and margins.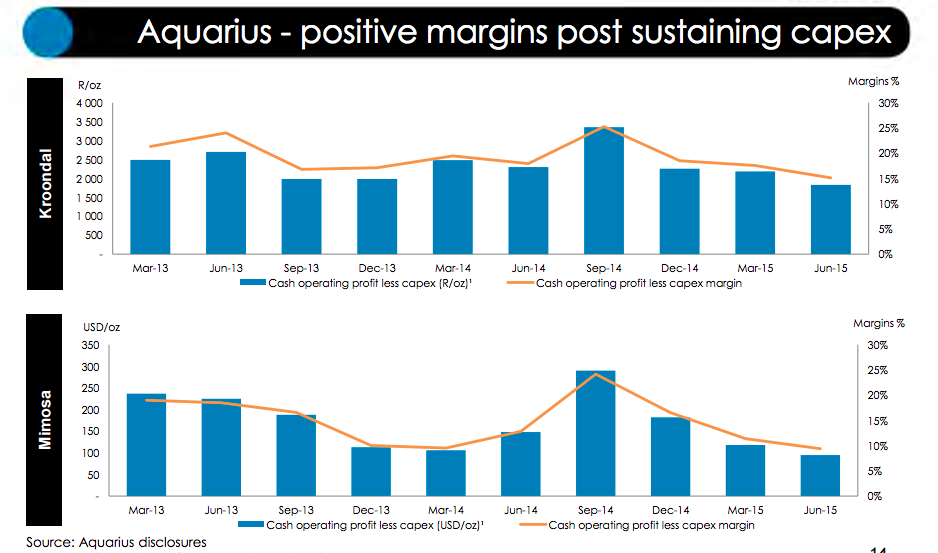 Not all plain sailing
One of Aquarius' largest shareholders, Investec Asset Management (who is also a Sibanye shareholder), says the price does not reflect value and just does not make sense for Aquarius shareholders. "It's opportunistic – and I say that with all due respect to Neal and his team at Sibanye. Just look at the timing of the deal. We are seeing one of the biggest discounts of platinum to gold in history, and at a time where the platinum price is significantly depressed," says portfolio manager Hanre' Rossouw.
Investec Asset Management own 13.9% of Aquarius on behalf of its clients and, as such, is the largest shareholder in the business. On a fundamental and relative basis, Rossouw believes the price is too low. "As Froneman pointed out, there are significant synergies that can be achieved by combining Aquarius' assets with the Rustenburg operations Sibanye is in the process of acquiring from Anglo American Platinum. Then there is the $72m cash in the bank, so when you include the cash and the synergies available, they are not offering that much for the business," says Rossouw.
Unlike some other platinum producers that probably justify a low valuation, Aquarius has been well run. "You need to give Jean Nel [Aquarius CEO] credit for building a robust business – it's probably cash flow break-even at current prices, and Kroondal and Mimosa are some of the better operations in the industry. We think the share price has been unfairly discounted," says Rossouw.
Rossouw's case is strengthened when looking at the share price performance of Sibanye on the day of the announcement – the share rose 10% to close at R19.74/share.
Was management wrong to endorse the offer? "Its difficult for the management team," says Rossouw. "They have been approached to sell the company at a serious premium, so the market will determine whether it's a fair offer."
– Brought to you by Moneyweb