Making dinner does not have to feel like a difficult or time-consuming task. These 10 delicious foods can be prepared in 20 minutes or less, and not only are they quick to make, but they are also easy to prepare and super tasty.
Meatballs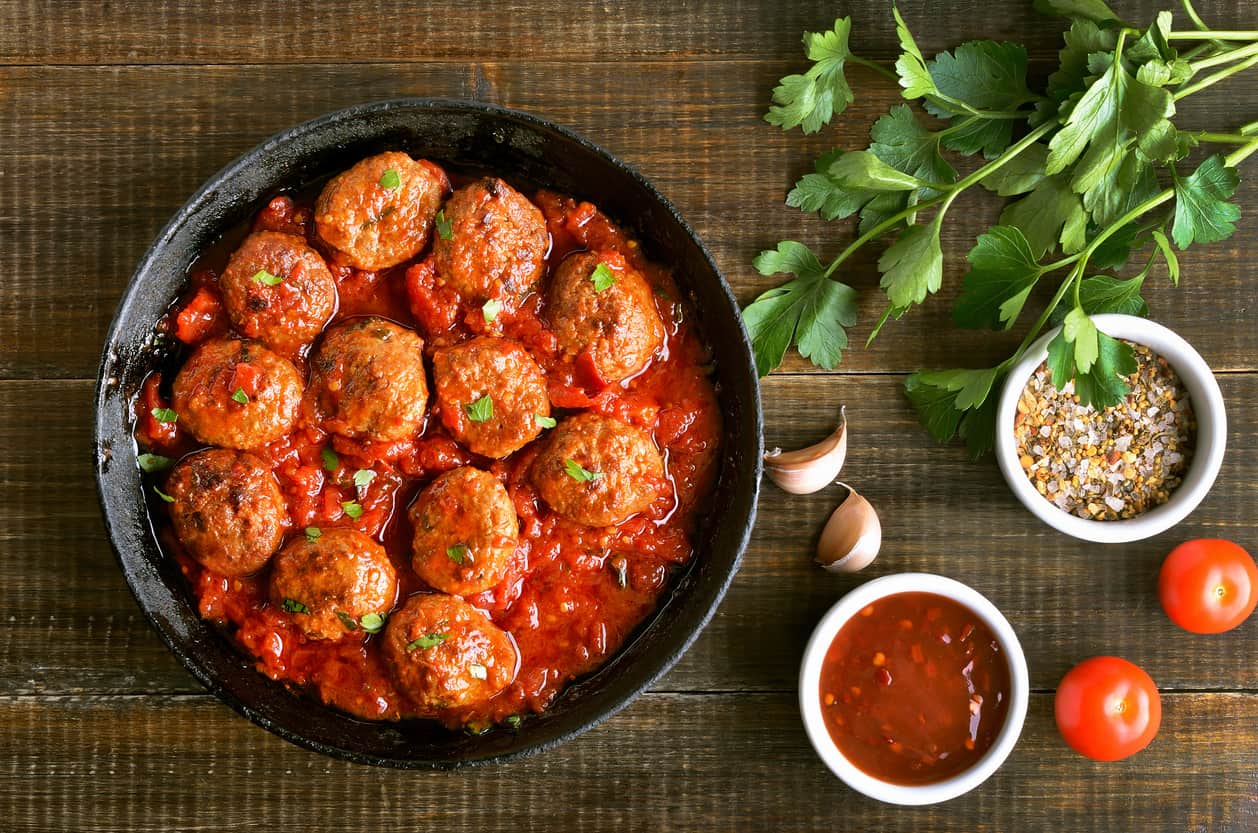 Ingredients
450 grams of ground beef
1/2 cup of panko bread crumbs
4 green onions, thinly sliced, divided
1 egg
2 cloves garlic, minced
1 tsp ginger, minced or grated
1 tsp sesame oil
Kosher salt
Pinch of red pepper flakes
1/4 cup cornstarch
Vegetable oil, for frying
1/2 cup of low-sodium chicken broth
1/4 cup of soy sauce
2 tbsp apple cider vinegar
2 tbsp hoisin sauce
1 tbsp honey
2 tsp sesame seeds
Instructions
In a large bowl, combine ground beef, panko bread crumbs, 2 green onions, egg, garlic, ginger, and sesame oil. Season with salt, add the red pepper flakes, and mix to combine.
Roll mixture into small balls, about the size of a heaping tablespoon. Roll meatballs in cornstarch to coat.
In a large skillet over medium high heat, heat about 1/2 of vegetable oil. Add meatballs and cook until seared on all sides, about 3 minutes per side. Remove meatballs from skillet and drain fat.
To the skillet over medium heat, add chicken broth, soy sauce, apple cider vinegar, hoisin, and honey. Whisk to combine then add back meatballs. Simmer until meatballs are cooked through, 6 to 8 minutes more.
Remove from heat and sprinkle with remaining green onion and sesame seeds.
This recipe was found on delish.com
Grilled cheese sandwiches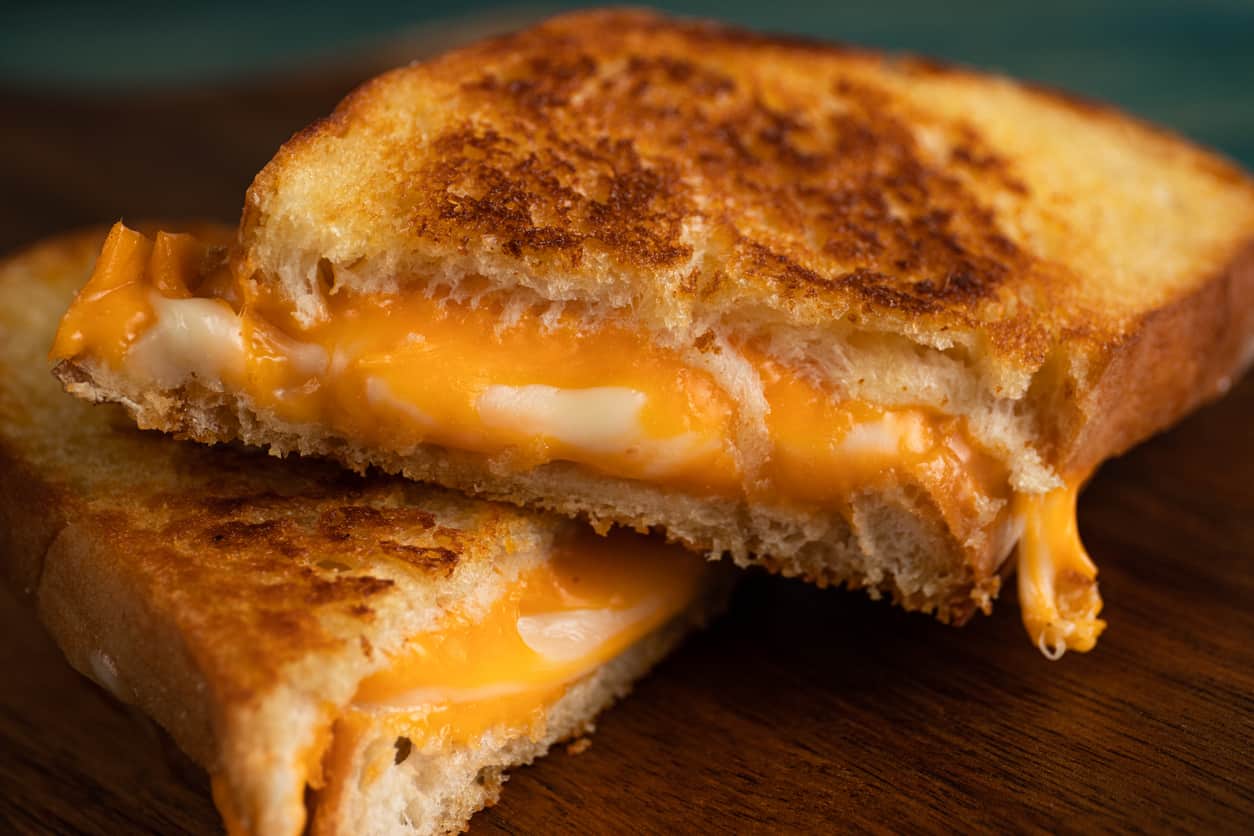 Ingredients
5 tbsp. butter, softened, divided
4 slices sourdough bread
2 cups of shredded cheddar
Instructions
Spread 1 tablespoon butter on one side of each slice of bread. With butter side down, top each slice of bread with about ½ cup cheddar.
In a skillet over medium heat, melt 1 tablespoon butter. Add two slices of bread, butter side down. Cook until bread is golden and cheese is starting to melt, about 2 minutes. Flip one piece of bread on top of the other and continue to cook until cheese is melty, about 30 seconds more.
Repeat for the second sandwich, wiping skillet clean if necessary.
This recipe was found on delish.com
Pork chops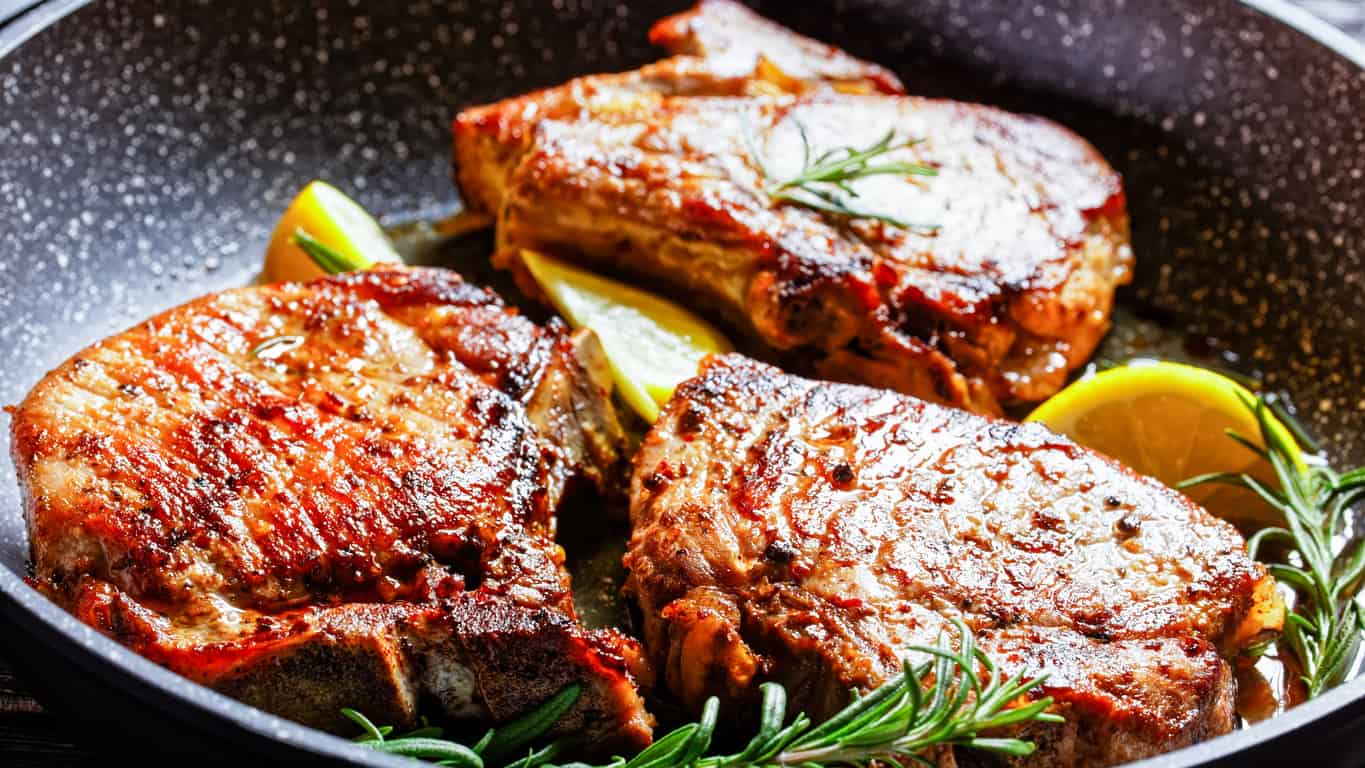 Ingredients
4 bone-in pork chops, trimmed of fat
2 tbsp extra-virgin olive oil
kosher salt
Freshly ground black pepper
4 sprigs fresh rosemary
Roasted potatoes, for serving
Instructions
Preheat oven to 400ºC. Rub pork chops with olive oil and season generously with salt and pepper. Set a cast-iron skillet over medium-high heat on the stovetop to heat up, 5 minutes.
Add pork chops to skillet and sear 3 minutes, then flip. Add rosemary sprigs to skillet then transfer to oven and continue cooking until no longer pink, 6 to 8 minutes.
Serve with roasted potatoes.
This recipe was found on delish.com
Beef and broccoli stir fry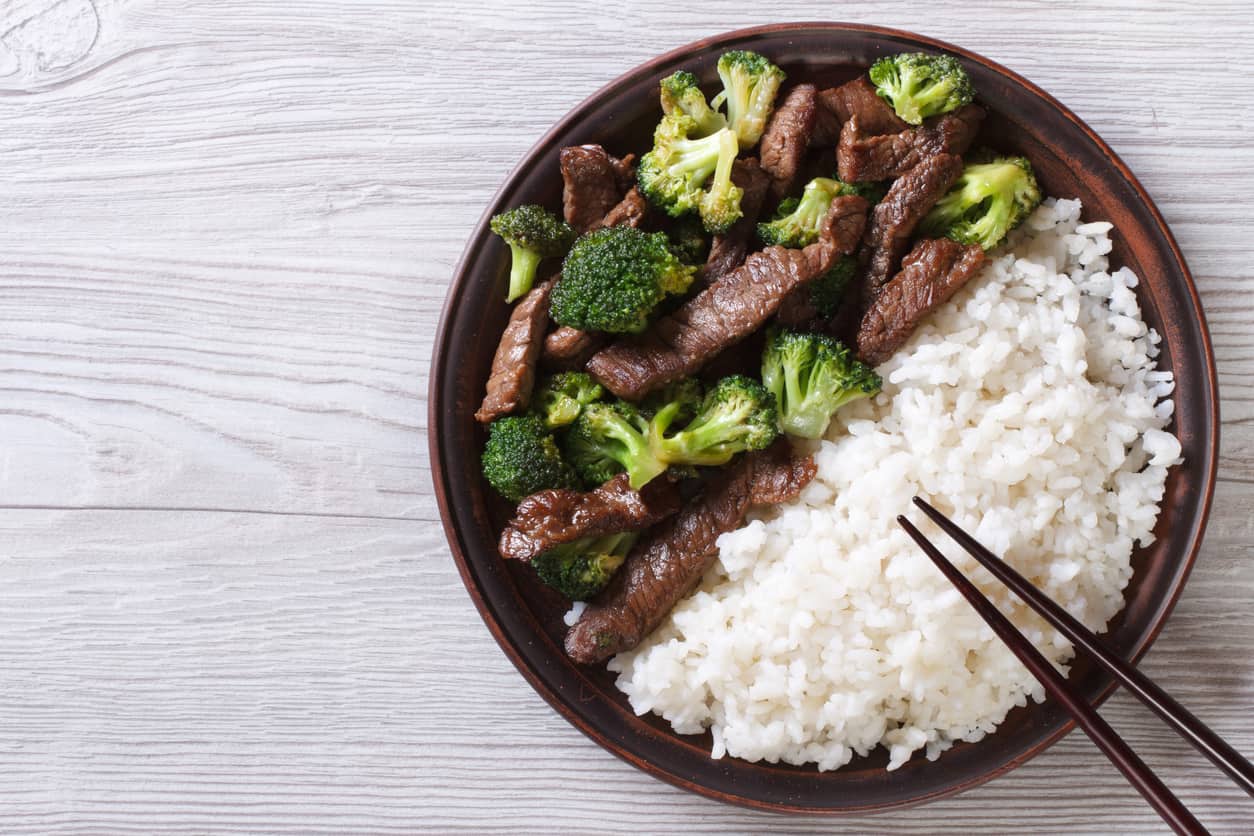 Ingredients
1/3 cup low-sodium soy sauce
Juice of 1/2 lime
Zest of 1/2 lime
2 tsp. toasted sesame oil
2 tbsp. packed brown sugar
1 tbsp. freshly grated ginger
2 cloves garlic, grated
1 green onion, sliced
1/4 tsp. freshly ground black pepper
450 grams of sirloin steak, sliced very thinly against the grainMarinated sirloin, drained
3 tbsp. cornstarch
3 tbsp. peanut oil, divided
1 dried red chili, thinly sliced
2 tbsp. sesame seeds, divided
2 cloves garlic, minced
1 green onion, thinly sliced, plus more for garnish
Pinch kosher salt
1 large head broccoli, cut into florets
1 cup low-sodium chicken broth
2 tbsp. hoisin sauce
1/3 cup reserved marinade
Instructions
In a medium bowl, whisk together marinade ingredients except for steak until fully combined. Reserve 1/3 cup marinade and set aside. Add steak to medium bowl and toss until evenly coated. Let marinate for 20 to 30 minutes.
In a large bowl, toss together cornstarch and drained marinated beef. In a large skillet over medium-high heat, heat 2 tablespoons oil. Add steak in a single layer, working in batches if needed, and cook until seared, 1 to 2 minute per side. Remove steak and set aside.
Return skillet to medium heat. Heat remaining 1 tablespoon oil, then add chili, 1 tablespoon sesame seeds, garlic, green onion, and a pinch salt. Stir and cook until fragrant, 2 minutes. Add in broccoli and cook, stirring occasionally, until bright green, about 4 minutes. Add in broth and let cook, stirring occasionally, until broccoli is tender, 3 to 4 minutes more.
Add hoisin and 1/3 cup reserved marinade and stir to evenly distribute. Bring to a simmer. Add back cooked steak and toss until evenly coated. Let cook, stirring, until sauce thickens.
Garnish with more sesame seeds and green onions before serving.
This recipe was found on delish.com
Chicken satay salad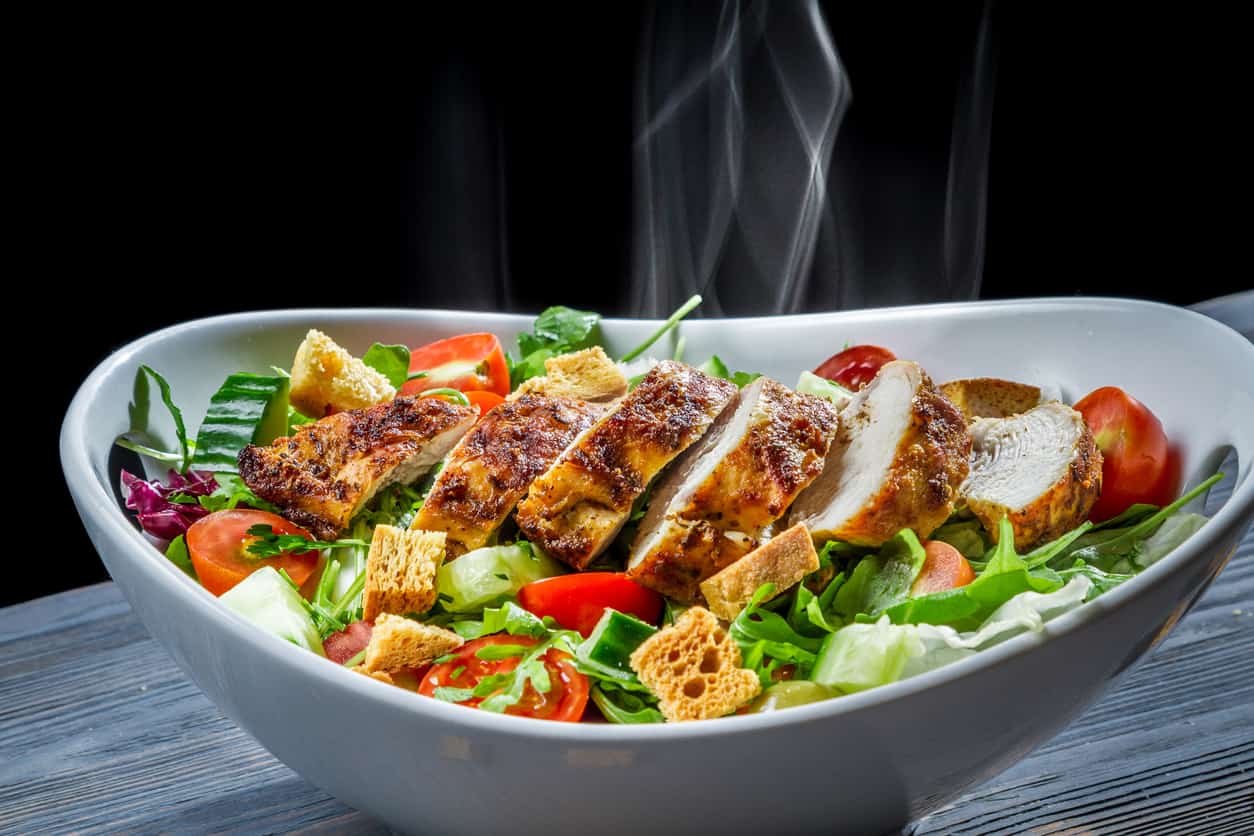 Ingredients
2 skinless, boneless chicken breasts
7 tablespoons (about 1/2 cup)
Thai peanut sauce
3 tablespoons vegetable oil
Kosher salt and freshly ground pepper
2 tablespoons fresh lime juice
1 head romaine lettuce, sliced
1/2 English cucumber or 2 Persian cucumbers, cut into matchsticks
1 medium carrot, halved lengthwise and thinly sliced
1 red bell pepper, thinly sliced
1/4 cup roughly chopped fresh cilantro, plus more for topping
3 tablespoons chopped roasted salted peanuts
Instructions
Preheat a grill or grill pan to medium high. Slice the chicken breasts 1/2 inch thick and toss with 2 tablespoons peanut sauce, 1/2 tablespoon vegetable oil, 1/4 teaspoon salt, and pepper to taste in a bowl. Grill the chicken until just cooked through, about 2 minutes per side. Transfer to a plate.
Whisk the remaining 5 tablespoons peanut sauce and 2 1/2 tablespoons vegetable oil, the lime juice and 2 tablespoons water in a large bowl. Add the lettuce, cucumber, carrot, bell pepper and cilantro and toss. Season with salt and pepper and divide among bowls. Top with the chicken, peanuts and more cilantro.
This recipe was found on foodnetwork.com
Fettuccine alfredo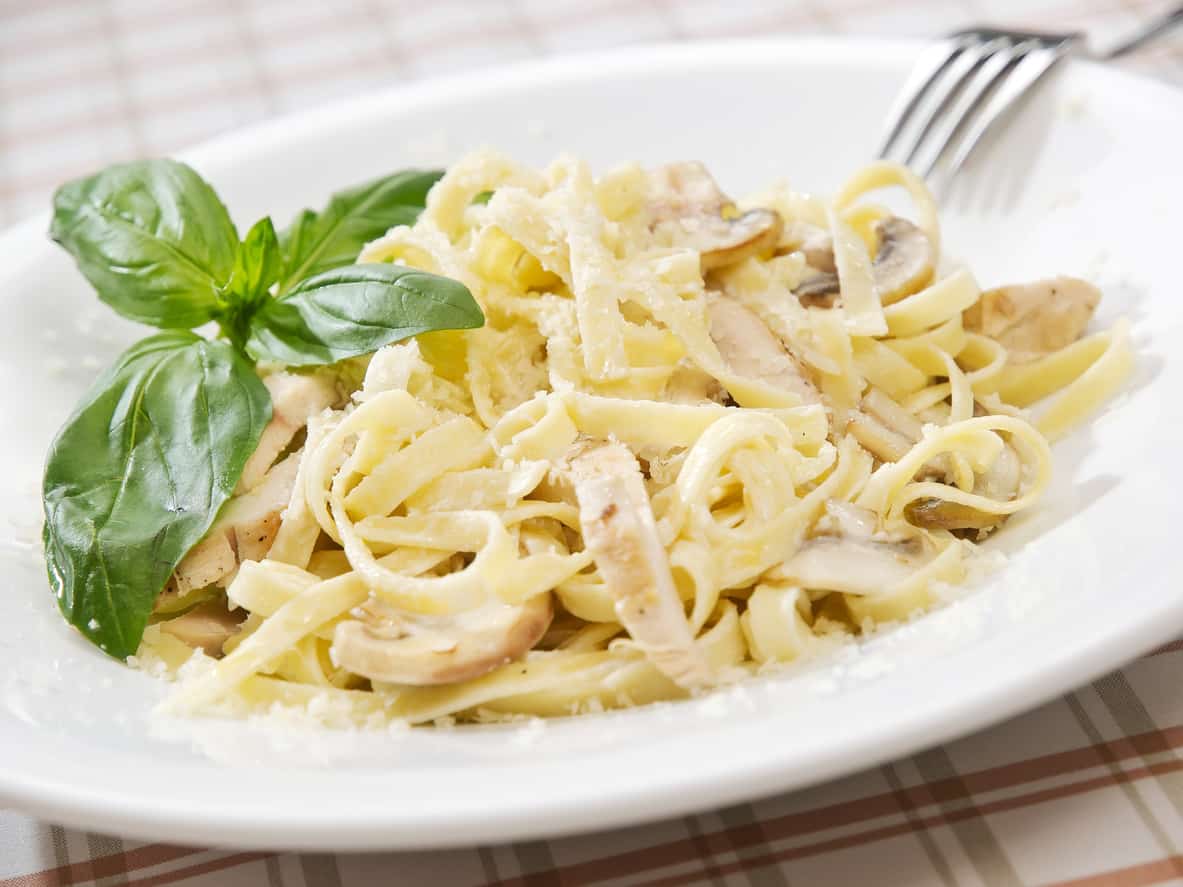 Ingredients
18 ounces fresh fettuccine
2 1/2 cups heavy cream
1/2 cup fresh lemon juice
12 tablespoons unsalted butter
2 cups grated Parmesan
2 teaspoons grated lemon zest
Pinch freshly grated nutmeg
Salt and freshly ground white pepper
Instructions
Cook the pasta in a large pot of boiling salted water until tender but still firm to the bite, stirring occasionally, about 4 minutes. Drain.
Stir 2 cups of the cream and the lemon juice in a heavy large skillet to blend. Add the butter and cook over medium heat just until the butter melts, stirring occasionally, about 3 minutes. Remove from the heat. Add the pasta and toss.
Add the remaining 1/2 cup of cream, and Parmesan to the cream sauce in the skillet. Add the lemon zest, nutmeg, salt, and white pepper.
Toss the pasta mixture over low heat until the sauce thickens slightly, about 1 minute.
This recipe was found on foodnetwork.com
Lemon chicken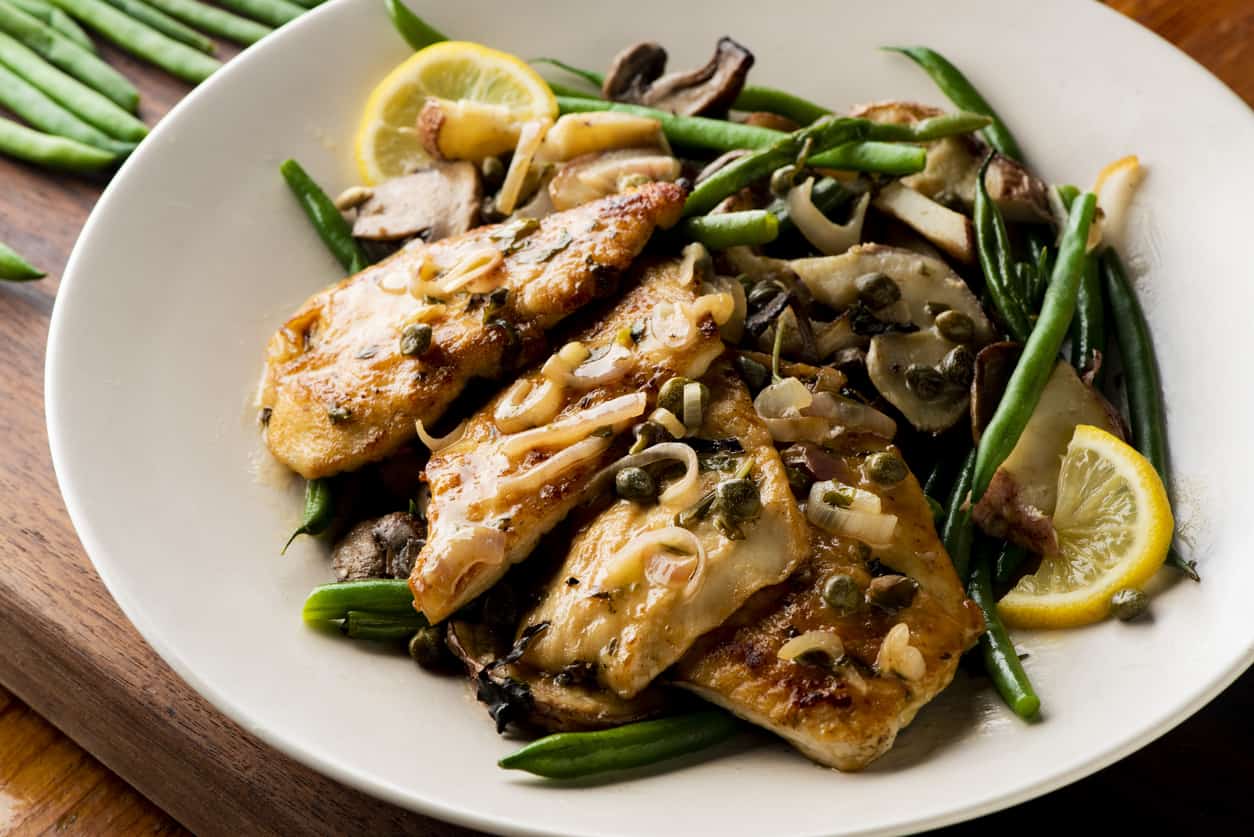 Ingredients
1 1/2 pounds chicken breast or chicken tenders, cut into chunks
1/4 cup all-purpose unbleached flour
Coarse salt
2 tablespoons wok or vegetable oil, 2 turns of the pan
1 tablespoon (a splash) white or rice wine vinegar
1/2 cup chicken broth or stock
8 ounces (1 cup) prepared lemon curd
1/4 cup hot water
1 lemon, zested
2 scallions, thinly sliced or 20 blades fresh chives, finely chopped
Instructions
Coat the chunked chicken lightly in flour, seasoned with a little salt. Heat a large skillet or a wok-shaped nonstick pan over high heat. Stir fry chicken until golden, 3 or 4 minutes. Remove chicken from the pan and return pan to heat. Reduce heat to medium.
Add a splash of vinegar to the pan and let it evaporate. Add stock or broth to the pan and scrape up any drippings with a whisk. Thin curd by stirring in a little hot water. Add curd to broth and whisk to combine. Add chicken back to the pan and simmer for 1 to 2 minutes to thicken sauce and finish cooking chicken pieces through.
Remove the pan from heat, add the scallions or chives and zest, and toss chicken pieces well to combine zest and scallions or chives evenly throughout the sauce.
This recipe was found on foodnetwork.com
Vegetable Quesadillas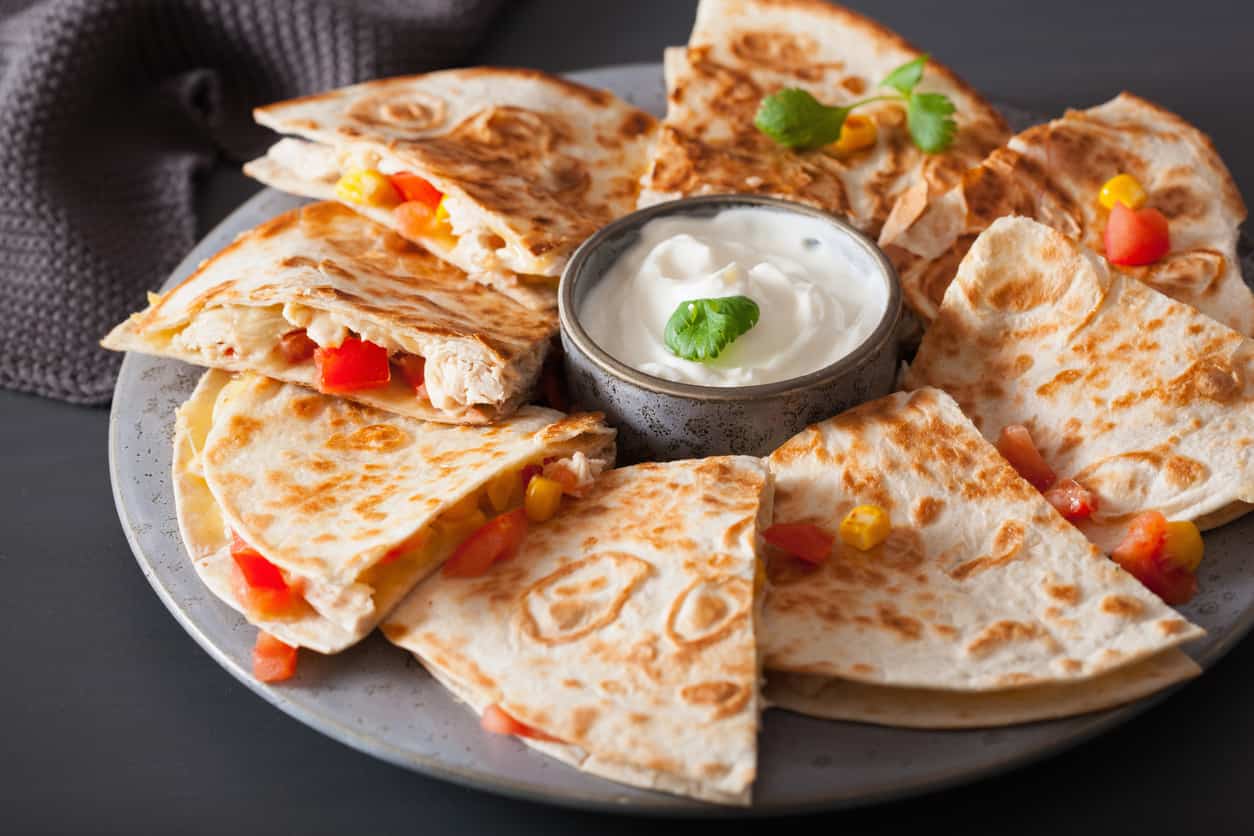 Ingredients
1 teaspoon canola oil
1 cup coarsely chopped chili
½ cup frozen whole-kernel corn
¾ cup packaged precooked quinoa and brown rice
¼ teaspoon salt
8 3/4 cups fresh spinach
3/4 cup sharp cheddar cheese, shredded
1 cup canned unsalted black beans, rinsed and drained
2 teaspoons Mexican hot sauce
8 flour tortillas
Cooking spray
6 tablespoons light sour cream
6 lime wedges
Instructions
Place oven rack in middle of oven. Preheat broiler to high. Place a baking sheet on rack in oven (keep pan in oven as it preheats).
Heat a large skillet over medium-high heat. Add oil to pan; swirl to coat. Add poblano and corn; cook 5 minutes, stirring once. Add quinoa, salt, and spinach; sauté 2 minutes or until spinach wilts. Remove from heat; stir in cheese. 
Combine beans and hot sauce in a small bowl; mash with fork until smooth. Spread 2 1/2 tablespoons bean mixture on each of 4 tortillas; top each with 1/2 cup spinach mixture and 1 tortilla. Lightly coat quesadillas with cooking spray. Arrange quesadillas on preheated pan in oven; broil 3 minutes or until lightly browned, turning once.
Cut each quesadilla into 6 wedges. Serve with sour cream and lime.
This recipe was found on myrecipe.com
ALSO READ: Recipe of the day: Braised beef short rib tacos
Tomato soup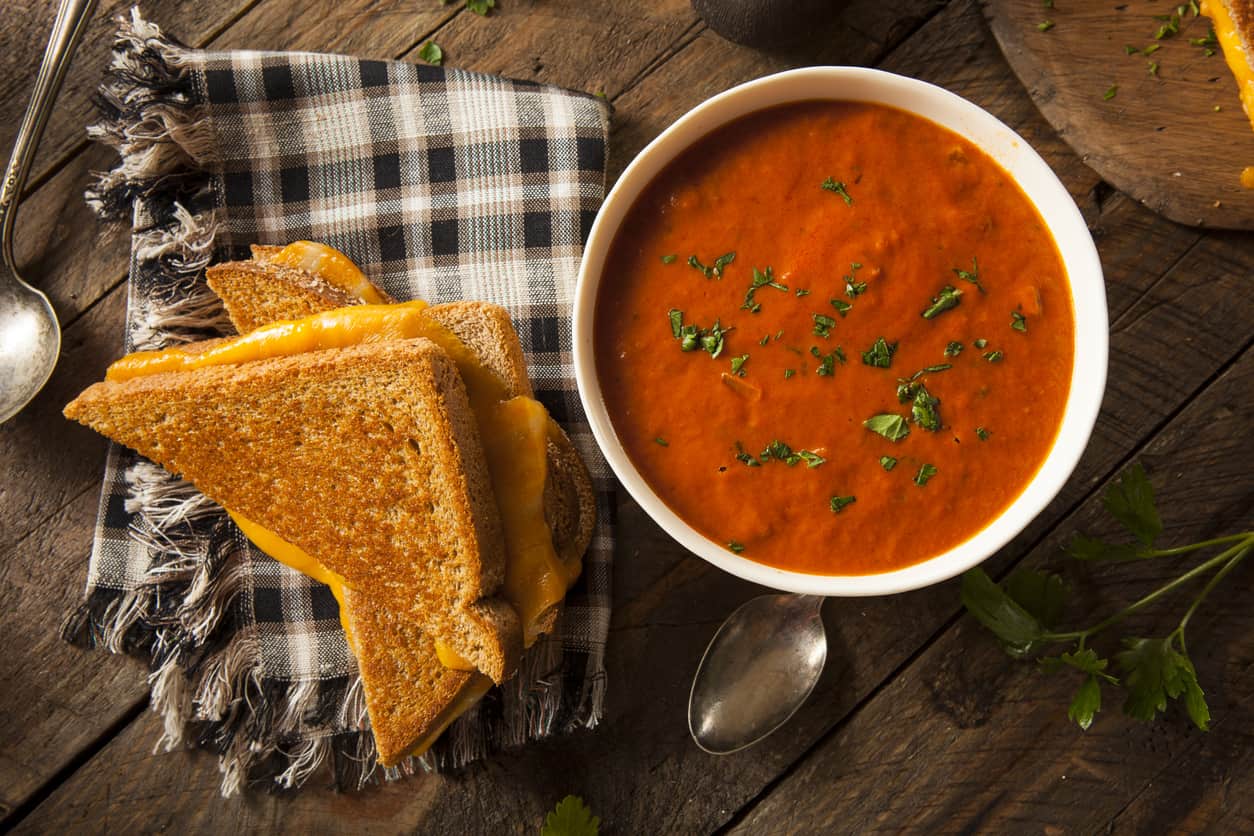 Ingredients
½ cup coarsely chopped carrot
½ cup coarsely chopped onion
½ cup coarsely chopped fennel bulb
1 celery stalk, coarsely chopped
1 tablespoon olive oil
1 box unsalted chopped tomatoes, undrained
1 cup unsalted chicken stock
¾ teaspoon freshly ground black pepper, divided
1/2 teaspoon salt
1 tablespoon butter
8 celery leaves
4 slices diagonally cut whole-grain bread
3/4 cup cheese, shredded
Instructions
Combine first 4 ingredients in a food processor; process until finely chopped. Heat a large saucepan over medium-high heat. Add oil to pan; swirl to coat. Add vegetable mixture to pan; cook 5 minutes or until crisp-tender, stirring occasionally. Add tomatoes to food processor; pulse until finely chopped. Add tomatoes, stock, 1/2 teaspoon pepper, and salt to pan; bring to a simmer. Reduce heat to low; simmer 10 minutes. Stir in butter; sprinkle with celery leaves.
Place bread on a baking sheet. Broil 2 minutes. Turn bread slices over; sprinkle evenly with cheese. Broil 2 minutes or until cheese is lightly browned. Sprinkle with remaining 1/4 teaspoon black pepper.
This recipe was found on myrecipe.com
Bloody Mary burgers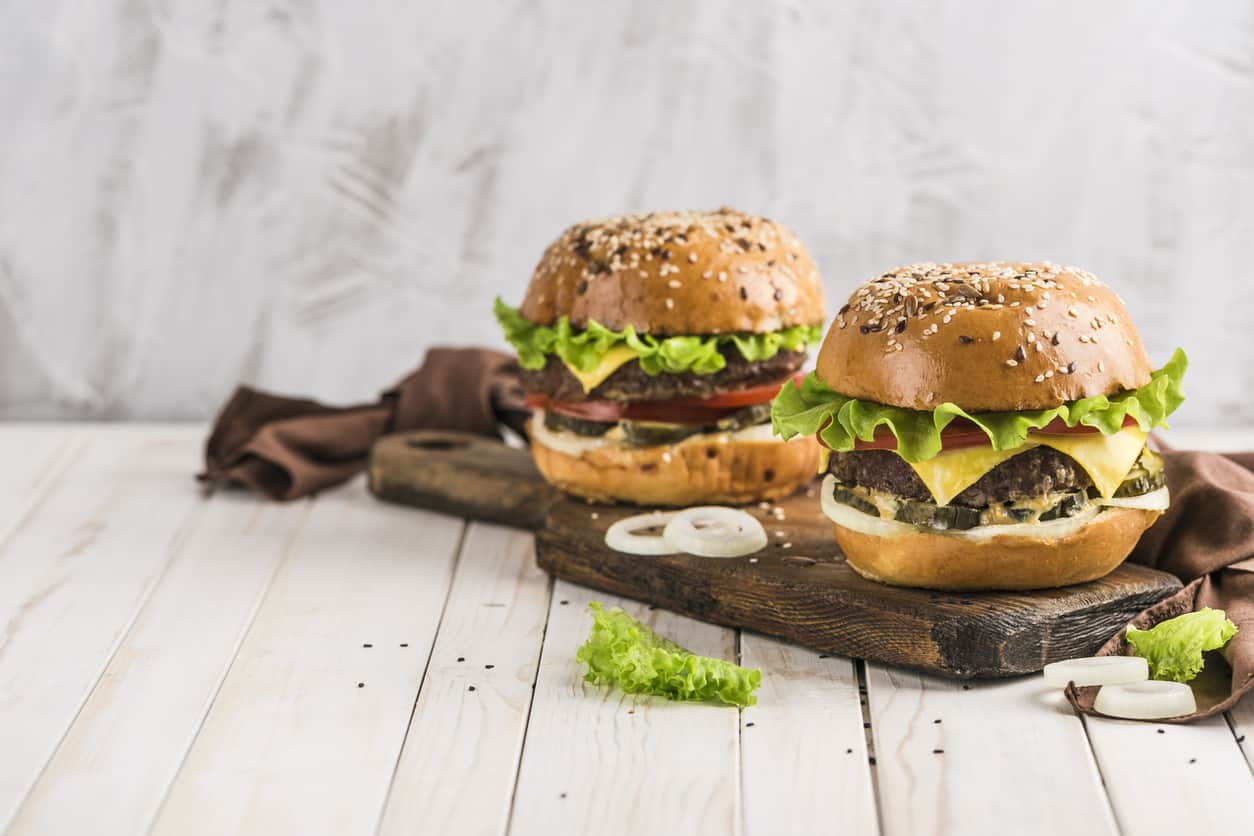 Ingredients
¼ cup unsalted ketchup
2 teaspoons prepared horseradish
2 tablespoons Worcestershire sauce
1 teaspoon garlic powder
½ teaspoon celery salt
½ teaspoon freshly ground black pepper
1/4 teaspoon kosher salt
500g 90% lean ground sirloin
Cooking spray
4 whole-grain hamburger buns
8 romaine lettuce leaves
1 dill pickle spear, thinly sliced crosswise
Instructions
Combine ketchup and horseradish in a small bowl, stirring with a whisk.Combine Worcestershire, garlic powder, celery salt, pepper, salt, and beef in a bowl; gently blend with your hands. Form mixture into 4 patties.
Heat a large cast-iron skillet over medium-high heat. Coat pan with cooking spray. Add burgers to pan; cook 2 to 3 minutes on each side or until desired degree of doneness. Place 1 burger on bottom half of each bun. Top burgers with ketchup mixture, lettuce, and pickle. Top with top halves of buns.
This recipe was found on myrecipe.com