The tragedy of the tsunami in Japan and floods that all but destroyed their production facility in Thailand hit Honda hard.
Perhaps worst affected was Ballade production and supply to South Africa was so constrained as to be non-existent. But those problems have been overcome in time to ensure that the all-new, second-generation Ballade is available in South Africa unconstrained.
Locally the Ballade morphed into the Civic many years ago, before being introduced as a more affordable Honda sedan retaining the famous Ballade name. Given that the Ballade I bought brand new for R54 000 in 1996 is in daily use it is not surprising Honda South Africa were reluctant to give up the name.
Starting at R195 500, the new Ballade offers owners the opportunity to buy into the strong, high quality brand and its excellent after-sales service without breaking the bank.
The Ballade has by no means languished in the past and the 2014 Ballade ups the ante at every level, from its streamlined shape and even more spacious interior to exceptional safety standards, improved dynamics and greater efficiency.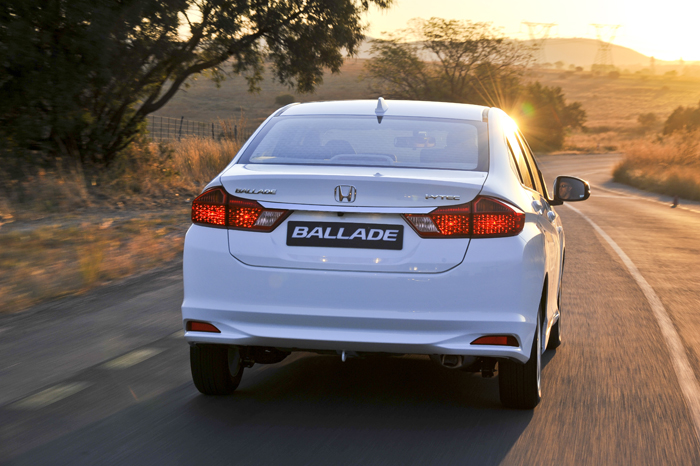 The Ballade also offers an extended list of standard features across its two specification levels – it is no "stripped down" Honda, despite its greater affordability.
The new Ballade is very obviously a descendent of the previous model, yet only 14% of the 2011 version's sheet metal has been carried over. The newcomer has similar proportions, but is slightly longer and taller. The wheelbase has been extended by more than the increase in overall length, creating a shorter front overhang and a more spacious interior. At 4 400mm, the new Ballade is 45mm longer than the previous model, while the wheelbase has grown 50mm to 2 600mm. The new sedan's height of 1 475mm is also 5mm taller, while vehicle width remains the same.
However, it is inside the car that the different proportions are best experienced, as the ride and handling remain of a similar high standard to its predecessor. The longer wheelbase allows for more space in the cabin and boot. Particularly significant is that the boot is not only bigger, at 536 litres, but offers a wider aperture and a lower loading sill.
Three power points allow smartphone or device charging from all four seating positions, while there is also generous provision for storage, including a glove compartment, front and rear cup holders, door panels with stowage pockets and a lidded binnacle between the front seats.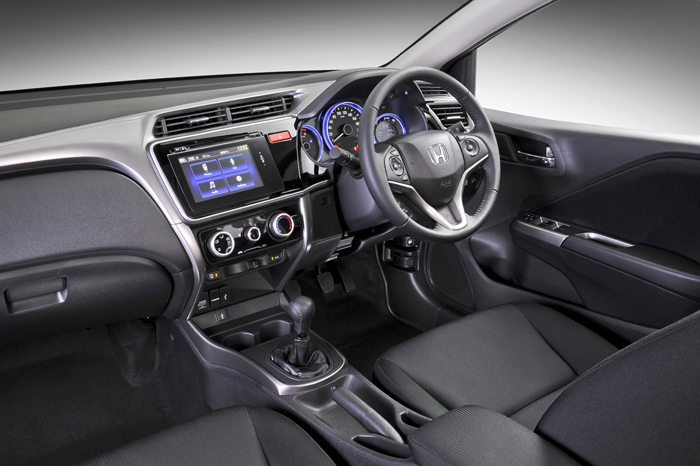 The engine is still a 1.5-litre four-cylinder unit, and the output figures have remained at 88kW and 145Nm respectively.
However, Honda are claiming improvements in performance, fuel consumption and emissions due to reduced internal friction, weight reduction and Honda's own i-VTEC variable valve timing system.
Maximum torque is reached at lower revs, which should improve responsiveness. Although this is hard to feel without driving the derivatives back-to-back, this in itself should improve fuel consumption. The most significant development in the drivetrain is the addition to the range of their latest-generation Constantly Variable Transmission (CVT) with seven "virtual" gears. The CVT unit's design is a direct result of Honda's Earth Dreams initiative, which seeks to create intelligently engineered, efficient technologies that also deliver environmental benefits.
Thus, the CVT's reduced weight and greater efficiency result in reduced fuel consumption, and reduced emissions. Well, that is their side of the story anyway.
My view of CVT gearboxes is that they are so unpleasant that it is impossible to enjoy the environment when using them, so why bother. But Honda's particular incarnation of this theoretically wonderful, but practically awful, invention is better than most, so perhaps there is hope that one day they will be acceptable. The good news is that a really decent five-speed manual gearbox is available and at a lower cost. Manual-transmission models accelerate from 0-100km/h in a claimed 9.6 sec, which is 0.2 quicker than the outgoing model.
Top speed is said to be 185km/h.
The new CVT gearbox-equipped Ballade achieves even greater improvement with its 0-100km/h acceleration time of 11.1 sec, trimming almost a second from the previous, automatic gearbox-equipped model's sprint time. Top speed increases to 190km/h.
A revised independent front suspension continues to employ the proven MacPherson strut system, but features a new configuration to optimise damping, stability and road manners. It is combined with a torsion beam at the rear.
The new sedan range has six airbags – front, side and curtain – and Vehicle Stability Assist (VSA), which incorporates both traction control and electronic stability control. Honda has also included Hill Start Assist, making starts on an incline easier and safer by preventing the vehicle rolling back.