Speaker of Parliament Baleka Mbete this afternoon announced that the National Assembly's presiding officers had asked President Jacob Zuma to postpone the state of the nation address (Sona), fearing chaotic interruptions.
The address was initially planned for Thursday, February 8. Mbete said she declined a request from EFF last week to postpone the Sona pending the finalisation of the motion of against Zuma, as there was no reason to do so.
After meeting with leaders of political parties represented in Parliament and flanked by council of provinces chairperson Thandi Modise, Mbete announced the postponement had been necessitated by the anticipation of disruptions.
"It [Sona] is an important occasion in the national parliament, we have been dismayed by the chaos that marred the opening of parliament in the past. Reporting to parliament is an accountable measure and must happen. Developments and or postponement have caused us great concern. There is very little likelihood of uneventful state of the nation address on Thursday.
"We decided to approach the president to propose to postpone to create room for establishing a much more conductive environment in parliament. [Previously] we informed you that we had no reason to postpone this event. We have looped realistically at these event and [decided] we need room to create conductive atmosphere in Parliament," said Mbete on the steps of parliament.
The decision, no doubt influenced by internal power struggle within the ANC, gives the party ample time to get its house in order as it goes into a special NEC tomorrow night to deal with the "transition period".
READ MORE: Zuma chairing 'scheduled' Cabinet meeting amid Sona postponement speculation
"We must work towards a Sona that will lift the spirits of all the people, a Sona that will not lead to market reverberations, a Sona that will appeal to all the people. That is the Sona I am looking forward to, a Sona of my dreams," said ANC chief whip Jackson Mthembu.
DA chief whip John Steenhuisen told the media it was "a very short meeting" and they knew "almost immediately by the body language and expressions on their [presiding officers] faces that something was going to happen".
"It is a good day for institutional integrity of parliament, it will not be a playground anymore … We are delighted, that is what the opposition wished very hard that parliament will be spared of an indignity of being addressed by a discredited Zuma on plans that we know will never come to fruition. The right decision has been made, and we are happy," Steenhuisen said.
IFP's Narend Singh said after engaging with the presiding officers, they were told Mbete and Modise had taken into consideration the possible chaos that may ensue in parliament should President Zuma deliver the speech. He also said if the postponement happened due to ANC internal strife, they were happy giving the ruling party "time to deal with those internal politics".
Singh refused to be drawn into who he thought would deliver the address, but emphatically stated: "I think we are going to have a new president as nominated by the ANC. If it is Ramaphosa it will be good choice."
Immediately after the news broke, EFF leader Julius Malema tweeted Zuma was likely to resign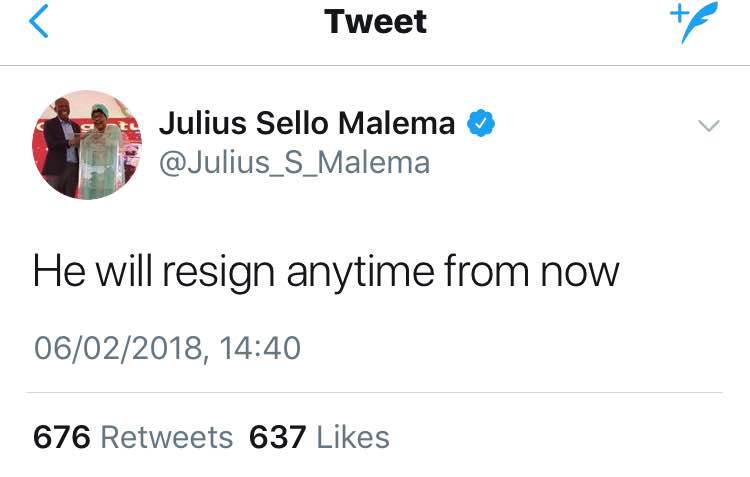 In a statement released shortly after this announcement, the Presidency released the following statement: "The President has requested the postponement due to certain developments which make it not conducive to successfully hold the sitting and deliver the Sona."