EFF leader Julius Malema does not seem too worried about explosive allegations made by AfriForum deputy CEO Ernst Roets at the launch of his book Kill the Boer, claiming that Malema met with an imprisoned gang member and offered to help him murder white farmers when he gets out of jail.
When confronted about his involvement by Twitter user Arcade Hustle (@Doom_Pie), Malema answered "Maybe. Maybe not", in a move that some on Twitter said sees the leader brazenly taunting those questioning his role.
It was reported in The Citizen on Friday that AfriForum wants Malema investigated for the allegations.
According to reporter Simnikiwe Hlatshaneni, who attended the launch of Roets' new book Kill the Boer: "In a gruesome presentation on the brutality of attacks on farmers in isolated areas, a sound clip that was part of a Carte Blanche investigation last year has a man speaking in Afrikaans saying Malema promised to help him continue killing farmers when he was released from prison. The person is supposedly a member of the brutal prison gang the 28s".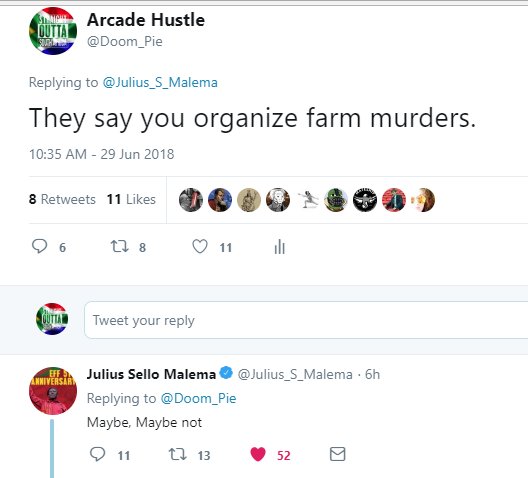 "We have not decided what the charge will be," said Roets, about the plan to bring Malema to book. "The point is that we want this allegation to be investigated … We hope the investigation will find this person is lying.
READ MORE: Lauren Southern releases terrifying, controversial farm murders documentary
While Malema's direct involvement in the killing of farmers is unproven, Roets also argues in his new book that Malema's singing of the song Dubula iBhunu led directly to an increase in farm attacks.
Roets says that his book has reported cases of people who had committed farm murders and said they had been influenced by the song.
The book claims that after the singing of the song by late ANC Youth League leader Peter Mokaba in 1993, there was an increase of 135% in the murder of farmers.
Malema sang Dubul' iBhunu in 2010 and there was supposedly  a 51% upsurge in farm murders.
"There is a very clear upward variance in farm attacks and farm murders after high-profile incidents of hate speech," Roets believes.